The industry of mobile applications is growing at a rapid pace with there being no visible signs of stopping. Most of the newbies who are planning to make an app have two questions in mind: "What is the approximate cost of developing an Mobile app" and "Which factors affect the cost of Mobile app development?"
The answer to these questions can be found on the web, or you can speak to an app development company to find out if you want a quote specific to your idea. If you look at the figures, app development is not as expensive as you think. Corporate projects related to traditional industries are usually upwards of $50,000, however without high-level security requirements, extreme processing needs, or finance heavy features, an app could cost anywhere from $10,000.
Having a mobile app for your business is the golden opportunity to create profit, a dream lifestyle or to bring a much-needed service to the public's lives. Once you have validated your concept with proper research, all the money that you are going to invest in your app will be likely to pay off, assuming that you execute your app business correctly.
The cost of developing an Mobile app depends a lot on how much you are willing to spend, as this decides what features you are planning to involve in your application. The more ambitious the features that you decide to include in your application, the more expensive the development of the mobile app will be.
How the Quality of the Team Affects the Mobile App Development Cost?
To take a rough figure of how much it costs to develop an app (on an average $50 per hour): a basic app will cost you around $15,000-$25,000. An app with medium complexity will cost you between $30,000-$50,000. If you want to develop an app with the most advanced features and high complexity, then it is likely to cost you more than $60,000.

There are thousands of companies worldwide that guarantee to deliver highly robust and flexible solutions. Choosing the right development company is an exhausting task for both start-ups and well-settled businesses. As well as the factors already discussed, the cost also varies according to the experience and expertise of the team that you hire. An inexperienced team is likely to have low overheads and lower salaries which filter down to a lower cost for the client. However, a highly experienced team that are experts in their field will cost a lot more for similar reasons.
In-house Development or Outsourcing
While planning Mobile app development, apart from cost, there are some other factors a which you need to consider in the development process. One of which is hiring a team for app development. While hiring, you can go with outsourcing or local in-house development.
In some cases, in-house development is the best option for app development. One meaningful advantage of in-house development is the physical proximity to the development team. Of course, being able to tell your requirements face to face by walking to the developer's desks is ideal in most situations. This also makes testing your product before completion a much easier task.

On the other hand, outsourcing development offers a variety of benefits. Communicating with your team remotely seems hard, but it can be excellent if the team hired takes pride in having good communication with their clients.
Undoubtedly, outsourced teams are typically much more experienced, as they have completed a wide range of projects, and as a result, often perform a lot better than in-house developers. Therefore, your chances of finding a trustworthy and highly capable team is much higher with an outsourced team in comparison to an in-house team.
The Table Shows a Comparison Between In-House Development and Outsourcing
| | |
| --- | --- |
| In-house development | Outsourcing |
| Deep involvement | Reasonable cost |
| Physical proximity | Higher-level expertise |
| Training investments required | Lack of personal control |
| Easy communication | Flexibility |
Time and Money Issues in Mobile App Development
It is very clear that all mobile apps are not the same. The difference between these apps is not only due to the platform on which the app is developed, but also what the app is programmed to do, which impacts the time needed to implement all the required features in the app. The app development timing depends on the complexity of your app. The below points gives a further comparison between various types of applications.
The time required to develop a basic app with common features requires approximately 400-600 hours of development.

An app with medium complexity and features takes around 600-900 hours of development.

A highly complex app with most advanced features exceeds 1100 hours of

In terms of how to define the complexity of the mobile app project, this is explained in the following section.
How App Development Cost is Affected?
While developing an app, you cannot expect your development company to inform you about the exact cost of the app development that you will pay for the whole project. On the vast majority of projects, changed requirements are requested due to new ideas, feedback from potential customers or a desire to develop an existing requirement further. Since there are various factors that affect the cost of app development, the cost fluctuates depending on these changed requirements.


Although a development team can provide you an estimated cost and time needed for the development of your app. The most significant factor that affects the development cost and timing are mentioned below.
Platforms

Features and Functionality

Backend and App Administration
These are the most common and significant features which affect the cost of app development. We will discuss these factors in detail.
1. Platforms
Basically, there are three platforms for which apps are developed: iOS, Android, and Windows. Android and iOS are preferred by most users, with the cost of app development for both of these platforms being different. The cost of iOS app development is typically much more expensive than Android app development. Before making a decision on which platform you should develop an app, you must look at the market share of these platforms for your target industry. Developing mobile applications for these platforms differs greatly. Both platforms use different programming languages, have different SDKs, and uses different development tools.
Similarly, if you are planning to develop an app for a single platform then it will cost you less. But if you want your application to run on both platforms, then you have to be prepared to pay more for the app development.
The idea of cross-platform development or hybrid development is the best option in some cases. However, depending on the size of your project, it may be more appropriate to select native development, if you desire a bespoke application that is tailored to the user's device.
2. Functionality and Features
If you want to find out the answer to "how much does it cost to develop an app", then you should first find out the complexity of the app to develop. Functionality, features, and complexity are some of the important features that affect the development cost.
Let's discuss the features and functions which influence the complexity of the application. While the implementation of some features is lengthy and time-consuming. There are some other features that are simple and easy to implement. Sometimes, the developer uses third-party APIs, or sometimes. They use code that is written completely from scratch for implementing complex and unique functions and features. It will not be a surprise to you that a mobile application requiring code to be written completely from scratch will be more expensive. Some of the most common features that affect the development cost are discussed below.
3. Backend and Administration Panel
The Backend is the OS (Operating System). This allows developers to integrate APIs into the app for data exchange between the database and the app. The backend is equipped with analytical tools to track user activity and app performance. The backend is also where the user requests are recognized and processed for the app to action. This all looks seamless on the front-end code, but behind the scenes, the backend is working extremely hard! Usually, the development cost varies significantly according to the number of parameters you want to track, how detailed the tracking will be and the workload of the backend processing.
For managing the content of the app, user data, and statistics, the administration panel is the most important tool. Various options are available from which you can choose, but finding the correct admin panel is a task you'll have to complete. You can also have created for you a custom and robust admin panel in accordance to your specific business needs.

/caption]
Total Cost of Developing a Mobile Application
At Nimble AppGenie, we follow an agile development methodology for mobile app development. The phases of developing a robust and flexible app are mentioned below.
Research

Wire-framing

Technical Feasibility Assessment

Prototype

Design

Development

Testing

Deployment
The time required by each development phase depends on the requirements and features you are including in your app. The average timeshare by each development phase is mentioned below.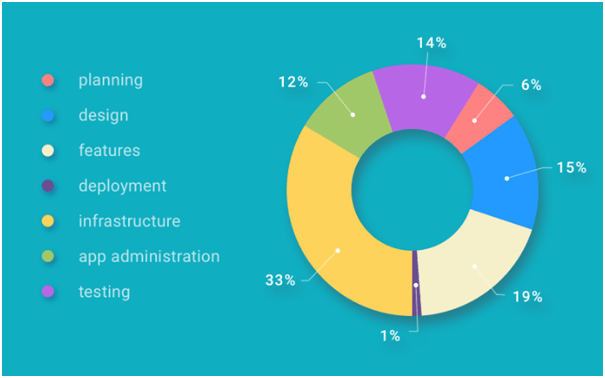 The team size also varies according to the complexity of the app. The number of back-end developers and front-end developers, UI/UX designers. And the admin panel designers are some important factors that will vary with the complexity and bespoke nature of the mobile app. To manage the smooth workflow of the project, a project manager is always required.
Conclusion
These are some important factors and points. Which are very useful in your quest to find out the cost of a mobile application for your business idea. If you still have any doubts or queries about the cost of development or the mobile app development process, then contact us now. We will help you with your planning and also the development of your innovative app for your business.