In this busy schedule, some people don't get time to go to their favorite restaurants, and in this situation, food delivery applications have got their back. On-demand food delivery apps are making our lives hassle-free and convenient. These apps allow users to order food from their homes through the app and get it delivered at their doorstep within few minutes. Offering wide options of restaurants to order food, these apps have changed the game for restaurants as well. If you are wondering to develop a food delivery app, then here are tips and points you should know before developing the food app.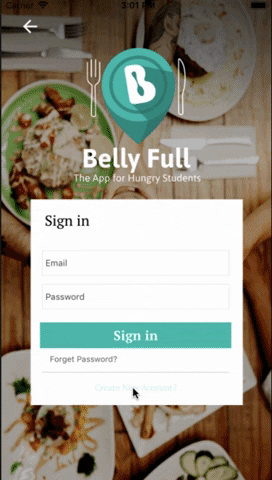 Reasons to Use Food Delivery App
Undoubtedly, food delivery apps have made human lives more convenient and easy. According to a survey by Jackpot, there are basically 3 main reasons to use this phenomenon.
Food apps are more practical

Some people don't have time to go to a restaurant

Some don't know how to cook

Around 61% of users think that they would love to order food from a restaurant if services were offered.

By 2022, the online delivery industry will rise up to $55 billion.

Due to online food delivery services, many small, as well as big restaurants have increased their revenue by 25%.

In 2019, the payments made online are around $210 billion.
How to Generate Revenue with Food Delivery Business?
There are various ways through which you can generally manage and generate profits by the online food delivery business. 
Commission
Taking commission from restaurants is one of the ways by which you can generate profit from this business. You can ask for a commission for each order that your partnered restaurant receives from users.
Delivery Charge
There are some restaurants that do not deliver food to home. Through the on-demand food delivery, you can deliver food at the user's doorstep. You can set delivery charges on the basis of distance.
Surge Pricing
Big players like UberEatsset the prices at the maximum whenever the demand is high. It restricts menu option and at the time of order placement, they add an extra charge. Due to this, the per-order delivery amount increases.
Advertisement
One of the best ways to generate a high amount of revenue is advertising. By asking some restaurants to get featured at top or you can place videos of some restaurants, you can generate extra revenue. Moreover, you can also use Google AdSense on the platform.
Challenges in the Industry of Online Food Delivery Services
Although the food delivery business is always in trend, there are some challenges. So before entering into the market of food delivery, you must know about all the challenges that you may face.
Increased Competition
The competition in the food delivery industry is high and big e-commerce brands are also entering into this business. Names like Uber and Amazon are already in this competition with services like UberEats and Amazon Restaurant.
Customer Loyalty
One of the most important factors to be a success in the online industry is to maintain customer loyalty. Customers are always attracted to discounts and offer deals, and you can easily gain customer loyalty with this phenomenon. Companies that do not focus on maintaining customer loyalty may face bitter consequences.
Searching Partner Restaurants
Although this factor does not have any connection with cost, this may act as a roadblock for your business. Instead of going with bigger brands, tie-up with the small start-up restaurant who are new in the market and are looking for promotion.
Choosing the Features of MVP
One of the most difficult tasks while developing the app is to decide which features to include and which to exclude in the MVP model. You are entering into food delivery market as a start-up, so it is necessary for you to test your idea in the market. By building an MVP, you can easily test your idea without spending a large number of funds.
Reliable UX/UI
Since all the screens of four panels, i.e. user, admin, delivery executive, and restaurant is different from each other, it is difficult to maintain a stable UX/UI for all of four screens at the same time. So you must develop a UI/UX that works reliably at all the four panels.
Two Categories of Food Delivery Apps
There are two types of food app platforms in the market, "Aggregators" and "New Delivery".
New Delivery
Similar to the aggregators, new-shipping apps allow purchasers to evaluate services and order food from a collection of eating places through a single internet site or app. Crucially, the players in this class additionally offer logistics for the restaurant. This allows them to open a brand new phase of the eating place marketplace to domestic transport: better-stop restaurants that traditionally did not deliver. The new-shipping players are compensated by means of the restaurant with a set margin of the order, in addition to a small flat charge from the customer. Regardless of the higher expenses of preserving transport automobiles and drivers, the brand new-delivery gamers gain EBITDA margins of more than 30%. These apps consist of brands that function globally inclusive of Deliveroo and Foodora, that are persevering with to capture new regions. We agree with the addressable marketplace for brand new transport will attain extra than €20 billion with the aid of 2025.
 Aggregators
Launched around roughly 30 years ago, aggregator models follow the old traditional methods of delivering food. Aggregators build at the traditional version for meals transport, offering gets right of entry to a couple of restaurants through an unmarried online portal. By means of logging in to the site or the app, purchasers can speedy examine menus, prices, and critiques from friends. The aggregators gather a fixed margin of the order, that is paid by means of the restaurant, and the eating place handles the actual transport.
There may be no extra fee to the consumer. With their asset-mild version, aggregators publish profits before interest, taxes, depreciation, and amortization (EBITDA) margins of 40-50%. Even though investment keeps to pour in (delivery hero and Foodpanda, as an instance, both attracted €100 million in new funding in 2015), most of the consolidation on this subcategory has already passed off. 4 players—transport hero, Foodpanda, GrubHub, and Just Eat—have executed a worldwide scale. Those 4 players have a tendency to the cognizance of one of some kind areas. On a national degree, there is normally two or 3 competition that dominates, normally driven by using their capacity to construct a big personal base. Consolidation is superior in maximum markets and could probably maintain. Reports show that just 26% of conventional-transport orders are made online nowadays, however, we assume this share to boom hastily.
Why You Must Invest in Food Delivery App Development?
Nowadays, people are very busy with their schedule and they don't get time to go to a restaurant. If we look at the market, the food industry is growing at a rapid pace, and various apps have been developed that delivers food at your doorstep. On the other hand, millennium love exploring various food and restaurants. They also enjoy fast food delivery services and these food apps do the same. So by investing in the food delivery industry, you can easily generate a huge amount of profit for your business. For more, you can check the points discussed below for a better understanding of the food delivery app industry.
In 2019, the revenue of the food delivery industry has reached US$107,438 million.

With each passing year, the food delivery industry is growing by 9.9%. At this growth, it is expected that by 2023, the food delivery market will be at around US$156,819 million.

Currently, the restaurant-to-Customer Delivery sector is at US$53,652 million, but by 2023, it will be at US$74,643million.
How Food Delivery Industry Has Flipped the Scenario of Restaurants?
Food apps like UberEats and FoodPanda have completely changed the game for restaurants regarding food delivery services. Due to the convenience, these apps provide to users, they are used extensively worldwide. Following this trend, many start-ups are also planning to launch their own food delivery app in the market. Here are some advantages that are the reason why you should develop a food app for your business.
Smooth
The food delivery apps are easy to use and offer great convenience to users while ordering food. Due to this, more and more customers are going with food delivery apps to get food delivered at their doorstep. The interactive UI/UX with smooth search options increases the convenience of these apps.
Customer Support
Food delivery applications offer 24/7 customer support to solve all the queries and complaints of the customers. Customer support is one of the most important features of any on-demand app and it makes the app more convenient as users can get answers to all their complaints and queries within a few minutes.
Easy Payments
The food delivery apps are integrated with various payment gateways like Credit/Debit Card, eWallets like Google Pay or PayPal. Making the transactions cashless encourages customers to use food delivery apps.
Reward Points
Deliveroo and Just Eat food delivery applications offer loyalty rewards and points to potential customers. This attracts and encourages more users to use the food delivery app for ordering food. Customers can use these loyalty points or credits for future orders.
Food Delivery App Market
If we look at the present day scenario of the food delivery industry, it is expected that the online food delivery market will rise by around 79% in the coming years. This rapid growth is a sign of how fast people are opting for online services and very soon the online demand will surpass the offline services. Currently, the worldwide market for the food delivery industry is at around €83 billion.
Must-Have Features of On-Demand Food Delivery App
Now like other on-demand delivery apps admin panel and user panel are the basic features of the app. But since a delivery executive is required to deliver the food, you need to develop a driver panel also. It may sound a little bit typical to develop, read the blog till the end to understand about must-have features of the app.
The User Panel/App
The most important feature of the admin panel is to find the restaurant with a good quality of food and less delivery time. But there are other features also which make our app more flexible for the user.
Sign Up/Login
This is the most basic feature of every app, the user must create a new account. Providing feature of logging in with social media credentials will make the app more flexible for the user.
Editing/Managing Profile
Users can add personal details like email, name, mobile number or adding a new address or editing the old address in their profile.
Nearby Restaurant List
Providing a list of nearby restaurants and cafes with discount offers will help the user to order food with less delivery time.
Exploring Restaurants
Providing a search bar in the app will help the users to search for their favorite cafes and restaurants to order food of their choice.
Order Food
After exploring their favorite nearby restaurants, users can order their favorite food from the restaurant.
View Cart
Users can view the items they have selected to order in the cart and if they want, they can add more or remove selected items directly from the cart. They can also add items in the cart for future use.
Multiple Payment Options
The app must provide various payment integration gateways like paying through credit/debit card, eWallet apps like Google Pay, Paytm along with Cash On Delivery option.
Real-Time Status
Users can track the status of the order, expected ETA, and delivery executive on the map by real-time analytics directly from the app.
Premium Membership
Users can buy premium monthly or yearly membership to avail additional features, discounts, and offers from the app.
Scheduling Order
The app will be more flexible if it will allow users to schedule orders for a particular time and place.
Reorder
This feature makes the app more flexible by allowing users to reorder any previously ordered item just by a few taps.
Push Notifications
Whenever a new offer, deal or update arrives in the app, users get notified by a notification through SMS, email or in-app notification.
Rate and Review
By allowing users to give feedback on restaurant and delivery executives, users can share their experience with the admin.
Help & Support
The feature of virtual bots for support will help the user for resolving their queries fast and easily. Users can also register complaints related to the quality of food or about the restaurant.

Essential Features of Food Delivery App Driver

Although the driver app is not as functional as the user app. but there are some basic functionalities and features that the driver app must-have.
Registration
Before accessing the app, the driver must register himself through social media or by providing various details like name, address, license number, vehicle registration number.
Accepting/Rejecting Order
Now drivers can easily get the updates and details about all the current orders and they can select or reject the order as per their convenience.
Order Status
The delivery executive has to give time to time update about waiting and order picked up to the user.
In-App Navigation
The app must provide an in-app navigation feature so that the driver can easily deliver the order within less time.
Availability
The driver can select the time according to them for the service. They can mark themselves online and offline whenever they want.
Payment Integration
Apart from cash on delivery, the driver must have other payment also for receiving money from the user.
Feedback
Not only the user but the driver should also be able to give ratings and feedback to the restaurant.
The Essential Features for Restaurant Module of Food Delivery App
Just like users and delivery executives, restaurants also have to go through the login and registration process. Moreover, they have to register some extra documentation for security purposes.
Accept or Reject Orders
This is one of the most important features of the restaurant panel. Sometimes, the restaurant gets overloaded with order requests, in that case, the restaurant owner can cancel the order request. So the confirmation or declining feature for the restaurant panel makes the app more flexible.
Dashboard
After creating an account, the restaurant owners are directed to the dashboard panel, From the dashboard, the owners can easily keep the track of pending orders, completed orders, and canceled requests. The dashboard panel helps the owners to keep an eye on all the insights and details of the orders.
Managing Payments
The restaurant owners can transfer all the received payments into to bank through PayPal or Google Pay easily, as per their preference. They can also manage the refunds and daily revenue reports easily with the dashboard panel.
Account Management
The restaurant owner can set the restaurant logo, food details, price, minimum order value, and estimated delivery time. They can also offer discounts and various promo codes for particular items.
The Essential Features for Food Delivery App Admin Panel
The admin panel is the key factor for the business owners. It is a web-based app to manage all processes like managing customers, live tracking of the driver, accepting new restaurants, setting prices, etc.
Registration
Similarly, like the user and driver, the admin also has to register before accessing the web-based admin portal.
Managing Audience
Only the admin can add a new user, driver or restaurant for service. or can delete/block the older ones.
Managing Orders
Admin can view all the details about the all ongoing order and assign it to the driver nearest to both restaurants and users.
Offers and Discounts
In order to maintain the loyalty of users, the admin has to provide time to time offers and discounts to the users.
Push Notification
Admin can send details about new updates, discounts and offers to users through email, SMS or Message alerts.
Financial Accounting
Admin decides the delivery fee, and also keeps a track of all the profit and earnings by app analysis.
Real-Time Analytics
The admin manages the growth of the business by keeping a real-time analysis of all the orders and payment history.
What is the Best Technology Stack for Food Delivery App Development?
Choosing the right technology for your app is the most important aspect of the app development process. So for drafting a smooth and interactive app, you must choose the technology smartly.
| | |
| --- | --- |
| Technology | Feature |
| Cloud Storage | AWS, Google, Azure |
| Push Notifications | Push.io, Twilio |
| Phone Verification | Twilio, Nexmo |
| Mobile Platform | iOS, Android |
| Payment Gateways | Google Pay, PayPal, Debit/Credit Card |
| Database | Hbase, Postgress, MongoDB |
| Real-time Analytics | Hadoop, IBM, Cisco |
Team Structure for Food Delivery App Development
Developing an app is straightforward if you have a team of talented and skilled developers who are experts in building food apps. If you need to transform your thoughts into reality, then you have to work with a pool of expert developers, designers, testers, and skilled managers. In case you need to supply your app to a wider audience, then you need to make it for both the iOS and Android platforms.
Project Manager

Frontend Developers

Testers

QA Professionals
How Much Does It Cost to Develop an On-Demand Food Delivery App?
Basically, there are some factors that affect the cost of app development. Whether it's a food delivery app or any other app, the cost of development is affected by various factors like the platform of development, features to be included, and most importantly, the region of development. If you are going with cross-platform app development, then the cost will be quite high. But for an app developed for a single platform will cost you less. Based on the region, the cost is also different, like:
In the US, the app development cost is $50-200/hour.
In Europe, the app development will cost you approximately $30-100/hour.