Government Subsidies have been critical to bring financial inclusion in a big unbanked, yet online, Latin American population.
The economic proprietary of a nation heavily relies on financial inclusion across its borders. Ease of access to financial services enables individuals and businesses to increase consumption, savings, and investments; which is a prime indicator of increasing GDP.

Latin America is the leading developing region that is successfully bridging the financial inclusion gap. As per a report by Statista in 2019, Colombia, Uruguay, and Peru were the nations that have achieved the financial inclusion rate of more than 75 percent. However, Venezuela, suffering from an economic crisis, was ranked the lowest.
Current Scenario of FinTechs in Latin America
Recent research conducted by Americas Market Intelligence and Mastercard concluded that banks, FinTechs, and governments need to take collective action to consolidate the growing digital finances in Latin American.
As of 2019, Colombia, Mexico, and Brazil had the highest number of FinTech startups in Latin America. Among all the FinTechs in the region, Nubank, a Brazilian neobank, was the most valued Latin American unicorn as of May 2021. With a valuation over 25 billion U.S dollars, the bank stands out as the largest neobank outside Asia.
Country with the most FinTech startups in Latin America – Brazil
Largest FinTech segment in Latin America – Payment and Remittances
Mexico, with the largest share of FinTechs in Latin America – 21%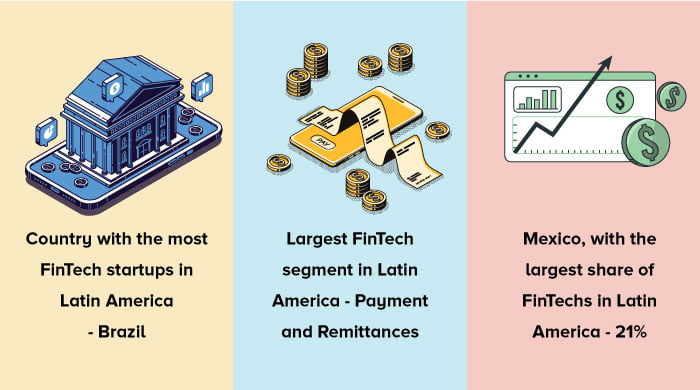 In 2021, there were nearly 11 thousand FinTech startups in the American region, which is 87 percent more than the number of FinTech institutions registered in 2018.
Out of the 11,000 FinTech startups in American region, 2,300 pertained to the Latin American region. Most of these Latin American FinTech startups deal in Payments, remittances, and lending.
In 2019, Colombia, Uruguay, and Peru were the nations with more than 75% financial inclusion.
As of May 2019, Latin America had 45 million unbanked population out of which 60 percent were women.
40 million people have been banked in Latin America during May-September 2020.
By 2025, the FinTech adoption is expected to surpass 380 million users in Latin America.
With 9 out of 10 users accounting to Digital Payments, it is the most widespread FinTech segment in the Latin American market.
Government Subsidies and Initiatives Are Critical for FinTech Growth in Latin America
With lockdown restrictions imposed by several countries in Latin America, the lack of financial inclusion became more evident. The pandemic has prompted many people to adopt digital behaviors for the first time.
With an internet penetration rate of 59.5 percent, Latin America holds an unprecedented opportunity to digitize its banking and financial infrastructure. Latin American countries can boost financial inclusion, by removing constraints such as unnecessary regulations and high fees, introducing value-driven FinTech products, and boosting digital and financial awareness, to build a solid foundation of trust for customers as well as FinTech startups.
FinTech Growth in Latin America
In recent years, non-conventional financial players such as digital wallets and neobanks have emerged to bridge the financial inclusion gap in Latin America. Neobanks have been very effective in making digital banking services affordable by reducing the operational expenses required due to physical infrastructure. Whereas mobile wallets and digital payments have been banking the unbanked is not only the developed countries but the developing nations too.
The governments' efforts towards financial inclusion have also been helpful in the growth of FinTech in Latin America. Government initiatives such as Ingreso Solidario (Colombia), Coronavoucher (Brazil), and Familiar de Emergencia (Argentina) are at the core of increasing financial inclusion in Latin America.
The Ingreso Solidario program by Colombian government is aimed to provide economic support to households, which are in conditions of poverty, extreme poverty, or economic vulnerability. The economic aid is focused towards alleviating the crisis derived from the pandemic.
The Familiar de Emergencia program by the Argentinian government is similar to the program by the Colombian government. It aims to provide financial aid to households that had received insufficient formal or informal income during the pandemic.
Coronavoucher is a Brazilian government initiative that was planned to give out $35 per month to 14 million Brazilian families that suffered during the pandemic.
All of these financial relief plans required the beneficiaries to opt in for bank accounts. With non-banks in place, it became convenient for the Latin Americans to avail banking services. This resulted in 40 million unbanked individuals getting banked in only five months within 2020.
FinTech Ecosystem in Latin America
In terms of investments, six countries dominated the FinTech landscape in 2019. Among all those, Brazil accounted for the largest FinTech market in terms of the volume of alternative finance and the number of deals. The majority of FinTech investment in Brazil was divided between digital banks and payment service providers.
The biggest investment deals in 2019 included the $1 billion investment in Rappi (Colombia), the $725 million in Prisma Medios de Pago (Argentina), the $400 million in Nubank (Brazil), and the $100 million in Konfio (Mexico).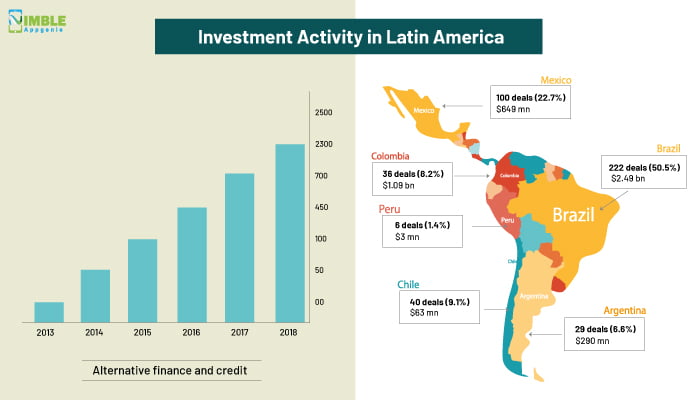 Furthermore Brazil and Mexico have already approved new regulations for the FinTech ecosystem. These regulations are aimed to drive the growth of open banking to bring more financial inclusion into the region. Some other Latin American countries like Colombia and Chile are also drafting similar regulations which are expected to be enforced soon.
Let's talk about the open-banking advancements throughout the Latin America.
Mexico took the first step forward to build an open-banking infrastructure
As part of its 2018 FinTech Law, Mexico had developed regulations like financial data sharing, to become the first Latin American country to address open-banking. As of 2018, there were 2,300 institutions in Mexico that were required to participate in the open banking infrastructure.
However, the nation couldn't keep up with the pace of implementing open banking. The main challenge is the delay in approval of the secondary provisions. During these three years, open-banking in Mexico has only advanced as far as facilitating the flow of non-confidential financial data like ATM locations and banking product information.
Brazil has speed up the adoption
Recently, the Central Bank of Brazil has launched Phase 1 of open banking. The phase includes the sharing of information related to banking and financial products/services and customer service channels. The regulations require all the banking and financial institutions in the country to comply with the norms.
However, Phase 1 was launched nearly two years after the announcement was made in 2019. The central bank is expected to roll out several new phases for open-banking in the coming months. The tentative dates for these phases are July 2021 for Phase 2, August for Phase 3, December for Phase 4.
Chile steps forward with a double regulation
Chile announced FinTech regulations and open banking standards in late 2020. The announcement was followed by a new set of laws called Financial Portability Law, which was released in September. This law is aimed to enable individuals and businesses to easily switch between financial providers, sort of a primary step to open-banking culture.
However, in terms of open-banking standards, the Ministry of Finance hasn't announced any update yet. Experts believe that Chile might face several banking security and architecture challenges before they approve the open-banking proposal. Furthermore, the Ministry of Finance will have to develop a general framework to avoid the need for specific laws on each FinTech business model.
Colombia on a different path of a voluntary model
Colombia followed the trend of open-banking in Latin America too, but in a different way. They opted for a voluntary model, where the banking and financial institutions are free to join in whenever they're ready.
The director of the Colombian Financial Regulation Unit (URF) revealed in an interview that they are working with Pacific Alliance countries to leverage their experiences, and build a secure and robust open-banking environment. Before you ask, Chile, Mexico, Peru, and Colombia form the Latin American trade bloc Pacific Alliance.
Top FinTechs in Latin America
1. Nubank
Nubank is the leading neobank in the Latin American region. The bank is based out of Brazil and provides simple and secure digital banking services. Nubank was launched in 2014 when it launched a credit card with no annual fee. The card could be managed entirely via the bank mobile app.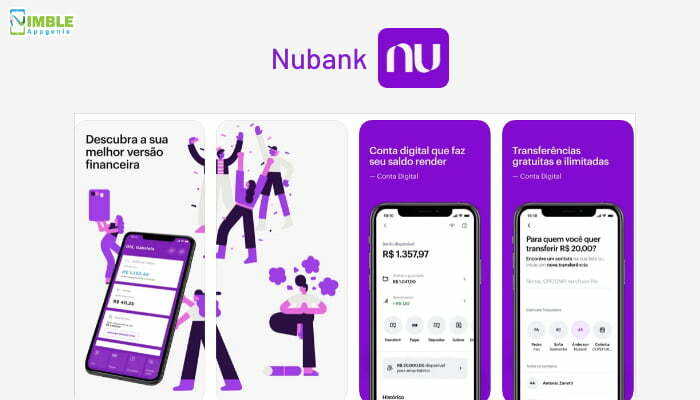 In 2017, Nubank launchd a digital bank account named 'NuConta' which is currency used by more than 17 million people. The bank also launched its proprietary loyalty program called 'Nubank Rewards'.
In 2019, the bank took its first step forward into international expansion and also started testing its personal loan product. The bank has offices in Mexico and Argentina.
Currently, the bank stand at a valuation of $30 billion
2. Ualá
Ualá is a personal financial management mobile app based out of Argentina. FinTechs disrupt the financial space in ArgentinaUalá. In Argentina, FinTech is transforming personal finance via an app and a card. Ualá was launched in October 2017 by Argentine entrepreneur Pierpaolo Barbieri. Intending to improve financial inclusion by providing an advanced, innovative, branchless, contactless, integrated, and low-cost experience.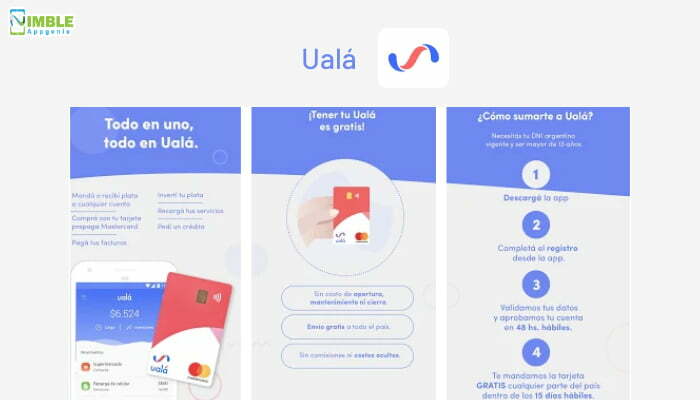 This personal financial management mobile app is linked to a Mastercard (prepaid card) that enables users to conduct financial transactions. Users can leverage carrying out various financial transactions through the mobile application, including transferring money, making merchant payments, paying bills, loading balance on prepaid cell phones, and SUBE aka Sistema Único de Boleto Electrónico; literal English translation: Unique Electronic Ticket System transport cards.
The app also permits users to track expenses through an analysis tool—maintenance, renewal, no issuance, and closing costs. In Argentina, FinTech has issued 2.5 million cards, equal to around 6% of the country's population.
3. Konfio
Konfio was launched on 1 April 2013 by David Arana & Francisco Padilla, based out of Mexico. Mexican FinTech Konfío is committed to creating a new experience in financial services for small and medium-sized enterprises (SMEs). To promote the Mexican economy, it offers digital banking and software tools designed to boost SMEs growth and become a strategy for small and medium-sized companies. The firm is focused on helping strengthen business and transforming financial services.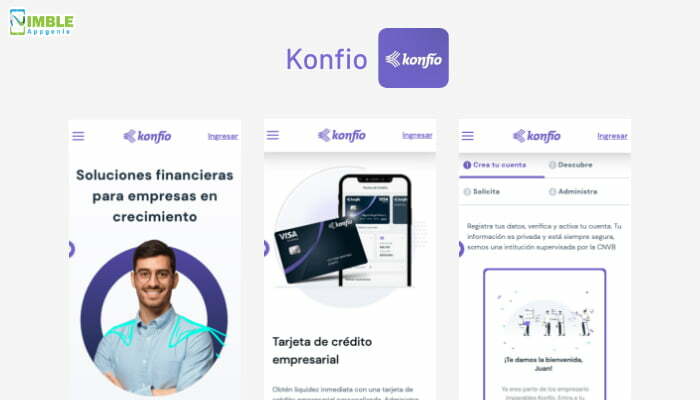 Konfio provides agile credit and tools and uses data for rapid credit assessment that enable owners to boost the growth of the business. FinTech help organizations by providing access to credit solutions. With a proprietary algorithm that merges technology and data to estimate creditworthiness.
4. Neon
Neon, aka Neon Pagamentos, was launched in 2016 by Pedro Conrade to unite technology and design in order to redesign and simplify people's financial experience. It is a Brazilian FinTech that was born with a crystal clear motive of placing user experience at the center of everything and providing an accessible bank account to any Brazilian. In the Brazilian market, the company started a revolution, which still had a lot of participation from traditional banks.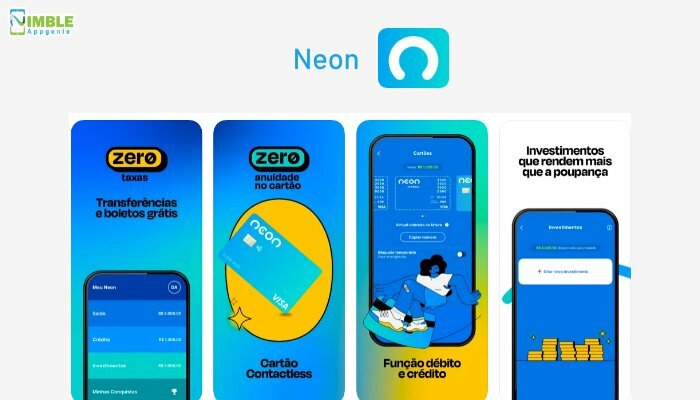 The increased demand for digital-based services between the pandemic has accelerated Neon's growth trajectory. The firm has provided an alternative to in-person banking solutions to meet the increasing customer demand. It has seen a surge in online purchases, deposits, investments, and an uptick of around 26% in new users since March.
Recently, the firm raised $300 million in Series C funding led by General Atlantic, bringing its valuation to $1.2 billion. From 2016 till now, the company has expanded its product suite, credit cards, and personal loans; among other new features and offerings to include investment products.

What does the Future Holds For FinTech in Latin America?
Indeed, the digital payments opportunities in the Latin America region are immense. This is the reason why companies are most likely to see a boost in their profits that are already offering digital payment services to their customers.
Many small companies and startups have started to take the benefits of cost-effective distribution and relationship models. These models help small companies and startups to overcome the scaling challenges. The best example of this is the collaboration of FinTechs and digital-only businesses with retail industries to create a shared distribution network.
From a technical perspective, businesses must focus more on tokenization in digital payment systems. As a result, tokenization would emerge as the critical factor for the growth in the region. Daniel Cohen said, the head of emerging payments for Latin America at MasterCard. Moreover, implementing tokenization will allow banks and companies to adopt similar systems worldwide.
FinTech in Latin America is greeting the rise. FinTech has quickly gained traction in Latin America, mainly in the areas of alternative finance and payments. Also, FinTech regulation in the region takes an activity-based approach rather than an entity-based one, except in Mexico.
Challenges still remain for FinTech in becoming a game-changer for the region. However FinTech can be a strong catalyst to improve financial and social conditions in Latin America. Through incorporating into the financial system and providing alternative sources of finance to firms and individuals.
Conclusion
There has been a significant increase in the number of FinTech alternatives, and a surge in usage – in 2019, more than 82 million (~ 64%) individuals in Mexico, 141 million (~ 67%) individuals in Brazil, and 30 million (~ 60%) individuals in Colombia had adopted FinTech services such as loan lending, mobile banking, and contactless payments. FinTech brings endless opportunities and enables financial inclusion to speed up time to market for businesses and provide new accessibility to individuals. To create a new innovative Fintech of your own, experienced FinTech development companies will definitely be able to assist you. Nimble AppGenie are a global leader in this space, so we would be glad to help you with your Fintech app development..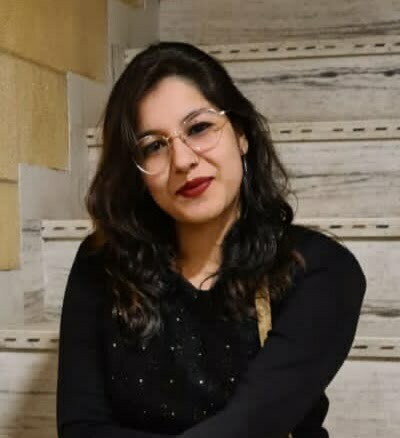 Divya is an outstanding writer at Nimble AppGenie. She is very innovative with her creative ideas. She is very passionate with technology implementation in several industry verticals and always keen to learn new opportunities that brings business efficiency and profitability. Whereas, Nimble AppGenie is an expert in developing solutions for Healthcare, FinTech, and EdTech. Nimble AppGenie is helping small-large scale enterprises by providing innovative solutions that excel in the market.