By the end of 2023, the global E-wallet market is expected to grow to USD 2.1 trillion with a CAGR (Compound Annual Growth Rate) of 15%.
The emergence of eCommerce and the digital economy calls for new payment methods in the market. The online-only shift of some buyers has forced the digital ecosystem to migrate from cash payments to plastic cards, and now it is taking a leap towards contactless payments.
Contactless payment can be made through digital channels held in the cloud or on the digital wallets (E-wallet). As the world of digital payments is still evolving, industry experts address it with a variety of names such as digital money, e-money, micropayments, and many others.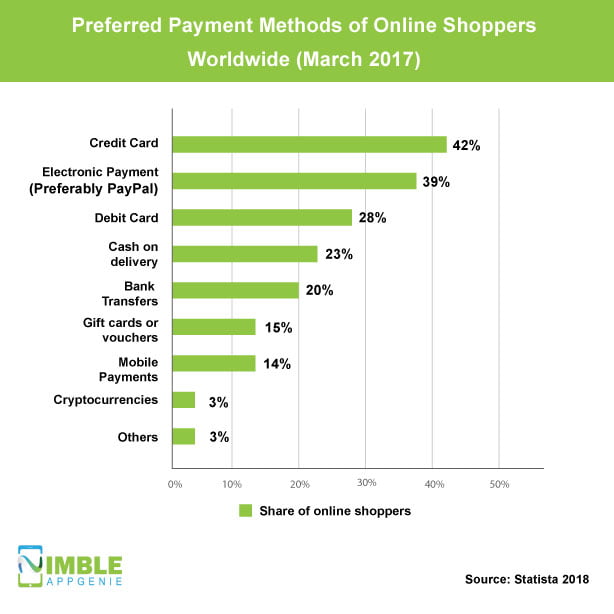 In contrast to the traditional cash/card payment methods, E-wallet is built on encrypted software technology instead of an analogue wallet. It provides a secure environment for the users to store 'n' numbers of debit/credit cards and bank accounts, mitigating the need to fill up payment details on every monetary transaction. Most of the customer-facing E-wallet services operate through smartphone apps. It requires users to register within the apps and create an E-wallet profile that grants them access to make instant payments.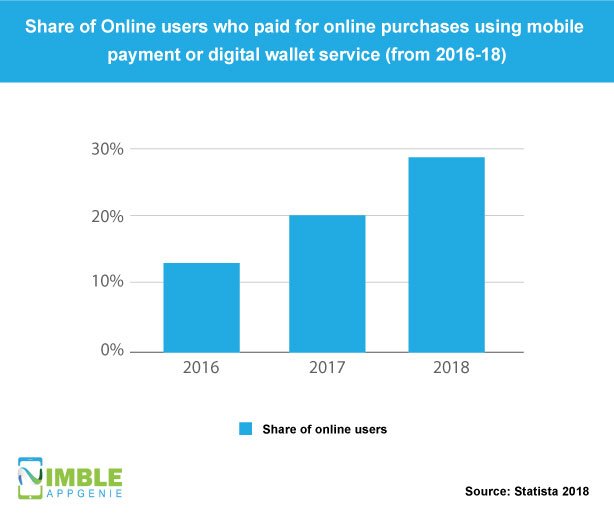 The online payment market is seeing another futuristic technological advancement with the introduction of NFC (Near Field Communication) chip-enabled smartphones. The integration of NFC into digital payment allows the users to make in-shop payments via their E-wallet by just placing their NFC enabled smartphone within three-four inches of the contactless reader or pay pad. As almost all of the smartphones manufacturers have started equipping their mobile devices with NFC, contactless payments look like the reality of the near future.
Countries across the world are supporting online payments via E-wallets for all types of transactions to track financial transactions and decrease black money occurrences. If measured geographically, the major contributor to the growth of the E-wallet market is North America, followed by Europe. The market for E-wallet services is segmented on the basis of application, type, and modes.
Type of E-wallets
When it comes to type, the market is divided into three categories, closed E-wallets, semi-closed E-wallets, and Open E-wallets.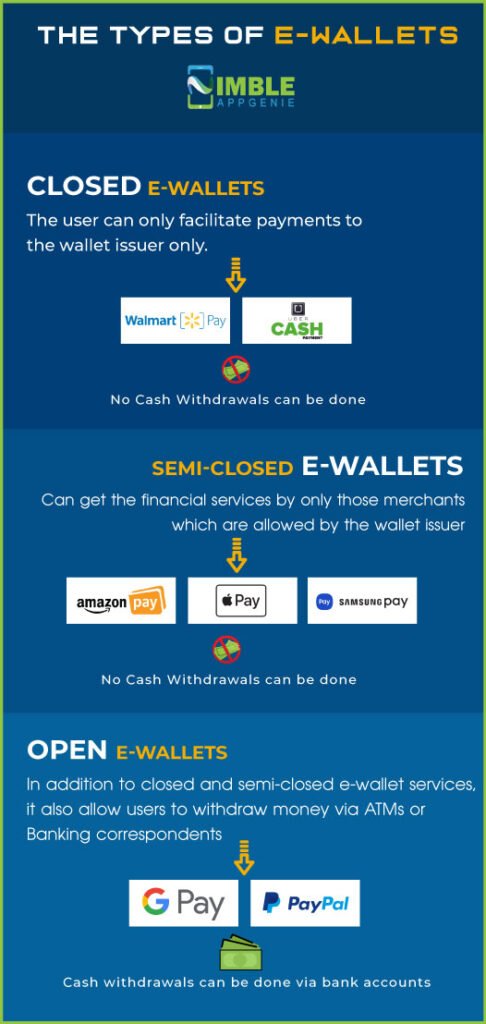 In the case of closed E-wallets, the user can only facilitate payments to the wallet issuer only. Whereas semi-closed E-wallets allow users to get the financial services by only those merchants which are allowed by the wallet issuer. Both the closed and semi-closed E-wallets don't permit cash withdrawals. The open E-wallets goes beyond the limit of closed and semi-closed and also allow users to withdraw money via ATMs or Banking correspondents.
E-wallets by Mode
The evolution of E-wallets has introduced us with new technologies which include digital wallets and mobile payments. These two modes of E-wallet payment may sound identical but are very different.
By 2027, the mobile wallet market will reach USD 7,580.1 billion from USD 1,043 billion with a CAGR of 28.2%.
The digital wallets require users to store their payment information such as bank accounts and Credit/Debit cards and allow them to pay at any POS terminal. Digital wallets users are not required to carry their plastic money along with them as the wallet directly pulls out money from the accounts. The digital wallets cannot keep cash balance within the application.
On the other hand, mobile payment is a broad concept. It is similar to digital wallets but the only advantage is that it can keep the cash balance.
Though the future of digital wallets seems very bright, there are a lot of challenges fintech businesses face while introducing E-wallets to the market. Here are some of them:
Regulatory Compliances
Where there is money, there will be strict compliances and the fintech businesses need to abide by all the legal regulations. The compliances include both the financial and consumer-based regulations.
Fraud Risk
Risk of fraud is one of the prime reasons why most customers avoid adopting E-wallets. Mobile payments and digital wallets appear like a huge unknown risk of hacking, data theft/leak, vulnerabilities, and malware. The only way out of this issue is to go with an e-wallet development company that provides GDPR compliant e-wallets.
Customer Mindset
Many customers still believe that there is no additional value in using e-wallets. The reason being, they are still not informed of the perks of using e-wallets over traditional payment methods such as cash or cards. Pinging them with the latest offers associated with payments to particular merchants could be one the way to create awareness among them.
Lack of Trust
YouGov carried out a research that states that almost 43% of the mobile users have trust issues with e-wallets, and 38% are afraid that if the phone gets lost, they will not be able to make a payment or someone might steal their money. A survey by Auriemma found that consumers are reluctant to recommend the mobile wallet they are using to their friends and family.
Conclusion
Now when you see the bright future of E-wallets, it's time to move to action and realize your financial technology business. The Nimble AppGenie team would be happy to offer its services to help you achieve your goal. We are well versed in E-wallet development and have the appropriate experience. Our experts can guide you through all the challenges occurring while developing your Fintech business. We will be your best choice for technology services in the financial domain.