Outsourcing your development process to an experienced E-Learning Mobile App Development Company is the best approach to ensure faster ROI.
Although the technology was already revolutionizing the education sector, the pandemic has accelerated the implementation and adoption of it. We are witnessing a market where several startups and educational institutions are building education technology solutions to obtain market share. However, the bitter truth is that not all of these EdTech apps earn their original investment back.
The key reason behind this is that many companies aren't focusing on educational app development with great value. Some are focusing more on the technology perspective, whereas others focus on the core of education. However, to ensure the success of E-Learning Mobile App Development, one needs to find the balance between technology and classroom educational methods.
In this article, I'll take you through everything you need to know to develop an e-learning app that drives ROI.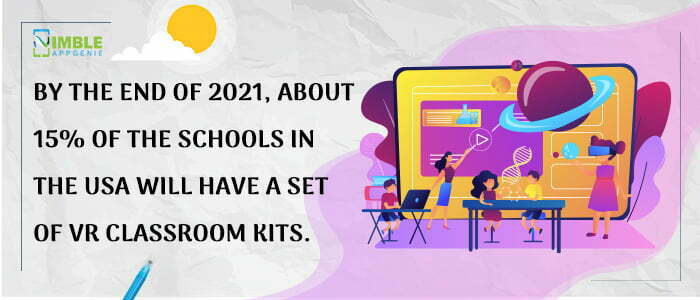 Market Brief by EdWeek
Benefits of E-Learning Mobile Apps
Depending on the type, E-Learning Mobile App Development have several beneficiaries, including the mentors, educators, and educational institutions. Different e-learning apps cater to different stakeholders. Hence, it is worth going through all the benefits of educational apps one by one.

1. A Plethora of Study Material
Despite the digital advancement across several economic sectors across the globe, quality education is still inaccessible to millions of people. With 759 million adults being illiterate and 72 million primary school aged children not able to join schools, the criticality to democratize education is apparent.
Learning shouldn't be hampered due to a scarcity of study material. Learners should have access to quality education material at a lower cost. E-learning apps revolutionize education, by providing learners with a plethora of study materials from top universities and institutions. The best part is that the price of study materials is very affordable as compared to textbooks. Some e-learning apps like Khan Academy even provide the education material for free.
2. Interactive and personalized Learning
With the traditional approach of classroom education, it is nearly impossible for the educators to personally guide every student in their class. E-learning mobile apps have eliminated the communication barrier between students and tutors.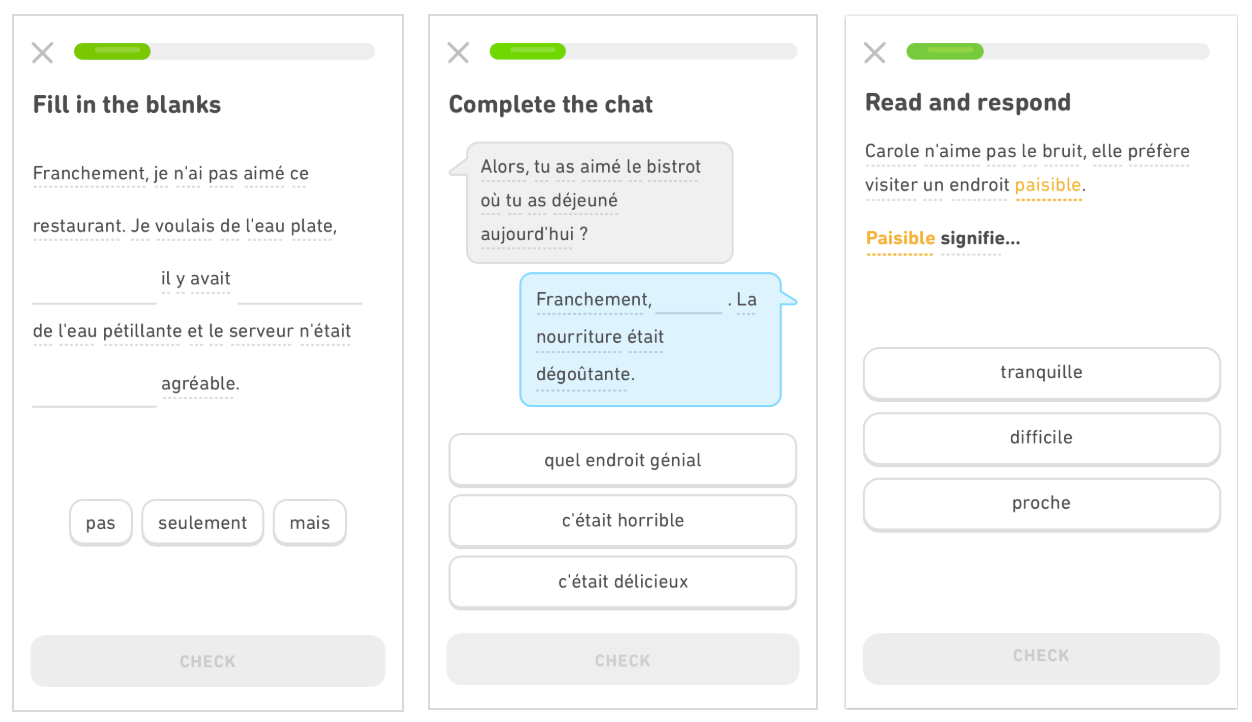 Image Source: Duolingo
For instance, the language learning app Duolingo offers a very innovative way of learning. The app is equipped with AI technology to personalize the learning experience. The app adapts to the knowledge level of the student and based on that modifies the curriculum to make sure that the learners are trained well.
The app is also a great example of interactive learning. It takes audio and text inputs from the learners, to make sure that they are pronouncing and writing the words correctly. This involvement continues to grab the learners' attention.
3. More Enrollment with Less Paper
Indeed, the production and recycling of paper harms the environment. Our shift to e-learning will reduce the demand for paper, which eventually leads to more trees on the planet. The digital ecosystem of learning, which includes e-books, videos, learning app content, online exams and tests, can easily replace the need for textbooks and paper.
4. Accessibility at Ease
Even after the popularity of e-commerce, access to textbooks wasn't instant. It takes days or even weeks to deliver textbooks. In some underdeveloped regions in the world, such as parts of Africa, quality education is just an afterthought.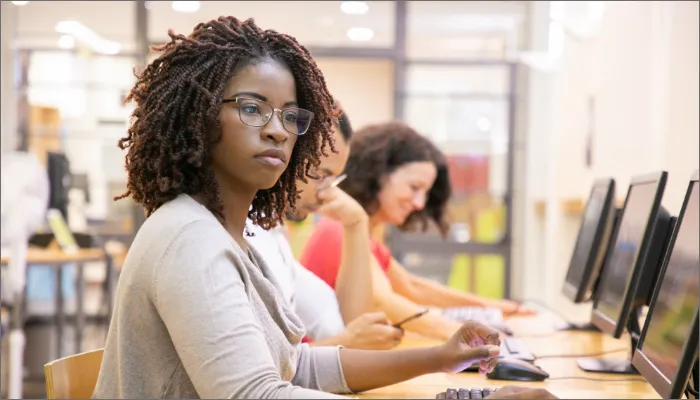 E-learning apps have made learning affordable and accessible, so that anyone can obtain quality education. With all the study material being available in mobile apps, education has become more mobile. The cloud-based e-learning apps offer more advanced learning experiences, by facilitating constant communication among students and teachers.
5. No Time Boundations
Every learner has different preferences in terms of study timings and duration. Sometimes we can't or don't want to study, maybe because our favourite show is being telecasted or we aren't in the mood of studying. E-learning apps help learners get through such challenges by offering recordable learning sessions and video libraries. The educational content is always available on the app, allowing students to learn them anytime and anywhere.
6. Systematic Learning
'Don't work hard, work smart' has become a cliche nowadays. It is very relevant to the education sector. Learning smartly is not only effective in terms of preparing for examinations, but also useful with casual learning. E-learning apps are systematically designed for different purposes.
Types of E-Learning Apps
Based on use, there are several types of educational apps available in the market. Let's discuss the popular ones.

1. K12 Education Apps
K12 education apps are focused on providing study materials to the students from primary to higher school. These apps offer a complete academic curriculum with high-quality video sessions. Blackboard and Moodle are among the most popular K12 education apps for students. These apps can be accessed via smartphones, tablets, and web browsers and come fully-loaded with all the functionalities that a classroom education app would require.
2. MOOC Platforms
MOOC or Massive Open Online Courses platforms offer distance learning courses. These platforms partner with universities across the world to deliver quality education and certifications via the platform only. MOOC platforms allow students to enroll and learn via mobile apps and web platforms. However, users prefer using web platforms for these e-learning apps. Udemy, edX, and Coursera are among the top MOOC Platforms across the globe.
3. Exam Preparation Apps
These apps exist to help students prepare for the exams like LNAT, Mensa, DET, IELTS, etc. Mock tests and continuously updated educational content are highlights of these types of EdTech apps. Students can access exclusive study material, practice, and test their progress via exam preparation apps. One of the best exam preparation apps is Arbitio.
4. Self-Learning Apps
Powered by advanced technologies like artificial intelligence, self-learning apps guide individuals through their learning curve. People can learn new skills like language and musical instruments via these self-learning apps. Duolingo and Tabs are among the top self-learning apps out there.
Why Should You Invest In E-Learning App Development in 2021?
Due to the pandemic, 2020 was all about remote learning and 2021 is more likely to keep the shift upwards. This increased demand for educational technology solutions is the reason why you should invest in education app development in 2021.
Many EdTech startups are raising significant amounts of investment. Recently, Illumnus, a learning management system, raised $100,000 via seed funding. Whereas another e-learning company which is based in Amsterdam, raised 3 million Euros.
A Cruchbase report found that during the first two quarters of 2020, investments in the e-learning sector grew by 58% to reach $4.18 billion as compared to the same period in 2019. However, the number of deals have fallen to 279 from 374.
Markets and Markets predicts that the smart learning market will grow from $23.2 billion in 2019 to $56.5 billion by 2024. The market will grow with a CAGR of 19.5% during the forecast period.

Monetization Models for E-Learning Apps
No matter how awesome your e-learning app is, you won't get the ROI and desired success until you implement the right monetization strategy into it. Not just any monetization model will suit your specific type of e-learning app. Sometimes, a perfect blend of several monetization models is the best strategy to go forward with. Hence, I'm listing down the most popular monetization models for e-learning apps.
Pay-Per-Course
It is the most straightforward approach to monetize an e-learning platform. Although your users have to pay to access the courses, you can offer free workshops and webinars to attract audiences for the courses.
You can focus on the market average price for the courses and can also play with price fluctuations to increase the coverage or make the course look premium. However, keep in mind that your pricing strategy should follow the product strategy, not the other way around.
The Pay-per-price model is usually suitable for K-12, MOOC, and Exam Preparation apps.
Subscriptions
Another popular e-learning platform monetization model. With subscription, the user pays for access to your e-learning app, which will also include useful educational content. The access can be for a limited time or for a lifetime, based on your pricing strategy.
For e-learning apps that offer several courses, you can offer a defined number of courses with the subscriptions. Although, in terms of margin, the subscription-based monetization model lags behind the pay-per-course model, it is very effective in attracting new users.
Subscription-based monetization model is perfect for self-learning apps. However, e-learning apps that offer courses can also make use of this model along with the pay-per-course model.
Freemium
Freemium app monetization model is often coupled with other monetization models like third-party services, advertising, and subscription. With the freemium model, your app will offer educational content for courses for free, but will ask users to pay to get certificates for that particular course.
However, most students drop-off at the payment option as they believe that the value lies in obtaining knowledge, not in the degree. Only if your course certifications have value amongst most of the employers out there, will the freemium monetization model work for you.
Advertisements
If your e-learning app has a mass audience and covers a variety of educational content, advertisements are a considerable monetization opportunity. However, you would need an expert to handle advertisements into your education app. You can either set up Google Adsense or manage the advertisements by yourself.
Why Choose Nimble AppGenie for Your E-Learning App Development?
Not any education app development company can build the best E-Learning Mobile App Development. Experienced e-learning app development companies like Nimble AppGenie know how to overcome the challenges that occur during the development of e-learning web portals and e-learning mobile portals.
We're among the top e-learning app development companies in the world. Whether you want to build an innovative e-learning application or the e-learning app idea has already been executed and you need a similar app, Nimble AppGenie has innovation at its core and can build you the best ROI-centric learning app.
We've recently developed a medical education app named Medu4. The app was equipped with advanced features like smart search and personalized practice sets. Click on the following image to read more about how we overcome the challenges we faced during the development.
Top 5 e-learning Mobile Apps and Web Portals
Recently, CNN listed down the top e-learning apps for 2021. Let's go through them one by one to understand their strengths and weaknesses.
1. Babbel
Babbel is a language learning mobile app that offers courses in 14 different languages including English, Portuguese, Italian, French, and Spanish. The app makes self-learning immersive by utilizing text-based learning, visual examples, and language recognition.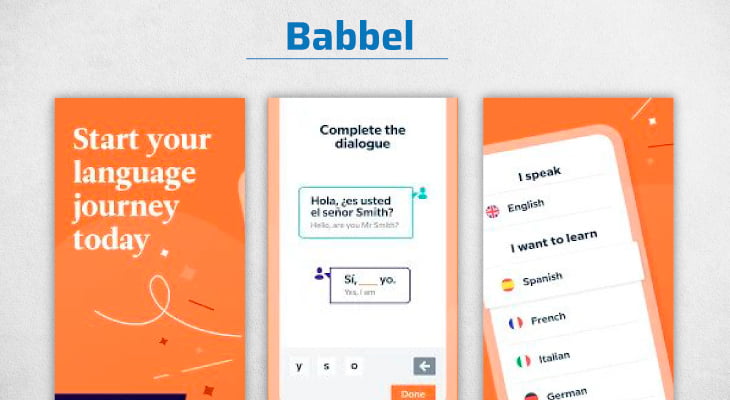 Customizable learning experience is the greatest strength of Babbel language learning app. Having the ability to attempt practice/mock tests based on the skill level, learners find it very easy to keep up with their motivation. One parameter where Babbel lags behind other language learning apps like Rosetta Stone and Duolingo is that it doesn't provide users with specific vocabulary classes like Travelling, Restaurant, Corporate, etc.
2. Coursera
Coursera offers courses for various subjects ranging from arts and humanities to science. The app is very different from Babbel in terms of courses it offers and the monetization strategy.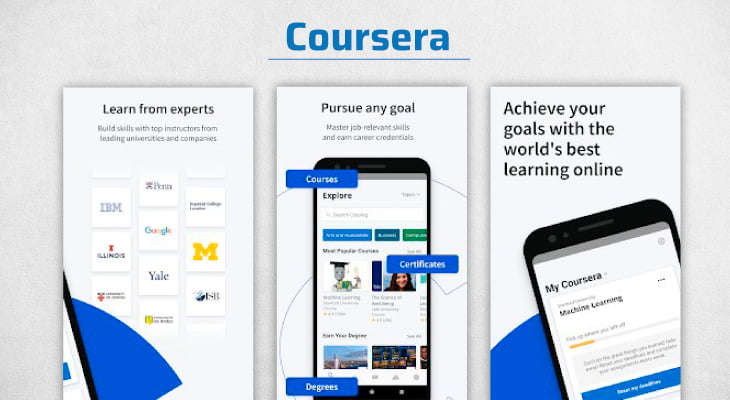 The app features professors and professionals from recognized educational institutions like Stanford, IBM, Saint Petersburg State University. The app also provides bachelor's and master's degree courses that are accredited by the aforementioned universities.
Coursera's greatest strength lies in the quality of educational material it provides. The courses that the app offers are designed and developed by some of the top universities and companies in the world. Hence, it is the best choice for learners worldwide.
3. MasterClass
MasterClass is for those who want to broaden their horizons and learn new skills from pundits. The app is the best place for anecdotal learning and provides superior quality educational content. The courses within the app range from music composition to cooking to astronomy.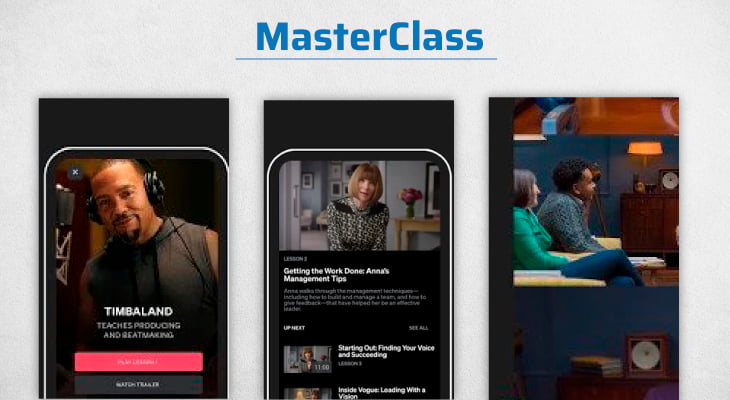 In terms of tutors, MasterClass boasts some recognized names such as Gordon Ramsay, Tony Hawk, Amy Tan, and Neil deGrasse. While reviewing, I was surprised to see the physical motion illustrated fairly in the fitness courses.
4. Blackboard
Blackboard is a K12 learning platform that is aimed to supplement conventional methods of classroom education. Blackboard is astonishingly-designed to incorporate most of the traditional classroom functions like notes taking, teacher-student communication, assignment & assessment, etc.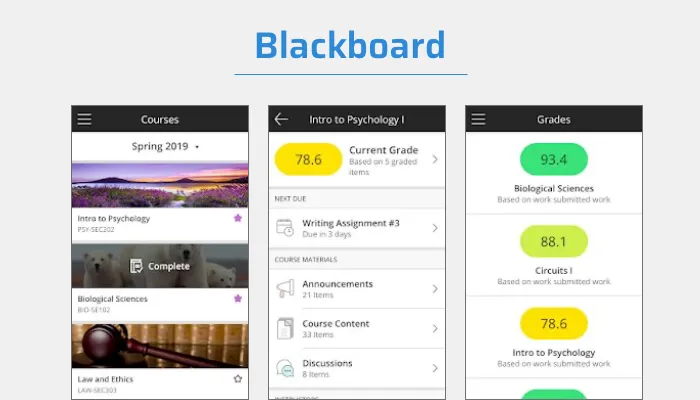 The app profoundly classifies the variety of educational content based on the student's curriculum. The teachers can post classroom content in several different forms like text, images, audio files, and videos. Blackboard's learning modules, lesson plans, and folders can effectively organize the content.
5. Google Classroom
Google Classroom is a K12 learning app that facilitates collaboration between teachers and students. This enables teachers to create a virtual classroom area where they can manage all the educational content the students would need. The educators can make use of Google suite apps like Drive, Docs, and Sheets to create and edit educational content.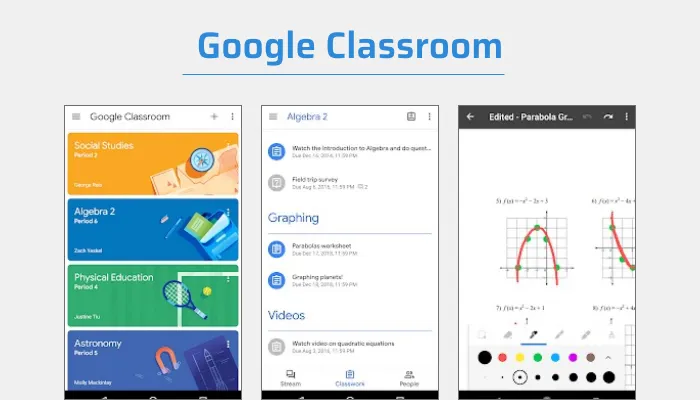 The teachers can create assignments for students and provide them with necessary materials via the app itself. Students would receive email notifications for the new assignments. Google Classroom also allows teachers to assess the assignments completed by the students.
General Features for E-Learning Mobile App
As e-learning mobile apps tend to have more than two user panels, the feature set will vary accordingly. Also, some features for every particular type of app will be different. I'm writing down the necessary features for e-learning apps below.
Features for Student App
Social signup and login
Splendid content organization in terms of courses and assignments
Mobile payment integration
Search and filter functionality
Live chat and video conferencing
Rating and review capability
Practice sets and mock tests
Manage subscriptions and purchases
Features for Tutor App
Seamless registration
Content uploading and managing
Profile creation and management
Notification management
Class scheduling
Student interaction via text and video
Features for Parent/Mentor App
Social signup and login
Track student performance and course progress
Interact with teachers via chats and video conferencing
Manage course subscriptions
Push notifications
Access to student attendance
Features for Admin Panel
Manage student, teacher, and mentor accounts
Oversee and control the educational content published on the app
Manage pricing plans and subscriptions
Manage community content
Data visualization and analytics
Advertisement management
Advanced Features for E-Learning Apps
For some e-learning apps, features listed below can act as general features. However, on a broader perspective, I've included them in the advanced features.
Personalization using AI and ML
On most occasions, the learning curve and pattern are different for every student and this is why your e-learning app should provide them with a personalized learning experience. Instead of offering the curriculum in a cookie-cutter format, you should make use of AI and ML technologies to personalize the learning experience for students with lesser efforts.
Gamification
Considered irrelevant for educational apps, Gamification has proved to be a great tool to infuse motivation during online learning. Apps like K-12 and self-learning apps must implement the gamification feature to keep the students interested in learning, as it triggers competitiveness among them.

Forums
Forums are a very effective way to bring all the stakeholders in the e-learning app ecosystem together. Students and teachers can discuss problems and solutions on a greater scale. While implementing this feature, don't forget to empower administrators to manage the forums so that the conversations are controlled.
Quick Notes
When your e-learning app brings the educational content online, it should also allow the students to take notes within the app. This will help students in two ways. One, they can organize their notes within the app better and access them anytime anywhere. Two, they can also share their notes with their friends or classmates, without having to physically copy them. To make the notes more easy to use, you can allow students to take screenshots using the in-app screenshot features.
Social Sharing
Learners are motivated when they complete a course or achieve a milestone. Your e-learning app can keep their motivation fired up by allowing them to share their achievements on social networks. Social sharing feature is most effective with MOOC platforms and self-learning apps. Make sure that the learners are able to share their achievements with a few taps. In addition to increasing learner's engagement with your app, the social sharing feature will also increase your brand awareness.
Tech-Stack Needed for E-Learning Mobile App
Back-End Development – Laravel, Python, Node.js
Mobile App Development – Swift, Swift UI, Java, Kotlin, React
Front-End Development -, CSS, HTML, , Ajax, Bootstrap, JavaScript, Angular Js, React Js
Cloud Environment – AWS, Google Cloud, Linode, Firebase
Database – MongoDB, MySQL, SQL, NoSQL, SQLite, PostgreSQL
Push Notifications– Firebase, Apple, One signal
SMS gateway: Twilio, Sinch
Payment Processing – StripePayPal, Braintree, In App Purchase, 2Checkout,
Social Login – Google, LinkedIn, Facebook, Apple, Twitter, Instagram
Media Streaming – Wowza streaming engine, Nimble streamer, helix universal server, NanoStream
Cost to Develop an E-Learning Mobile App
The development cost for e-learning apps relies on several factors, including platforms that the app is built for, technologies used, features to be incorporated, app scalability, and the geographic location of the development company. The feature list and the region of your e-learning app development company are the most weighted deciding factors for the E-Learning Mobile App Development cost.
Although it is nearly impossible to tell the exact cost of E-Learning Mobile App Development without a product requirement document, I'm mentioning the ball-park estimate of development costs for different types of e-learning apps.
K-12 Education App Development Cost – $20,000 to $45,000
MOOC App Development Cost – $20,000 to $80,000
Exam Preparation App Development Cost – $10,000 to $30,000
Self-Learning App Development Cost – $25,000 to $50,000
Conclusion
The term e-learning is very broad in terms of technology solution availability and applications. Other than the four types of e-learning apps we've discussed, the EdTech ecosystem also includes Learning Management Systems and School Information Systems. I've written an article on the entire ecosystem of EdTech development. You can read that here: Best Practices for eLearning Development to Ensure Faster ROI
Lastly, outsourcing the e-learning apps development work to an experienced on-demand e-learning app development company is the best way to ensure faster ROI for your investment. We can testify to this as we've enabled e-learning companies to build hugely successful businesses. We, at Nimble AppGenie are experts in using Agile and DevOps techniques to develop successful e-learning apps that provide great user value.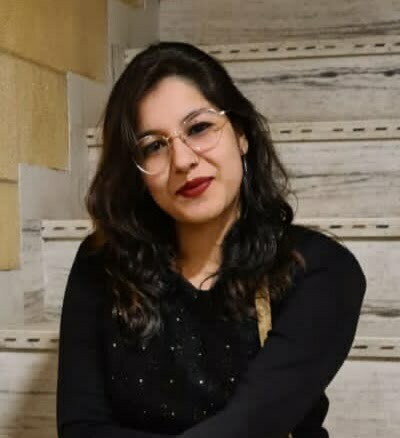 Divya is an outstanding writer at Nimble AppGenie. She is very innovative with her creative ideas. She is very passionate with technology implementation in several industry verticals and always keen to learn new opportunities that brings business efficiency and profitability. Whereas, Nimble AppGenie is an expert in developing solutions for Healthcare, FinTech, and EdTech. Nimble AppGenie is helping small-large scale enterprises by providing innovative solutions that excel in the market.