Bike Rental App Development is growing popular.
It is affordable and eco-friendly, the best part is, people absolutely love it.
As of 2021, the global bike rental industry was valued at around $ 2.1 dollar. And it is expected that, in the next 10 years i.e. by the year, 2031, the industry will be worth more than $11 billion.
While it is true that this isn't as big as the Fintech or logistics industries which are worth in trillion, bike rental offers amazing revenue generation opportunities.  In fact, the growths of the industry in recent years are a perfect example of this.
For instance, almost a decade ago in 2013, there were 700,000 recorded bike rentals worldwide. And just 3 years later, the number grew to 2.3 million in 2016. Fast forward to today, and the statistics look a lot better.
Consequently, there are businesses not only in the United States of America but across the globe that are interested in creating their own bike rental app. And if you are one of those who want to learn more about the bike rental app concept before you decide to develop it, this blog is for you.
Here, we shall be discussing everything related to Bike Rental Mobile App Development, including other popular apps, monetization, development process, cost, and so on.
Speaking of which, let's get right into it, starting with…
Bike Rental App Development 101
Bike Rental App is a very simple concept.
Since everyone is familiar with taxi booking app development, you can take it as an example for both bike rental and taxi booking apps are very similar.
For those still wondering what a bike rental app is.
Well, as the name suggests, this is a mobile app that you can download on your mobile device and use to avail of on-demand bikes.
You can use bikes as you see fit and when you are done with them, you can leave them back at the station. In the end, you can pay through the app without any human intervention.
Now, there are a lot of major cities across the worlds which are highly dependent on the bike for commuting. This includes major ones like Paris, New York, and so on. get
There are version reasons why bike rental app development is so popular. For instance, riding a bike is a lot cheaper than riding a motorcycle or car since there is no fuel involved. And for the same reason, it is also very eco-friendly.
Software solutions for bike rental are specialized software applications that facilitate the management of bike rental businesses.
While most people assume that the car is the fastest transportation, people living in metro cities will disagree. You see, cars have to be driven on roads which makes them cause and target of traffic. But there is no such limitation with bikes. This is what makes them a good option for tourists as well as commuters.
Speaking of which, this is all you need to know about bike rental apps. It's time to look at the working of this app.
How Does On Demand Bike App Work?
So, how does an on demand bike app works? Well, in this section of the blog, we shall be going through exactly that.
It is, as mentioned below:
The first thing user needs to do is download the app on their phone.
Once the app is downloaded it is time to sign up or register. This can be done via the phone number, email, Google account, Apple ID, etc.
After registration, the user can add other details to the platform like name, location, preferences, and so on.
Here, based on user location, users can look for the closest station or point where they can find a bike.
Once at the location, the user will find support staff or a bike with eLock controlled via the app. In the case of the latter one, users can put in the code and take the bike with them.
After using the bike, it needs to be brought back to the same point or left at another station of the service provider.
The payment can be done through the app itself via eWallet integration.
Users can also choose to leave reviews and ratings.
In case the bike is damaged or lost, the user has to pay for the same. Nevertheless, this and other similar details are shared in the app itself. And with this out of the way, let's look at some of the top bike rental apps of 2023.
Top Bike Rental Apps In 2023
If you want to develop your own Bike Rental App, it is a good idea to look at the current best rental apps. This will give you an idea of what you should and should not do with your project.
As such, some of the best examples of e bike rental app development examples are, as mentioned below:
| | | | |
| --- | --- | --- | --- |
| Spinlister | Lime | RentOnGo | Citi Bike |
| Wheelstreet | Donkey Republic | Smart Bike | ZipHop |
These are some popular examples of bike rental apps across the world. Moving on, let's discuss the types of bike rental app business models.
Types Of Bike Rental App Business Models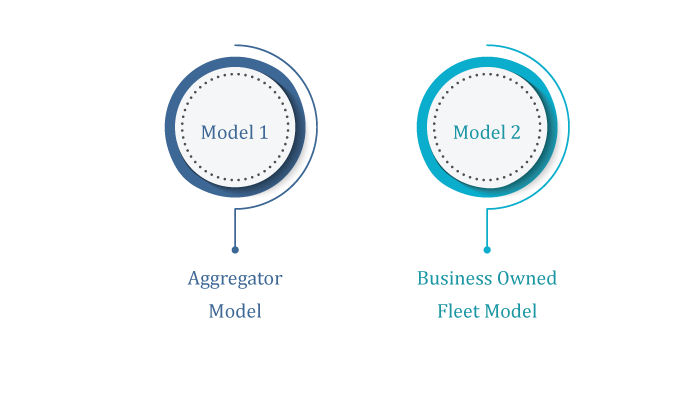 There is a lot that goes behind creating a successful bike rental business apart from creating the app. And choosing the right business model is a big part of it.
Here, there are two major bike rental apps that you can choose from. And in this section of the blog, we shall be going through these. Thus, helping you choose the one which is best for your business.
These are, as mentioned below:
As the name suggests, the aggregator model works to connect service providers with users. Meaning, in this model, the business creates a platform without actually owning any bikes of your own.
Rather, you will allow bike owners to register on your platform and provide their services. On the other hand, users can explore these options via the app.
This way, your business just needs to maintain the platform in form of a marketplace for on demand bike services.
The aggregator model is very popular as it requires little investment. And when done right, revenue generation is also good. In fact, this model is followed by some of the larger companies too. It is also a popular choice for car pooling app development business model.
Business Owned Fleet Model
As the name suggests, in this model, the business won't rely on others for their bike fleet. Rather, the business itself owns the whole fleet.
Since the fleet is owned by the business, there will be multiple stations across the city where these bikes can be rented out or put back in at the end of service.
While the investment in this form of bike rental mobile app development is higher than the aggregator model, the revenue generation is also much higher. Therefore, this is an option that you should definitely consider.

Why Are The On-Demand Bike Apps So Popular?
Before you hire dedicated developers to create your own bike rental app, let's go through some of the reasons why people love bike rental apps and the reasons behind their popularity.
Let's get right into it:
The very first reason why everyone loves on-demand bike apps are, they are extremely affordable.
We are talking about bikes after all; there is no fuel, no motor, or anything. For that reason, the cost of renting out a bike is very cheap when compared to motorcycles or cars.
This is one of the reasons why people love using on-demand bike apps in their day-to-day life.
Pollution, global warming, etc has been at the center of global debate for a long time now. And it is no secret that the burning of fossil fuels has been taking a toll on our planet.
However, unlike other vehicles, a bike doesn't use any form of fossil fuel. While there are e-bikes that run on electric motors, their pollution is also absolutely zero.
This makes it one of the most eco-friendly approaches, something that a lot of people support.
One of the reasons why this on demand app development solution is so popular is the active lifestyle trend going on recently.
In recent years, a considerable amount of people have become more health conscious trying to add as much physical activity as possible to their busy schedules. And bike helps them do just that.
There are a lot of people who often avail rent bike to meet their fitness goals while filling their lungs with pure oxygen. our company provide e-bike app development services.
Last but not the least, on-demand availability of bike rentals, is one of the big sources of popularity.
You see when people want something they want it ASAP. And on-demand bike rental apps deliver just that. Meaning rental bikes are readily available.
A lot of people use them in case of heavy traffic or even for daily commuting.
These are some of the reasons behind the popularity of on demand bike apps. These are also reasons why bike rental app development solutions become a quick success in no time. Speaking of which, let's discuss another top factor that affects the app's performance in the next section.
Essential Features For Bike Rental Apps
Whether you are talking about hybrid, iOS, or custom android app development, if you want a bike rental app to be a success, you need to fill it with amazing features.
And this is why, in this section of the blog, we shall be going through the top features that you should consider including in your bike rental app development.
Login/Registration
Push Notifications
Smart Search
Document verification
Multiple login options
Instant book and Request to book
In-app messaging
Reservation management
Review management
Manage service fee
These are some of the top features that you should consider including your bike rental app. Moving on, we will be taking a brief look at the monetization process of the bike rental app in the next section of the blog.

How To Monetize Bike Rental Apps
Monetization is a crucial part of on demand app development services. Otherwise, how will you generate skyrocketing revenue for your business?
Well, choosing the right monetization strategy is as important as monetization itself. Therefore, we will be going through some of the most popular and proven strategies. These are, as mentioned below:
In-App Advertisement
Payment Gateway Commission
Service Commissions (Aggregator Model)
Promotional Discounts
Physical and Logistical Considerations
These are some of the best methods of bike rental app monetization.
With all said and done, it is time to develop the app. Let's see how you can do that in the next section of the blog.
Bike Rental App Development Process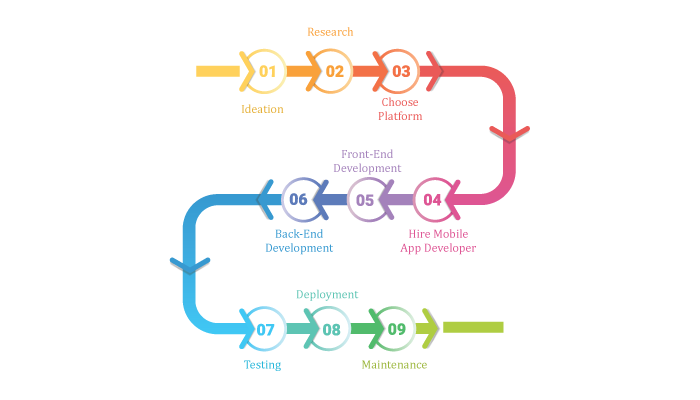 So, how do you create a market leading bike rental app?
Well, there is a lot that goes into it apart from hiring Mobile App Development Company.
To give you an insight into the same, in this section of the blog, we shall be discussing the entire bike rental app development process in detail.
Therefore, let's start with the first step, which is…
1) Ideation
Every journey starts with a simple step. And every development project starts with an idea.
Therefore, the first thing you need to do is come up with this idea. How does this work? Well, nobody knows.
2) Research
Research is the soul of mobile app development.
This is where you gather all the information and data which will be the base of your project. The deeper you go, the better your app comes out.
In addition, you can also analyze competition, find a target user base, and look for market openings. Using all the information, you must also cross-check the idea to make sure it is reliable.
3) Choose Platform
It is time to choose a platform.
As we all know, android and iOS app development services are two main options when it comes to native app development.
On the other hand, if you are looking for a cross-platform app, it is a good idea to consider react native app development.
Following this, it is time to hire your development partner.
4) Hire Mobile App Developers
It is time to hire mobile app developers. And there are various ways you can do it.
For instance, you can hire freelancers, outsource to on demand app development company, hire part-time developers, and so on.
Cost to hire app developers highly differences on which method you choose and other factors. Nevertheless, since we are done with this, it's time to start the actual development process.
5) Front-end Development
Starting with development, the first thing that will be dealt with in UI/UX Design.
You should hire UI/UX designers who take a creative approach to the process and have the experience required to deliver the solution you are looking for.
6) Back -end Development
After front-end development, it's time to start the work you hire on demand app developers for, i.e. back-end development.
Here the source code of the bike rental app will be written. Thus, it goes without saying that this process is one of the most lengthy and resource-consuming ones.
It is also advised to maintain a good communication channel with the development team during this part.
7) Testing
After development, the app has to be tested by the QA team before it is launched into the market.
The testing process is crucial to ensure the quality and thus success of the app.
8) Deployment
This is the part where bike rental app development solution is deployed in the market.
Depending on whether you went with hybrid app development or native app development, the process can differ.
9) Maintenance
Mobile app maintenance services play an important role in ensuring the success and consistency of solutions. Therefore, this is something that you should not miss out on.
This is the mobile app development process for bike rental app. Now, let's see how much all of this costs your business in the section below:

How Much Does It Cost To Develop Bike Rental App?
Cost to develop Bike Rental app highly depends on the specification of your project. Reason is that there are various factors that can affect total bike rental app development cost.
Some of these factors are, as mentioned below:
| | | | |
| --- | --- | --- | --- |
| Platform | Tech Stack | Features | Complexity |
| Location of Developers | Size of App | Business Model |  Developer's Expertise |
While it is not possible to predict accurate costs without learning of project specifications, you can expect the cost to develop a bike rental app to be anywhere between $25,000 and $75,000.
If you need more details on the same, it is highly recommended that you consult an on demand app development company that will help you with the same.
Bottom Line
Bike Rental App Development is very popular among businesses. And there are a lot of start-ups who are basing their services around this.
In any case, if you want to develop your own bike rental app or want to learn more about the same, it is highly recommended that you consult Bike Rental app Development Company.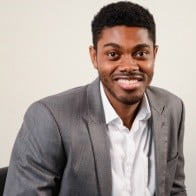 Jermaine Trotman is the co-founder of Nimble AppGenie, a company renowned for its bespoke mobile app development and web development in e-wallet app development and fintech development.