Online job boards have been the most popular way of recruiting for years. At some point of time, almost all of us have applied for jobs via Monster or Indeed. However, as smartphone penetration is at an optimum level, the process of recruitment is getting more online via mobile devices, thanks to the new era of recruitment app development.
This migration towards mobility makes sense considering the increasing share of millennials and Gen Z in the global workforce. Both millennials and Gen Z are more familiar with technology than their predecessors and they also spend most of their time using smartphones.
These generations expect the technology to be integrated into their workplace as it is into their lifestyle. This demand has introduced an opportunity for recruitment platforms to be more accessible to job seekers, hence the market for mobile recruitment software is on steroids. The market is expected to reach $3 billion by the end of 2025.
4 Best Strategies for Talent Acquisition
Recruiters that hunt for talent on recruitment platforms, that are mobile ready, are more likely to achieve workforce diversity and faster employee onboarding. Following are the top 10 recruitment platforms that are mobile ready.
1. Indeed
Of course the best recruitment mobile app has to come from the top recruitment platform across the world. Indeed let recruiters post jobs for free. However, they'll have to pay to promote the job postings. The promotion charges start from $5 per day.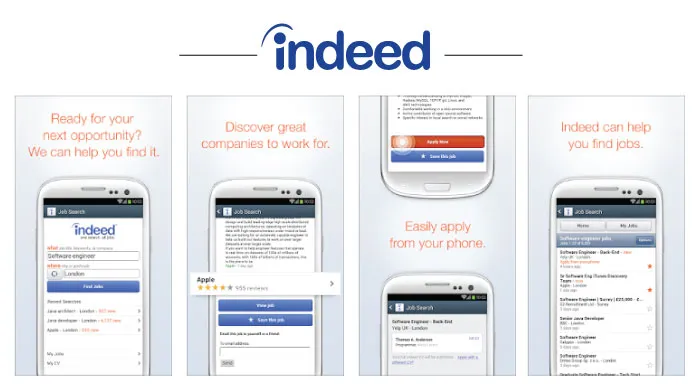 The recruiters can make use of the built-in applicant tracking system that tracks interviewees and can also read through the resume data to filter them out. The screening test feature of Indeed is remarkable. It allows recruiters to ask job seekers a set of questions related to the vacant position, which means the recruiters get pre-screened applications.
2. LinkedIn Recruiter
The professional networking platform leveraged for recruitment, LinkedIn Recruiter is the second best place to hire candidates. The platform has more than 750 million users and boasts a mobile app that makes use of the professional network data to provide recruiters with desired talent pool.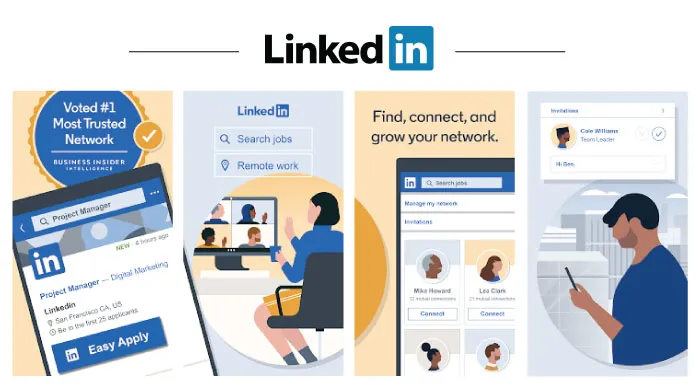 The app uses smart filters and "spotlights" to highlight job seekers that match the skill sets required for a job posting. Furthermore, the app prioritizes the candidates that are immediately available for job change.
In addition to the ability to look out suitable candidates among the global pool of talent, the recruiters can interact with the applicants and set interview appointments
3. ZipRecruiter
ZipRecruiter is a job aggregator app that pulls from as well as broadcast job posts to other job boards like Indeed and Monster. Hence, it is the best option for hiring managers that want to cast their job openings as wide as the internet.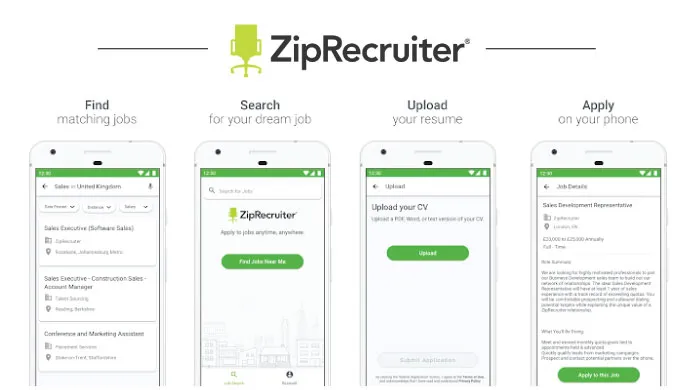 The app has an in-built applicant tracking system that automates part of the recruitment process. Similar to most recruitment mobile apps, ZipRecruiter updates candidates about relevant job openings and job matches.
Talking about the mobile app features, ZipRecruiter allows hiring managers to post the job and track its progress right from the app. The hiring managers can also access resumes and cover letters from the mobile app itself.
4. Monster
Launched in 1999, Monster is among the pioneers of mobile recruiting. The recruitment platform has its own mobile app called Monster Job Search which is free to download. The app boasts similar features as Indeed and ZipRecruiter apps.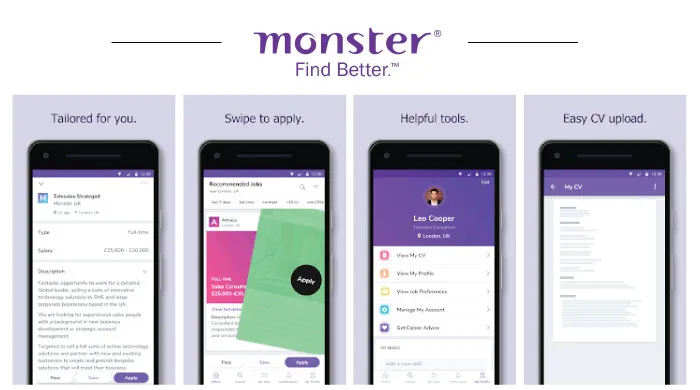 However, Monster doesn't provide mobile apps for the hiring managers or recruiters. The recruiters will have to access the web-based dashboards to post jobs, filter resumes, review candidates, and track recruitment progress.
Stand-Alone Applicant Tracking Systems
Recruitment is much more than just getting the list of right candidates. With technological advancements many recruitment technology companies have come up with solutions that can help employers optimize their process.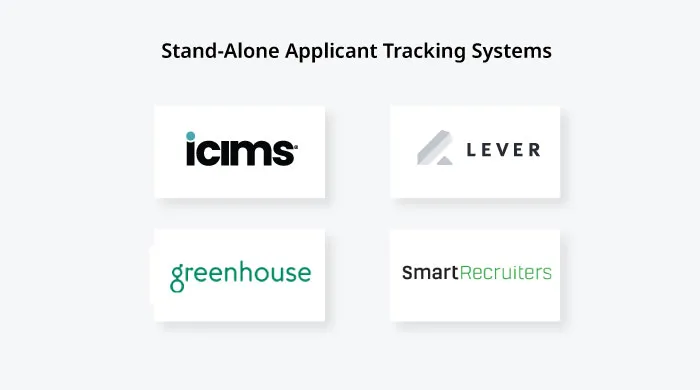 iCIMS

is the #1 applicant tracking system by market share. The system is accessible via mobile app as well as desktop version and facilitates everything from applicant tracking to onboarding. FYI, ICIMS stands for Internet Collaborative Information Management Systems.
SmartRecruiters is another applicant tracking system that is being used by enterprises like Skechers, Visa, Kelly Services, Alcoa, and Equinox. The best part about SmartRecruiters is that it focuses on both recruiters and candidates experience.
Lever is focused on diversity and metric-based recruitment approaches. One outstanding feature it has is that it allows candidates to automatically schedule interviews for the given available slots.
Rated 4.5 out of 5, Greenhouse is perfect for structured interviewing and recruitment approaches.
Recruitment App Development: What Challenges Does Recruitment Software Solve?
Irrespective of how well-versed the recruitment strategy is, there are always some inevitable challenges that can only be resolved with the help of technology. Having the right recruitment software will help recruiters generate maximum ROI from their recruitment efforts. Hence, recruitment app development is necessary. Some of the recurring challenges with recruitment that recruitment softwares can solve are:
Challenge #1: Identifying Which Recruitment App Development Efforts Are Generating Higher ROI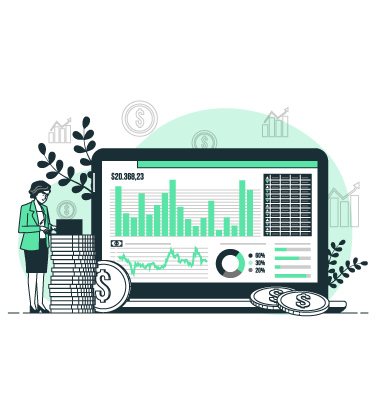 With the traditional approach of recruitment, it is nearly impossible and expensive (if attempted) to build performance metrics and measure the results of several recruitment drives. The recruitment apps can track the number of hires made in a particular duration and compare it with the overall recruitment expenses as well as expenses per recruitment drive. These apps provide hiring managers with analytics and insights into the overall performance or their recruitment efforts which help them optimize their future recruitment strategy.
Challenge #2: Chasing Down Hiring Managers for Post-Interview Feedback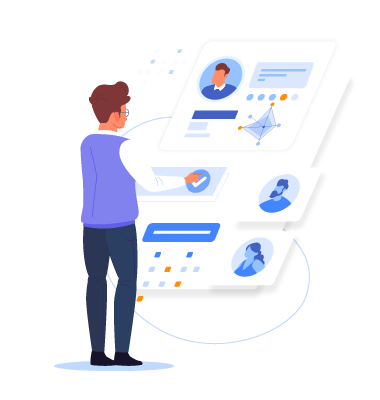 Collecting interviewer feedback is a time consuming process which results in inefficiency. Also, delay in interviewer feedback can result in losing the screened candidates to competing job offers. The recruitment apps allow interviewers to submit feedback within the app itself, right after the interview is conducted. This feedback can be provided in various forms like ratings for different skills, evaluation forms, hiring preferences, etc.
Challenge #3: Candidates Accepting Job Offers Even While Interviewing With a Company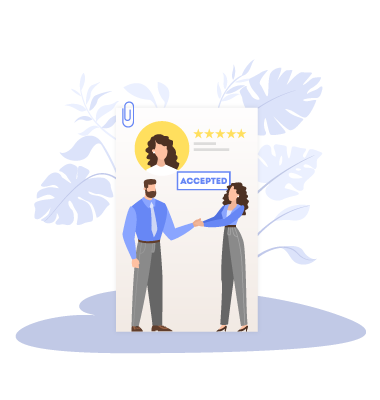 Although there isn't any straightforward approach that can eradicate this issue, there are several techniques that can help hiring managers lessen the risk of losing candidates. Using the recruitment apps, the hiring managers can communicate with the screened candidates frequently, which creates a sense of involvement to the candidates. This process can be automated by involving several touchpoints into the recruitment app development process. For example, sending automated screening updates and interview reminders to the candidates.
Challenge #4: Multiple Interview Scheduling Is a Bane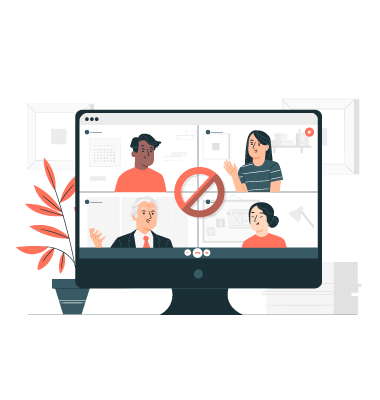 Coordinating the busy and always changing schedules of both interviewers and candidates is a daunting task. However, by using scheduling softwares like Calendy, talent procurement professionals can enable interviewees to schedule their interview for the available time slots. Along with these standalone scheduling softwares like Calendy, the top 4 recruitment softwares I've mentioned at the beginning of the article also have the interview scheduling capability.
What Are the Recruitment Trends in 2021?
The year 2021 is set to see more and more companies leveraging the power of technology to acquire talent. The pandemic has brought significant changes to the corporate world where virtual recruiting and onboarding has become a new norm. However, this is a boon for the recruitment industry as the recruitment technologies are getting mature each passing day.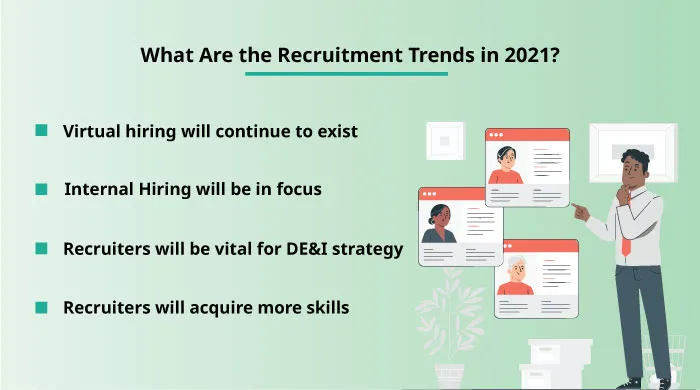 A survey conducted by LinkedIn revealed that the following trends will continue to thrive in the recruitment sector.
Virtual Hiring Will Continue to Exist
70 percent of the respondents in the LinkedIn survey agreed that because of the cost savings and process optimization, hiring processes with a mix of virtual and in-person interaction will continue to exist in the post-covid world.
Even the businesses, resuming in-person operations, will prefer virtual interviews over in-person interviews. It is due to the fact that virtual and automated interviews are a faster method of candidate selection. However, many executives believe that the future workplace will be less remote than many are anticipating. But it doesn't change the fact that virtual hiring is the most cost effective way to procure talent. And organizations pick efficiency over mostly anything.
Internal Hiring Will Be in Focus
LinkedIn data reveals that internal mobility is up by 20% since the beginning of the pandemic. Moreover, half of the respondents believe that the recruiting budget will decrease for 2021 while 66% expect the learning and development budget to either increase or stay at status quo.
Some experts believe that companies across the word will make use of internal mobility programs to build their workforce. These internal mobility programs are to be powered by re-skilling initiatives. Other experts expect companies to move from full-time jobs towards a project-based work approach.
Employee retention is the biggest reason behind companies' quest for internal hiring. LinkedIn research shows that employees stay 41% longer at organizations that support internal hiring compared to those who don't. This will require the HR, Learning and Development departments to collaborate to understand the gap between the existing and required skills of the organization.
Recruiters Will Be Vital for De&I Strategy
Experts believe that candidates will make job choices based on a company's commitment towards diversity, equity and inclusion. According to Workplace Intelligence, a HR research and advisory firm, 70 percent of the job seekers prefer working with a company that demonstrates their commitment to diversity and inclusion.
Diversity is critical for business success. For developers, it is not only imperative to develop a diverse candidate pipeline, but also they should advise hiring managers to improve workforce diversity. It can be ensured by restructuring the recruitment process to eliminate bias and by forming a diverse interview panel that makes use of data-driven reporting to achieve diversity goals.
Recruiters Will Acquire More Skills
As per the LinkedIn survey, the number one skill that recruiters should embrace in 2021 is 'Adaptability'. Since the onset of the pandemic last year, recruiters have been learning new skills such as understanding the talent data, smoothing out the virtual recruitment process, and improvising employer branding.
For 2020, personal development was at the forefront of learning for recruiters. Some of the areas that were mostly tapped in are advisory training, virtual interviewing, WFH productivity, internal mobility, and virtual onboarding.
Conclusion
The world of recruitment has come a long way ahead to become a digital-savvy sector. There are hundreds of tools available that can help recruiters procure talent with lesser efforts. The top 4 recruitment apps that we've discussed at the beginning of this article are among the pioneers of recruitment technology.
With the recruitment industry getting more competitive, there is a need for recruitment solution providers to make use of advanced technologies to streamline recruitment processes even further. Some solution providers are making use of AI technology to enable workforce diversity whereas others are using a mix of AI and human intelligence to help recruiters get the right candidates.
With this increasing adoption of technologies in recruitment, there is also a surge in recruitment app development. However, the growing competition requires recruitment technology companies to roll out solutions in the market at a faster pace. Hence, making use of Agile development methodologies is recommended for these projects.
Madhukar is marketing communication specialist at Nimble AppGenie. A writer by day and reader by night, he specializes in technical blogging. Throughout the time, he has been helping businesses by writing valuable business guides and articles. Nimble AppGenie is a renounced fintech and healthtech development service provider that is helping small-large scale enterprises.