Have you ever wondered what made millions of people including you, search for an android app development tutorial?
Being the world's most popular mobile operating system, it dominates 75% of the market. Amazing right? Let's look at some other statistics:
As per the latest reports, there are over 3.48 million android apps on Google's Play Store.
Every day 3,739 new apps are added to play store.
With ever growing user base, in 2021, 3 billion android apps were downloaded.
Sensor Tower's reports says user expenditure is forecasted to reach $60 billion by 2023.
However, android application aren't expensive at all, as 33,254 apps priced less than a dollar.
Consequently, 97 percent of all Android applications were available for free on Play Store
These stats clearly show that android is ruling the mobile app world with a banger. Now, it goes without saying that these stats attract businesses and start-ups from across the United States of America and the Globe.
However, as curious as you are, not everyone is tech-savvy enough to know everything about android mobile app development. This can be a major drawback but it isn't because we are here to help you.
Here, you will be learning everything and anything you need to know about creating an android application from scratch. This will include the definition of android development, why you should do it, comparison, process, cost, and so on.
Therefore, with this being said, let's get right into it:
Android App Development Tutorial: Overview
Android app development or app development, in general, is easier said than done. Reason is that apart from soft steps, there are some technical things that you need to take care of.
For instance, you need to come up with an idea, do your research, cross-check it, get the idea to an android app development company, and it doesn't end here.
But to understand all of that, you first need to know the basics of android development and android itself. Therefore, we shall be discussing everything in this android tutorial.
For ease of understanding and sake of simplicity, we will be discussing all of this in chronological order starting from android's definition and all the way to development as well as cost.
So, first things first, let's start with…
What is Android & Android App Development?
Android itself refers to as a mobile-based operating system.
Now, for those who are familiar with Linux, android too is just a modified version of a Linux kernel, open source software.
As most of you already know, android is specially designed for touch-screen devices, this includes mobile phones as well as tablets.
Speaking of which, this platform was first funded by none other than tech giant Google. And even today, Google supports and updates this platform regularly.
However, this platform isn't limited to one specific company like its counterpart, iOS. Rather it is open source meaning almost every mobile company apart from Apple, uses android or some form of it, on their devices.
In fact, back in 2007, when android launched for the first time, HTC Dream was the mobile phone that carried it.
Now, coming to android app development refers to the step-by-step process of creating an android application ground-up from an idea.
As such, android has been used as the base for the development of some of the best mobile applications. Let's look at these in the section below:
Popular Android Apps
YouTube
Google Maps
Chrome
Gmail
Whatsapp
Facebook
iOS vs Android App Development
iOS is the arch nemesis, the counterpart, and the other side of the coin of Android app development. And we cannot have a conversation on android without mentioning, iPhone app development.
Now, people often ask why choose android over iOS and so on. While it goes without saying that the iOS platform is in no way bad, android app development services are just whole another level.
However, at the end of the day, the choice between iOS vs Android highly depends on your project. You see, if you are more worried about reaching a wider audience and offering a free application, android is much better as it dominated 75% of the market.
In addition to this, android offers higher flexibility in development, allowing you to create custom features as well as designs that capture the customers. With a larger audience and the right concept, android can lead your business to skyrocket success.
But this doesn't end here; there are a lot of other reasons to choose android over iOS. And we shall be discussing these in the section below:
Why You Should Choose Android App Developers Over iOS?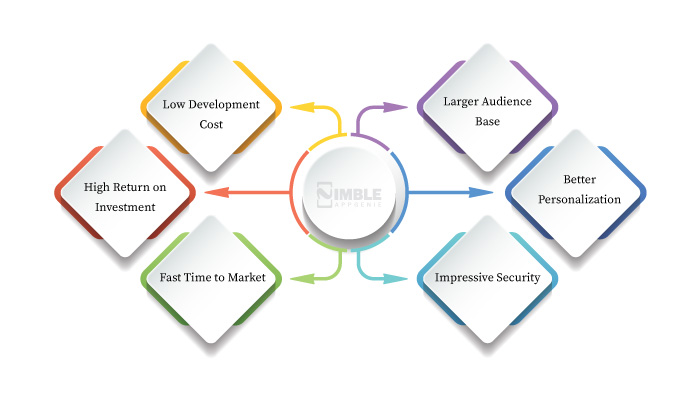 There are various reasons to choose android app development services for your next project. And in this section of the blog, we shall be looking at some of these reasons.
The first reason to choose android for your next development process is that it offers considerably lower development cost.
We have to make the fact clear in this android app development tutorial that creating an android application won't hurt your pocket.
Therefore, consider the fact before you develop your next mobile app.
High Return on investment
ROI or return on investment is something that matters a lot in the world of business.
Now, if you don't get a high return on investment, the project is a failure. And while developing an android won't guarantee endless ROI, it significantly increases the chances of the same.
Custom mobile app development is time-consuming. However, by introducing the android platform to the picture, you are making the entire process much faster.
With faster time to market, all you need to do is put the idea in from this end and get a fully-fledged application on the other end in no time.
With faster development time the development cost is also minimized.
Android is a platform that gets constant updates and a major one once every year.
While this means a lot of things, one we are concerned about is security. You see, with the latest update, android 12, the security of the android system have been taken to a whole new level.

While iOS app development services are great, they are infamous for being incredibly rigid.
On the flip side, android app development is much more flexible in all areas considered. Thus, with the latter one, you can get better personalization, creating an app that better fit your business.
Last but not the least, the android platform dominates the majority of the mobile app industry. And this means there are billions of users.
So, clearly, the user base of android apps is much larger than the competitors. Therefore, this is one of the things that can highly affect your choice, keep this in mind.
These are some of the reasons to choose android app development for your next project. And in the next section of the blog, we shall be looking at industry specific android app development.
Industry-Specific Android App Development
There are a lot of mobile app developments industries, as most of you already know. This includes entertainment, e-sports, marketplace, and so on.
However, as things turn out, custom android app development isn't a good fit for all of them. Therefore, in this section of the blog, we shall be looking at industry-specific android app development.
These are, as mentioned below:
Fintech is one of the fasting growing fields in world today. Standing for financial technology, it goes without saying that it is being utilized throughout the world.
Now, Fintech app development itself is an umbrella term that carries a lot of different app types. Regardless, android is a good platform and match for your idea if you want to enter
Android Taxi Booking App Like Uber
Everyone wants to develop a Taxi Booking App like Uber.
The reason behind this is quite simple. People love sing taxi booking services since it is easier and cheaper than owning a car.
Now, if this is something that you want to do, from business side, android app development can really be helpful as its development flexibility allows you to create market leading applications.
Social Media App in Android
Who doesn't want to create a social media platform like Instagram? Everyone does.
This is due to the success of the platform as it has become valued at over 1 billion in recent years. The revenue generated through this platform is just amazing.
And you guessed it, android with all of its development prowess is a good match for your social networking app development.
Ever since covid hit us, we realized how fragile our systems actually were.
With all of that knowledge, healthcare applications can into the picture. They are a smart solution to the difficult situation covid put us through.
Therefore, you can use healthcare app development in sync with android to create amazing healthcare platforms like Practo.
Android eCommerce App Development
Speaking of which, how can we talk about the highest earning app market without mentioning eCommerce?
the eCommerce industry in general is valued in not billions but trillions. And eCommerce Apps like Amazon have generated billions valued at more than 1 trillion.
Android offers a good platform to create market-leading ecommerce development.
Now that you are familiar with some of the best industry that goes with android, it is time to learn how these android applications are actually developed. We will be doing this in the next section of the blog.
Android App Development Process: Step by Step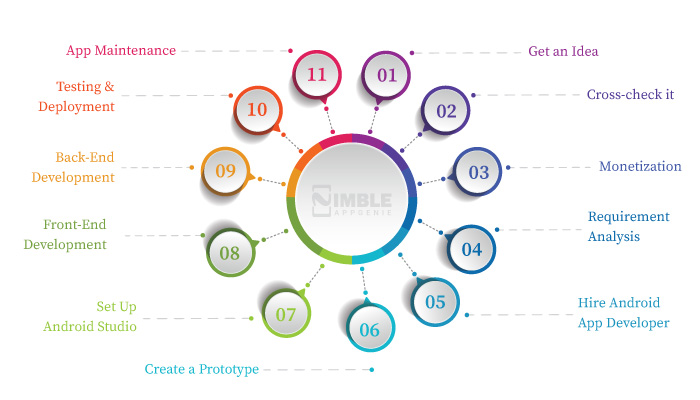 In this section of the android app development tutorial, we shall be looking at the entire process of custom android app development.
So, without wasting any more time, let's get right into it:
Get an Idea
The first step of creating an amazing mobile application is coming up with an idea.
Now, there is no set path to how you come up with an idea. But there are some things you need to be sure of, which we will be discussing in the next section.
Cross-check it
With an idea in your hands, it is time to cross check it.
You need to make sure that it is developable, marketable, and most importantly, it can be monetized. This takes us to our next step which is…
Monetization
Your mobile app development company may be able to help you with your monetization process.
What you need to do here is, integrate strategies that allow your android app to generate revenue.
Requirement Analysis
Once all of that is done, you need to conduct requirement analysis.
By doing this, you will know what all you need and how you need to move forward with it.
Hire Android App Developer
With all the preparations done, it is time to hire android app developers.
There are various ways that you can do this, but there are a few things that you need to take care of.
Some of these are, as mentioned below:
Experience
Expertise
Communication
Tech stack they use
Team size
Create a Prototype
After you hire dedicated developers, the first thing you need to do is share your requirements and idea.
The development side will use this and create an MVP or prototype. This will give you an idea of what the final product will look like, so you make changes accordingly.
Set Up Android Studio
Since it is now time to start the technical steps of development, you can look through an android studio tutorial to set it up.
It is one of the top android development tools, which will make everything that much easier.
Front-End Development
Now, the first part of development is front-end development.
As the title suggests, the front-end mainly deals with UI/UX Design. This is the part where you will be creating an aesthetic design that attracts customers and keep them engaged.
Back-End Development
Following the front-end development, it is time to write the android app source code and create the final product.
Needless to say, this step is time-consuming as well as resource extensive. For that reason, it makes it that much more important for you to maintain good communication with the development side.
Testing & Deployment
After the app is developed, it has to be tested. This is done to make sure everything is bug-free and there are no big errors that much affect android apps' performance.
Speaking of deployment, if you had gone with an hybrid app development company instead of an android one, everything would have been quite different.
Nevertheless, deploying an android application is much easier.
App Maintenance
It is important that you maintain an application if you want it to succeed.
Considering that you have that goal, it is highly advised that you consider app maintenance & services.
Android App Development Cost
In the last section of this android app development tutorial, we will be looking at the cost.
It goes without saying that android app development will incur some costs. Now, how much android app development costs, actually depends on a few things.
Some of these factors are, as mentioned below:
| | | |
| --- | --- | --- |
| App type | Size of App | Complexity |
| Feature and Design | API integration | Security. |
These are some of the factors which can affect the cost. Nevertheless, you can expect the android app development cost to be anywhere between $15,000 and $45,000.
Conclusion:  Bring Million Dollar Idea to Life
In this android app development tutorial, we discussed each and everything. This clearly shows you how complex creating an android app can be.
While you know how to develop an android app, the key to creating a market leading android app is still missing. And this missing portion of the formula is a capable android app development company.
It is only with the right development partner that you can bring your app idea to reality and generate not thousands but millions in the market.
FAQ
This blog by Nimble AppGenie is the best android app development tutorial that you can find on the web. Here, you can learn each and everything you need to know about creating a market leading mobile application on android platfor,.
Both Kotlin and Java are amazing android app development languages. And with the right developer's team you can use them to create a stellar application.
But at the end of the day, it entirely depends on your project needs and preference. If you want to know more about that, it is highly recommended that you consult a mobile app development company.
Nimble AppGenie is an android app Development Company in USA, with our 700 successful project delivery and 95% customer retention. This clearly says something about our capacity.
So, if you want to create market leading android application that helps your business grow and generate millions in revenue, we are the app development company you are looking for.

Niketan Sharma is the CTO of Nimble AppGenie, a prominent website and mobile app development company in the USA that is delivering excellence with a commitment to boosting business growth & maximizing customer satisfaction. He is a highly motivated individual who helps SMEs and startups grow in this dynamic market with the latest technology and innovation.