I will not deny that due to the explosion of the COVID-19 pandemic, many universities, colleges, schools, and other educational institutions have adopted online educational mobile app platforms. Also, you can provide your learners with an effective online or digital learning experience with Elearning app solutions. Elearning Mobile apps are very beneficial for learners because it helps in improving their academic progress. In addition, it has outperformed the barriers of space and time, whilst making educators, learners, and parents stay connected from anywhere globally.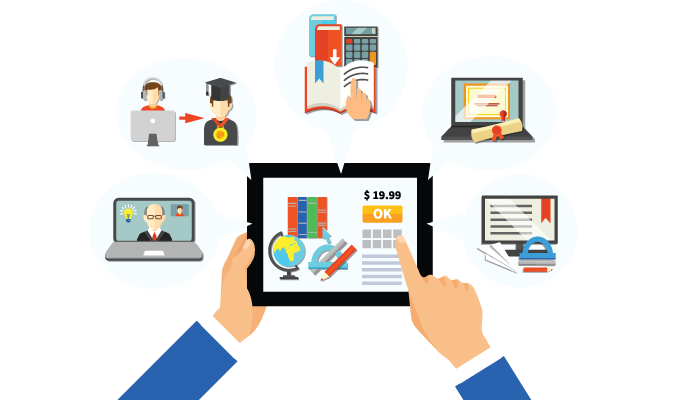 So, yes, we can say that online education has experienced an incredible conversion with the advent of online learning mobile apps. Keep reading this article to understand the importance of Elearning and the top 12 Elearning Mobile apps.
Global Market Scenario Of Elearning Mobile Apps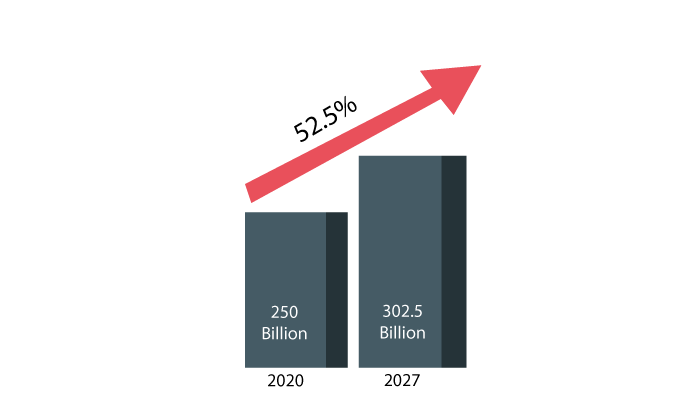 Elearning Mobile App Market size exceeded USD 250 billion in 2020 and is expected to grow at an exponential (CAGR) compound annual growth rate of over 21% between 2021 and 2027. The beginning of several new, advanced, and advanced technologies, such as Artificial Intelligence, Machine Learning, Augmented Reality, Virtual Reality, and cloud-based LMS, will drive the market growth.
Top 12 Elearning Mobile Apps
1. Medu4
The Medu4 medical Elearning mobile app is the best Elearning application across the globe, as it provides learners with educational videos and lectures related to the medical sector. To access video lectures, users have to buy those particular lectures. The Elearning mobile app also permits users to participate in practice exercises, which are personalized as per the user requirements. We, at Nimble AppGenie, have developed this app for the Japanese market, and therefore the educational mobile app language is only in Japanese.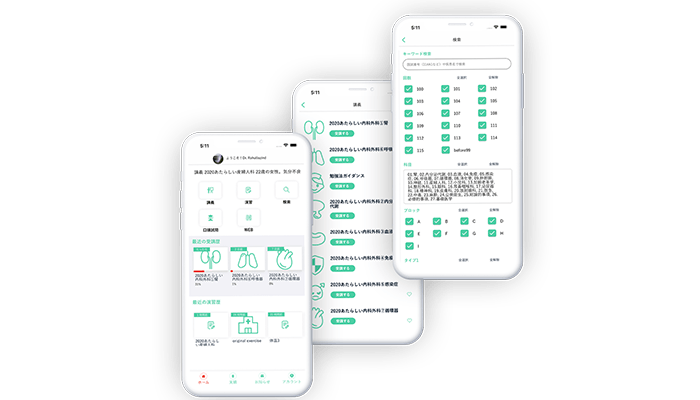 We have created an education mobile app with an attractive UI, fast and easy to use. Also, please note that the client already had a web platform for Medu4. However, it didn't have a user-friendly design or layout and lacked many necessary educational app features that its user base would find beneficial.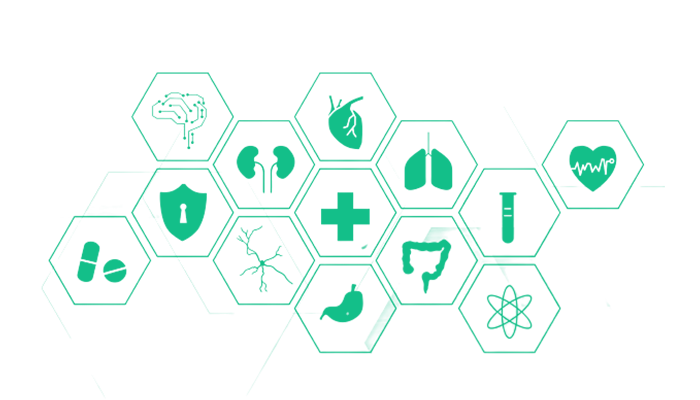 The interactive educational mobile app includes a feature that enables the students to message the admin and for the admin to directly respond to those messages. However, to limit the burden on the admin, the Elearning mobile app doesn't support continuous chat.
2. Google Classroom
Google Classroom is a powerful and easy-to-use web and mobile app for seamlessly organizing students' daily activities. Furthermore, this app allows you to take online classes, distribute course materials, assign assessments, track students' progress, send feedback, etc., from anywhere at any time. It is a free service for schools, nonprofits and anyone with a personal Google Account.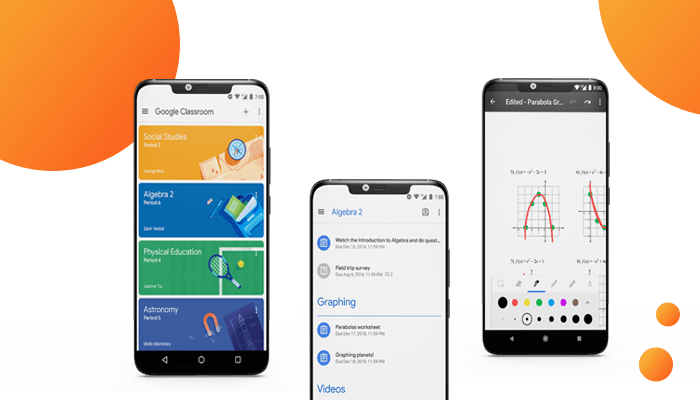 Classroom makes it easy for learners and instructors to connect – inside and outside schools. Also, it saves time and paper and makes it easy to create classes, distribute assignments, communicate and stay organized.
Benefits of Google Classroom
Improves organization – Students can see all of their assignments on an assignments page, and all class materials (e.g. documents, photos and videos) are automatically filed into folders in Google Drive.
Enhances communication – Classroom allows teachers to send announcements and start class discussions instantly. In addition, students can share resources or provide answers to questions on the stream.
Secure – like the rest of Google Workspace for Education services, Classroom contains no ads and never uses your content or student data for advertising purposes.
3. Seesaw
As one of the popular Elearning apps, Seesaw offers a bulk of resources for developing a successful digital learning environment. It also enables you to showcase the students' strengths, areas for improvement, learning progress, etc., to their parents from the digital classroom. You can learn anywhere with Seesaw. This educational mobile app satisfies the quote, "Meaningful learning can happen anywhere." Schools, teachers, and families are ready for anything with this Elearning app. Seesaw is here to help support effective remote and hybrid learning experiences anywhere students sign in.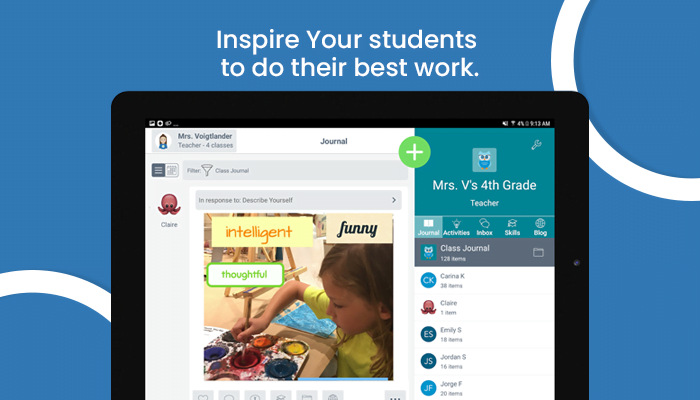 Seesaw is used by over 10M educators, learners, and family members every month across more than 75% of schools in the U.S. Indeed, your work at Seesaw will have broad reach and meaningful impact. This Elearning app is at the heart of the learning process for millions of learners. Their platform encourages creativity and feedback that makes students excited to learn.  Now more than ever, Elearning app solutions are essential. What's more, Seesaw shows that it's possible to work on an important mission and build an exciting, long-term business.
4. Kahoot
Kahoot is a game-based Elearning mobile app to improve students' engagement in the digital classroom. With more than 50% of US educators using this platform, it is possible to create quizzes, host live games, etc. All these activities will be depending on the lesson concepts.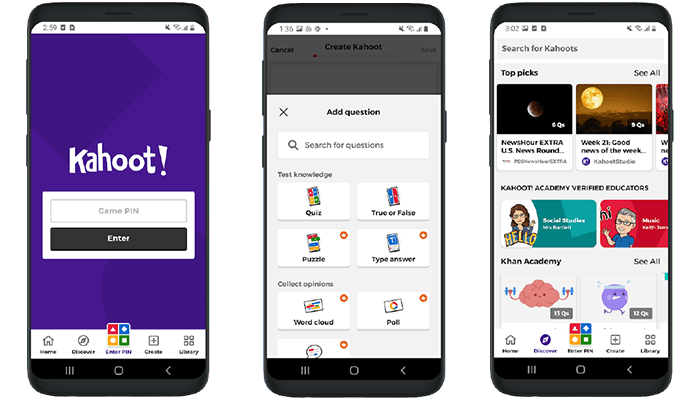 Therefore, you can make learners master each lesson via games and fun tasks. Here's what learners, educators, families, and company employees can do with the Kahoot! app, now available in English, Spanish, French, German, Italian, Brazilian Portuguese and Norwegian:
Benefits For Educators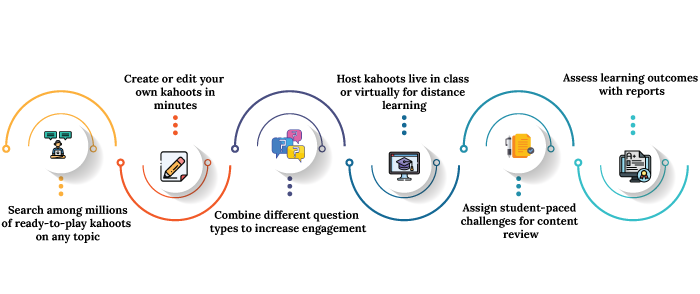 Benefits For Families and Friends
Find a kahoot on any topic, fit for any age
Host a kahoot live by casting your screen to a big screen or screen share via video conferencing apps
Engage your kids with studying at home
Send a Kahoot! challenge to family members or friends
Create your own kahoots and add different question types and image effects
Company Employees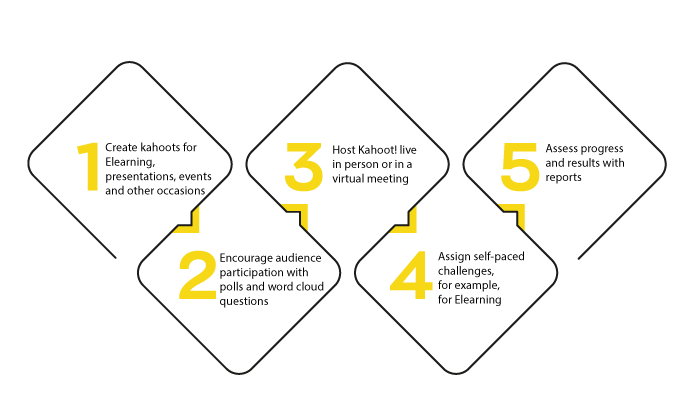 Benefits For Learners
Join kahoots hosted live – in class or virtually – and use the Elearning app to submit answers
Complete self-paced challenges
Study at home or on the go with flashcards and other study modes
Compete with friends in study leagues
Challenge your friends with kahoots you found or created
Create your own kahoots and add images or videos
Host kahoots live for family and friends directly from your mobile device
5. Duolingo
If you want to learn a new language with the world's most-downloaded education app. Duolingo is a fun, free educational app for learning 40+ languages through quick, bite-sized lessons. Practice speaking, reading, listening and writing to build your vocabulary and grammar skills.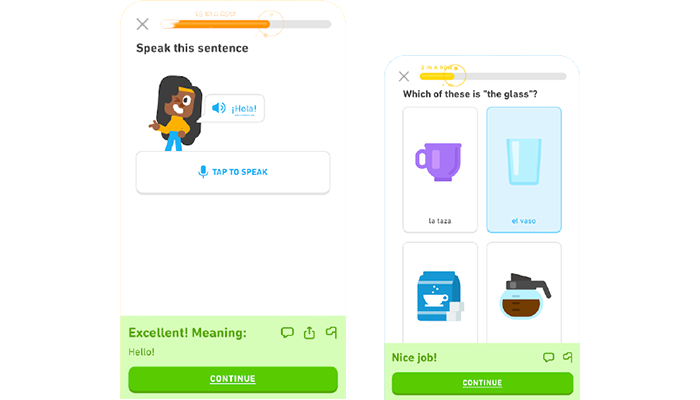 This Elearning app is designed by language experts and loved by thousands of millions of learners across the globe. Also, please note that this educational mobile app helps you prepare for real conversations in English, German, Spanish, French, Chinese, and many more. Learning with Duolingo is love, whether you're learning a language for travel, school, career, family and friends, or your brain health.
Reasons To Choose Duolingo
Duolingo is fun and effective. Game-like lessons and fun characters help you build solid speaking, reading, listening, and writing skills.
Duolingo has a science-based teaching methodology proven to foster long-term language retention.
Learners can track their progress by working toward their language learning goals with playful rewards and achievements when practising a daily habit!
They have 300+ million learners worldwide, you can also become a part of a language community on Duolingo. Because every language course is free. Learn Spanish, French, German, Italian, Russian, Portuguese, Turkish, Dutch, Irish, Danish, Swedish, Ukrainian, Esperanto, Polish, Greek, Hungarian, Norwegian, Hebrew, Welsh, Arabic, Latin, Hawaiian, Scottish Gaelic, Vietnamese, Korean, Japanese, English, and many more.
6. Photomath
Photomath is an award-winning online educational mobile app. The Elearning mobile app has a dedicated team of mathematicians who examine effective math teaching methods, develop Elearning app solutions for math problems, and more. With the support of this app, you can make students understand concepts better. Through this educational mobile app, learn math, check homework and study for upcoming tests with the most used math learning app globally.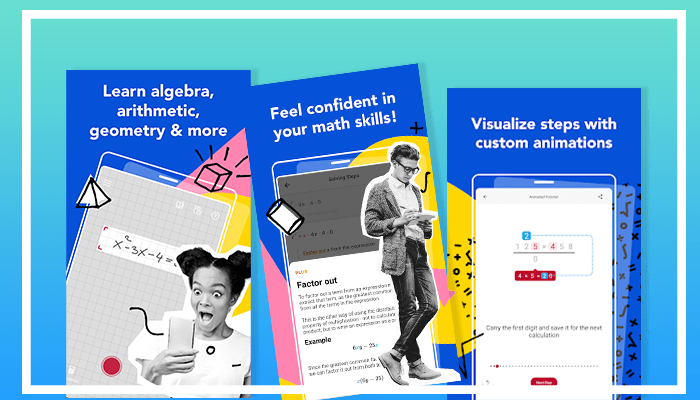 If you have tricky homework or class assignments, you can get unstuck ASAP with step-by-step explanations and animations. They have got you covered from basic arithmetic to advanced calculus and geometry.
Key Features of Photomath App
Word problem explanations!
Free to use
Step-by-step explanations for every solution
Exclusive how-to animations
Scroll through multiple solving methods per problem
Multi-functional scientific calculator
Interactive graphs
Covered Math Topics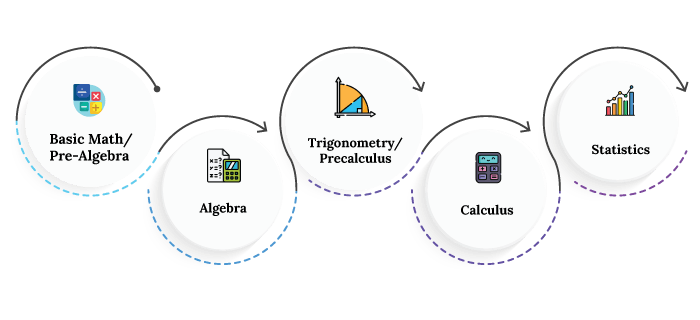 7. Socrative
Socrative is one of the efficient Elearning mobile app platforms to improve the engagement of the learners. It enables you to launch a mini-quiz, raise poll questions, assign quick assessment tasks and so on. It is a cloud-based student response system to examine students' understanding levels while remote learning instantly. Socrative supports and works on every browser including Firefox, Chrome, Safari and Internet Explorer. You can also use this educational mobile app on any web enabled device including Smartphones, Tablets, Laptops and Desktops.
Innovative Features of Socrative App
Visualize student and whole class understanding
Multiple choice and True/False questions
Open-ended questions and vote on the results
End of class Exit Tickets
Play games with our Space Race!
Class, Question and Student level reports
Google Integrations
Single Sign-On – Teachers can sign in using their Google Email Address
Drive Integration – Teachers can have reports sent to their Google Drive
8. Edmodo
Edmodo lays a perfect communicative foundation between educators and learners during distance learning. It is easy to create online collaborative groups, provide lesson materials, create quick questions, share digital assignments, analyze student performance, communicate with parents and much more with the Elearning mobile app. Edmodo is a global education network that empowers educators to engage lifelong learners. They believe advanced and innovative educational technology has the power to improve education and enrich the lives of everyone in the education community, no matter where they might live, work, or play. Also, they strive to connect learners with the people, tools, and support that they need to discover their passions and improve their skills. Since launching in 2008, Edmodo has served over 100 million users in hundreds of thousands of homes and schools worldwide.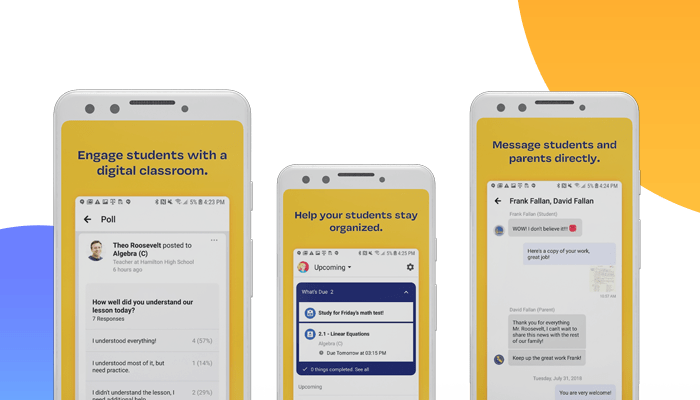 As school communities go back to school or continue learning online due to COVID-19, they want to help teachers, parents, and students feel connected and learn together. For that, they have some practical tools and resources for learning at a distance, in person, or anywhere in between.
9. Scratch
Scratch, a popular Elearning mobile app specifically developed for 8 to 16-year-olds. It builds a rich virtual classroom by allowing learners to showcase their creative skills to the outside world. Students can combine music, graphics, and photos to create interactive games, animations, and slideshows. These activities make them engaged in learning as well as playing. This Elearning app is the world's largest coding community for children and a coding language with a simple visual interface that allows young people to create digital stories, games, and animations. It is designed, developed, and moderated by the Scratch Foundation, a nonprofit organization.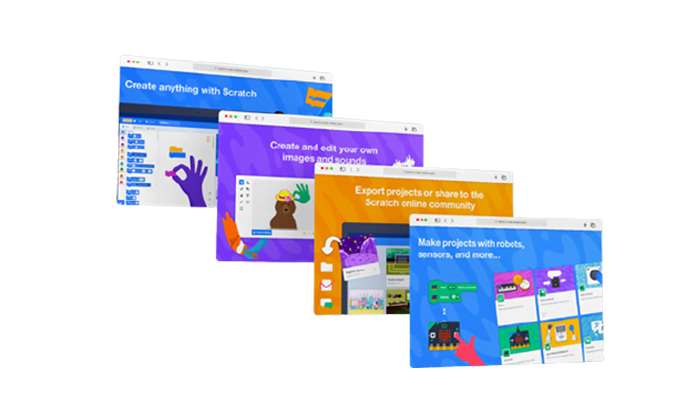 Scratch promotes computational thinking and problem-solving skills, creative teaching and learning; self-expression and collaboration; and equity in computing. This educational mobile app is always free and is available in more than 70 languages. Scratch is a programming language and an online community where children can program and share interactive media such as stories, games, and animation with people worldwide. Children created with Scratch learn to think creatively, work collaboratively, and reason systematically. The Lifelong Kindergarten group at the MIT Media Lab designed and maintained this Elearning app.
10. Thinglink
ThingLink is an award-winning educational mobile app that allows teachers to create engaging content learning methods. It accelerates the curiosity of learners to learn things and expand their knowledge. It is possible to provide digital learning experiences to the students by augmenting the images, videos, virtual tours, music and more. Over 8 million educators and learners use ThingLink for creating accessible, visual learning experiences in the cloud.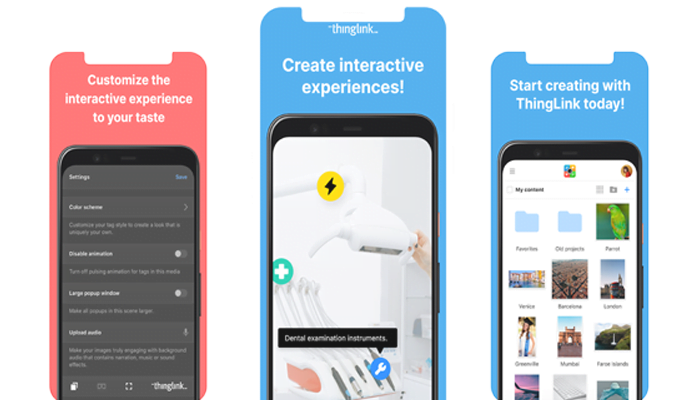 This educational mobile app quickly creates and shares interactive images, videos, 360 media, and 3D models with clickable tags. You can also develop experiences that engage and excite. ThingLink's Immersive Reader integration makes your materials readable in over 80 languages.
Uses of ThingLink in Education
Create personalized, adaptive learning experiences that improve learning outcomes.
Use ThingLink on tablets in the classroom to develop digital literacy and future-ready skills.
Track engagement on all learning materials, videos and virtual tours, also suitable for educational research.
Make interactive infographics, maps, virtual tours, curriculum organizers, project-based learning presentations, escape rooms and digital breakouts for blended and distance learning.
Ideal for blended and hybrid learning, self-paced online learning in higher education.
Use ThingLink for Corporate Training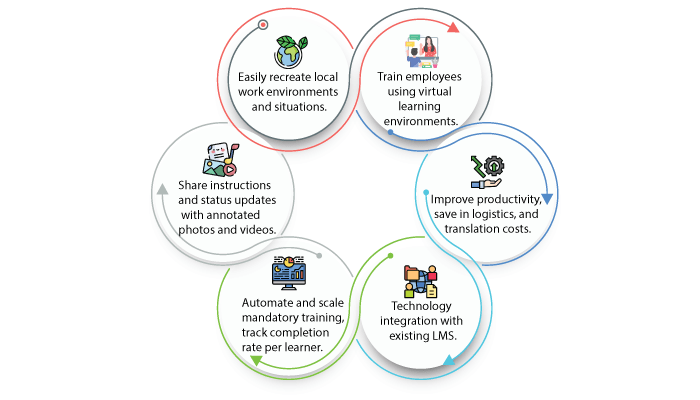 Use ThingLink for Marketing and Communications
You can increase time spent and clicks on infographics, floorplans, maps, virtual showrooms, product catalogues, and videos.
This app is ideal for boosting product marketing, brand engagement, internal communications, company website, social media and customer engagement.
You can also track engagement and collect data for your next campaign. Easily go back to edit and improve projects directly from the educational mobile app.
11. Quizlet
With the support of Quizlet's free study sets, study modes, and in-class games, you can instantly create a highly interactive virtual classroom. This powerful Elearning mobile app offers several study modes that make virtual learning effective. Furthermore, you can use gaming activities, study reminders, learning progress checkpoints, etc., to enhance the students' learning experiences.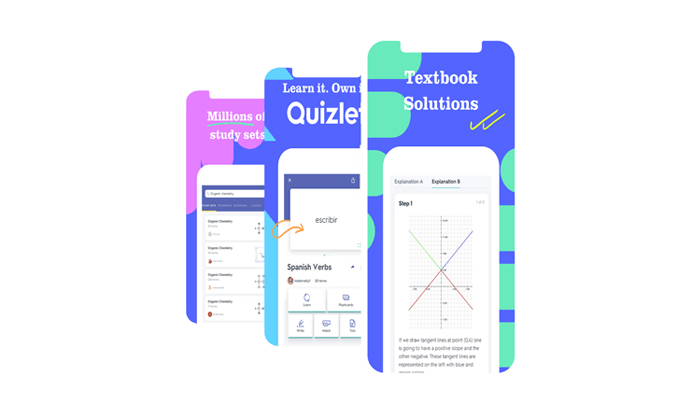 With new expert explanations, an AI (Artificial Intelligence) Learning Assistant and their ever-effective flashcards, get a suite of science-backed study tools at your fingertips. Moreover, Quizlet explanations show you step-by-step approaches to solve tough problems and find solutions in 64 subjects, all written and verified by experts.
12. Class Dojo
ClassDojo is an amazing tool to track students' behaviour. It is possible to allot rewards based on the student's behaviour while attending the sessions, which keeps motivating the learners to maintain disciplined behaviour at all times. Also, you can communicate with parents through direct messages to share feedback about their kid's behaviour during online learning.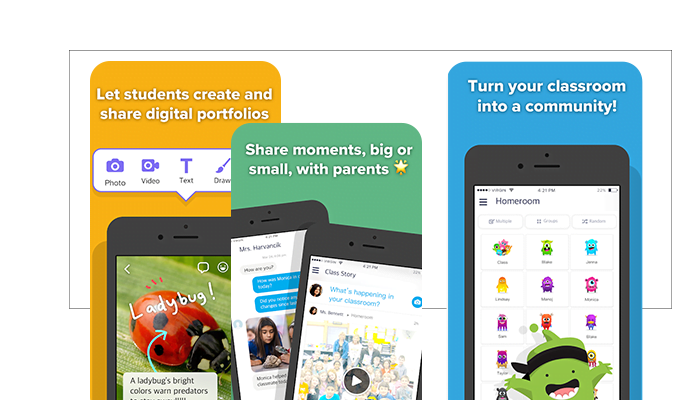 Their mission is to bring communities together and give their kids learning experiences they love. They think every kid on Earth should get an education they love. Also, they don't believe there is some "ideal" education, a one-size-fits-all model that all kids must fit. Instead, they believe every community of teachers, kids, and families should get the learning experiences they want and love.
Conclusion
Today, the education industry has gained better knowledge about the potential of Elearning mobile apps. Virtual classrooms with advanced Elearning mobile apps have made students access more educational content from anywhere at any time. So, for that, in this blog, I've mentioned the top 12 interactive Elearning mobile apps that can help you pick the best to improve your self-learning. So, for success in this competitive market, it is essential to approach an expert education app development company that can develop Elearning mobile apps.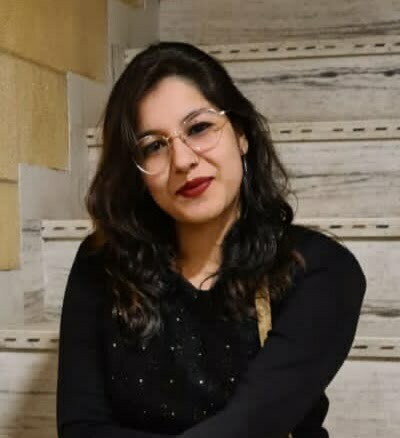 Divya is an outstanding writer at Nimble AppGenie. She is very innovative with her creative ideas. She is very passionate with technology implementation in several industry verticals and always keen to learn new opportunities that brings business efficiency and profitability. Whereas, Nimble AppGenie is an expert in developing solutions for Healthcare, FinTech, and EdTech. Nimble AppGenie is helping small-large scale enterprises by providing innovative solutions that excel in the market.