For the past few years, digital transformation across the financial landscape is happening rapidly. In addition to new entrants with innovative solutions, the existing banking and financial institutions invest heavily in financial technologies. In this cutthroat competition of offering FinTech solutions before someone else taps into the market niche, it is becoming crucial for the FinTech startups and traditional banking and financial institutions to consider FinTech software outsourcing.
Developing a FinTech app that is compliant to the industry regulations requires expertise in implementing security standards. In 2018, the cybercrime in financial services was the highest among all industries across the world, according to an Accenture's report.
The report also stated that with industries going more digital, cybersecurity threats will get substantial and will continue to expand. These increased complexities will require FinTech app developers to incorporate advanced security procedures into their development processes. Subsequently, hiring and managing software engineers will increase the cost of FinTech development.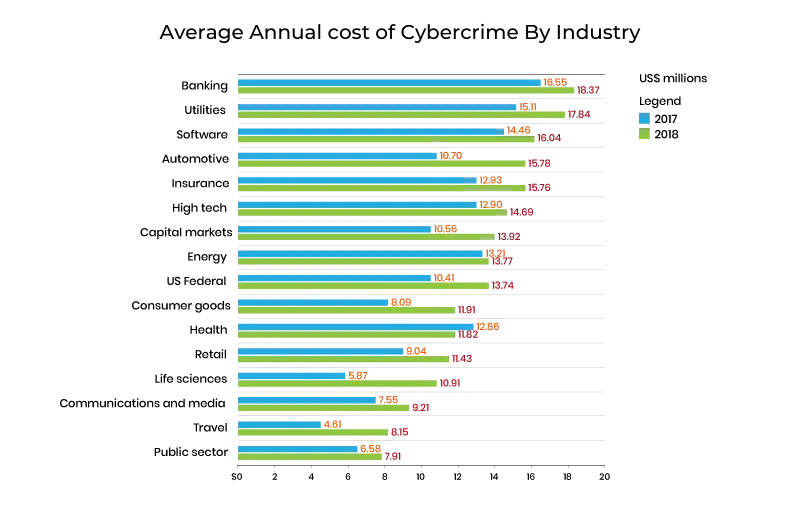 Image Source: Accenture
When you know that setting up and managing a team full of experienced developers to develop your FinTech app will be troublesome for you, given that the cost of development significantly rises when you get the work done in-house, it's better to consider the other option – FinTech Software Outsourcing.
Let's understand both the development options in brief, and then we'll make a small comparison.
In-House FinTech Development
With in-house FinTech software development, you would be hiring a group of IT professionals, including backend developers, frontend developers, project managers, and quality analysts. This option for development is favoured by those who believe in a common phrase – "if you want to do it right, do it yourself." In-house development will require the CTOs to hunt for software developers and manage them, which adds an unnecessary burden to the authorities.
Outsourcing FinTech Software Development
With the FinTech software outsourcing model, the CTOs will look for a managed IT service provider that has specialization in developing and maintaining FinTech software solutions. The FinTech companies also get an option to either outsource the entire software development and management process or outsource just part of the work. For companies that don't have required IT resources in-house, it is recommended to outsource the entire development process.

Benefits of In-House Development
Having the development team gives FinTech companies complete control over the development and maintenance of their software applications. For businesses that highly prioritize flexibility in their software development, hiring dedicated in-house FinTech software developers is a great choice.
Ability to Work Immediately
Indeed, sourcing the FinTech software engineers is a time-consuming task, but the teams can jump on new projects or product updates once it's done. Some investors favour companies that have in-house talent for immediate work.
Understanding of the Product
In-house development teamwork on the watch of higher-management. It makes it easy for them to understand FinTech software from in and out. For most FinTech companies, this is the prime motivator to hire an in-house team.
Benefits of FinTech Software Outsourcing
Many CIOs agree that most of their focus remains on the in-house development teams, which leaves them with very little time to work on the future strategy. Also, the cost and efforts associated with in-house development is significantly high.
FinTech software outsourcing, on the other hand, costs very low in comparison. It is the main reason why companies outsource their IT development process. Deloitte states that 59% of businesses agree that they utilize software development outsourcing as a cost-cutting tool. FinTech development outsourcing will allow FinTech companies to focus on their core business area and expertise.
FinTech software outsourcing frees FinTech companies from geographical boundaries. They can search for the best FinTech software developers on Google or Clutch.co to find the perfect fit for their project. They can choose from a pool of global talent that is specialized in FinTech development. 
A few FinTech software companies like us (Nimble AppGenie) have extensive experience in developing FinTech solutions. Nimble AppGenie has been rated 5 out of 5 on Clutch.co ratings, making us an ideal choice for FinTech development outsourcing. We use a mix of project development methodologies that varies project by project. 
Enable CIOs Focus on the Core
For higher management, it is a lifesaver if they have one less thing to worry about. FinTech companies aren't software development companies; they're financial service providers who use technologies to offer great value-for-money innovative services. Hence, software development should never be their primary focus.
Moreover, the FinTech software development company you hire wouldn't require much guidance from your side if you can share the detailed product requirements. It will save a lot of time for the senior management to focus on the core business processes, such as collaborating with the ecosystem.
When you let experts take care of things, they're more likely to be executed in the best and quickest way. However, it would help if you focused on the word 'expert.' Try to find the FinTech software development company that has extensive experience in the financial domain.
Outsourcing the development to an expert company will help you cross-verify your FinTech idea. The development company will have various recommendations for you in terms of new features and functionalities. 
FinTech space is one of the leaders in data collection and analysis. Both established organizations and startups use data to eliminate risks with underwriting loans, floating securities, and trading. FinTech software developers have expertise in data analysis and visualization for financial services, a big plus for your FinTech software development. Typical usages of financial data is building loyalty points to boost sales.
Avoid Unnecessary Recruitment
Of course, you would have to hire an in-house team of FinTech software developers if you want to do it yourself. But that puts a burden on the higher management's head about utilizing the resources after the FinTech software product's successful development. And if you fire them after the development, it puts a wrong impression on your company's reputation and employee morale. Hence, if your business model won't require IT resources every day, it's better to opt for FinTech software outsourcing.
Drawbacks of In-House FinTech Development
No matter how attractive the idea of in-house FinTech software development looks, it is essential to calculate the feasibility. It doesn't make sense for FinTech companies to hire in-house developers for a one-time project. FinTech solutions like investment apps, banking portals, e-wallets don't require much effort to manage once they're developed.
This is the reason why 64% of the companies across the world outsource their development process.
Cost of Development is High
It is expensive to hire an in-house development team. The FinTech companies will have to spend a hefty amount during the recruitment process, which can be saved with outsourcing. Providing the in-house IT teams with additional space and infrastructure cost FinTech companies a lot. Also, having an in-house team will require CIOs to think of new projects when the FinTech software development is completed, to utilize the extra workforce, even if they feel that it is too soon to launch the new project.
Recruitment Increases Development Time
It isn't easy to hunt for the right IT resource. You would require qualified IT specialties to develop the best FinTech solution. The resource you will be looking for will probably be working with another company, and you'll have to give them a lucrative hike to get them onboard. Also, the time required for notice periods, training, and orientation will significantly delay your product launch.
In the current FinTech space, every innovation requires fast implementation. Hence, it can prove to be a gamble for your business idea if the timing of product launch is very crucial for your product.
Drawbacks of FinTech Software Outsourcing
One of the common issues companies face with software development outsourcing is their inability to explain the requirements and stay in tune with the development process. Also, problems like language barriers make it more difficult for companies to collaborate. Not every software development agency has the ability to understand the particular requirements FinTech companies have.
To overcome this challenge, FinTech companies should partner with a software development company specializing in FinTech. With the use of collaboration tools like Slack and Jira, it is possible to enable clear and transparent communication among the developers and the FinTech company.
Indeed, there is a matter of privacy when it comes to outsourcing a FinTech solution. The FinTech companies would have to share a lot of confidential information about their innovative product and the organization itself.
I would recommend signing an NDA with the outsourcing company right after the company reaches out to a development company and responds to them for the query. This document will allow Fintech companies to protect their data with legal authorization. They should use IP rights clauses in their NDA and SLA (Service Level Agreement) to safeguard intellectual property.
How to Hire the Right FinTech Development Company?
Banking and financial service providers need to reduce operational costs, improve efficiency and effectiveness, and offer innovative solutions to gain competitive advantage. This is the reason why outsourcing software development in the banking and finance industry has become a survival strategy.
We, at Nimble AppGenie, have been working with FinTech startups and established organizations for over four years, which has made us a perfect choice for FinTech companies that are looking for a software development partner.
However, you should be aware of the factors that help you decide whether a software development company is the right one for you or not. Here I've created a checklist that will help you find the right development partner.
Technical Competence
It is one of the main reasons why banking and finance companies opt for FinTech software outsourcing. Make sure that your software development partner has extensive knowledge and experience in developing software solutions for the banking and finance industry. It will also help if your software development partner can build the FinTech software using emerging technologies and provide post-release support.
Culture and Communication
The software development partner you pick must follow the same values and ethics that you do. Also, having similar priorities such as a result-driven approach and agile development makes your association more effective.
Be it if you're outsourcing the entire software development or just a process, irrespective of your outsourcing strategy, constant and timely communication is essential for your project success. It would help if you asked them about the communication and project management tools that they use. Most software development companies use Jira, Slack, and Zoho for communication and project management.
Domain Expertise
Industry-specific knowledge wasn't obligatory for software development outsourcing for a long time. However, in current times, it is obligatory in several industry verticals, such as FinTech. It is due to the implementation of strict regulatory compliances in the banking and finance industry. Increasing security challenges in the FinTech industry calls for standardization of data security and handling. Hence, it is crucial for you to know about the software developer's recent deployments. 
Development Methodologies
Although this criterion is often ignored, it significantly impacts the cost and quality of your FinTech software. Software development companies that have well-established knowledge management processes, risk management and development methodologies, are much more likely to develop your software on time within a reasonable cost.
And most importantly, don't be afraid to ask any questions that you have in your mind. Ask the software development company about their previous work experience in the banking and financial services domain. Ask them to elaborate on how they'll execute your work. However, don't forget to sign an NDA before you share any confidential information.

Conclusion
Indeed, FinTech software development outsourcing is the best option to develop ROI-focused FinTech software. At Nimble AppGenie, we have developed several software solutions for the banking and finance industry, including banking portals and e-wallets.
We don't try to be the jack of all trades; we are specialized in FinTech and EdTech development, which makes us the perfect choice for the banking and finance companies which are looking for a software development partner that is aware of the latest FinTech trends and regulatory compliances.