Modern customers are tech-savvy and expect corporations to support their digital movement. In the current decade, almost every industry has adopted technologies to stay relevant with tech-savvy customers. This article will take you through the mobile banking app development cost, type of banking apps, trends in 2021, and much other pertinent info that will help you plan better for your mobile banking app.
The banking infrastructure isn't new to technology adoption; instead, they've been using digital networks since the 1990s. However, the digital-only trend has made it crucial for the banks to utilise technology for every customer touchpoint. Indeed, the digital movement has already hit the banking industry, but, Covid-19 has fueled the growth to the next level.
Digital banking has been here for a very long time since 1994, when Stanford Federal Credit Union became the first financial institution in the USA to offer internet banking services to their customers. The digital-only banking via mobile devices is entirely new to the banking industry. It all started when Atom became the first digital-only bank in the UK.
The cost of developing a banking app depends on various factors such as technology and features. Still, to give you a rough idea of the mobile banking app development cost, the total development time for fully-featured app sums to 3760 hours. Considering Nimble AppGenie's hourly rate for fintech projects of $25, the cost of developing a feature-loaded banking app stands around $94k.

What is a Banking App?
A banking app enables customers to access banking services right from their smartphone, eliminating the hassle of visiting a bank branch physically. The customers can transfer money, pay bills, check account balances, change personal information and make payments from the mobile banking app.
A survey by smartmoneypeople claimed that in 2018, that mobile banking apps overtook online banking. However, the industry experts had predicted that this wouldn't happen until 2020. If compared, Millennials are most likely to use mobile banking apps, followed by Gen Z (customers aged between 16 to 24).
Digital Banking Trends in 2022
Deloitte states that despite increasing their technology investments, most of the global banks are very far from the stage that they want to be at. Hence, the digital banking trend is expected to persist in the foreseeable future. For example, in 2022, North American banks will possibly be spending half of their total IT (information technology) budget on emerging technologies, whereas European banks will spend one-third. These figures are much higher than the current level, which stands at 27%.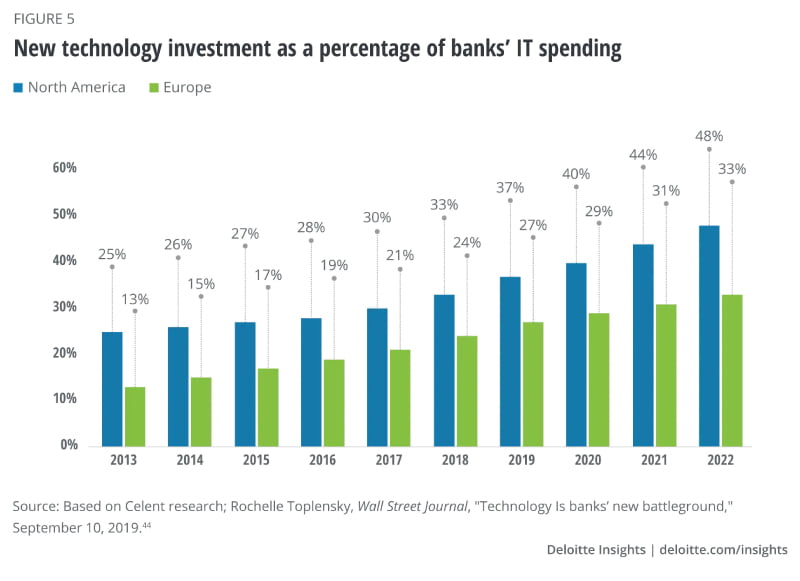 Source: Deloitte
Online banking services had become an integral part of retail banking infrastructure, even before the Covid-19 pandemic. The crisis has only fueled the growth of technology adoption into the banking industry. Of course, the required investment (cost of developing a banking application or other technological implementation) is a concerning factor for banks. Still, it is inevitable due to increasing customer demand for online banking.
A recent survey by Deloitte found that one of every five individuals have used online banking service for the first time during the pandemic. Only 6% of the respondents had never used a digital banking app. Most of the first time users admitted that they'd continue using at least one digital banking service in the post-Covid-19 era.
Factors that add to the cost
Technology preference, operating system, and app features are one of the direct factors that affect the cost of developing a banking application. In most cases, developing a mobile banking app for Android users is more affordable than designing for the iOS platform. Furthermore, cross-platform banking application development cost is less when compared to native app development.
So, without further ado, let's discuss the factors affecting mobile banking application development cost:
Native or hybrid –
Cross-platform or hybrid apps are applications that are written with code that allow them to perform on different operating systems. This development approach has advantages, but it also has flaws. One of which is that the hybrid apps are less likely to be optimized for each operating system in terms of functionality and security. In contrast, native apps require a solitary programming language for every operating system. As a result, native mobile apps are more costly to build than hybrid mobile apps, but with native you can experience more advanced features and integration with the OS.
Operating System –
It is crucial for you to know which operating system that most of your customers use. For banking app development cost of projects, I would recommend you to develop your app for both iOS and Android. If you're building native apps for both mobile platforms, this will increase the cost of developing a banking app. However this increased cost will not occur for hybrid app development in this scenario.
Application Features –
Due to the requirement of extra developing hours, the more features you add, the costlier it gets. Having unnecessary features is quite harmful to the user experience. Hence, you should choose the features based on the user journey and benefits that the user desires, not vice-versa.
Integrations –
To add features and access data, backend development will be required to integrate your app with several third-party APIs such as Google maps API. Also, every integration increases the development time, and so does the cost of developing a banking application.
Crucial features for banking apps
Many IT experts will overwhelm you by naming dozens of features that your mobile banking app should have, when in fact many of these you might not need. You'll be surprised to know that there are only three key features a banking mobile app needs:
Account Management

Fast Monetary Transactions

Quick Access to Customer Service
Account Management
Account management is an umbrella feature consisting of many small characteristics related to the customer's bank account management. Some of the features are:
Manage Account Information
Sometimes, the customer has to either open the web portal or visit a bank branch only to update their phone number in their bank account. Management of personal information related to the account should be easily accessible for customers. Hence, this feature is crucial for customers.
Manage Cards
The customer should be able to order new debit/credit cards or ATM cards via the mobile banking app itself. Think of a situation where the customer has lost their card, and the card is contactless payment capable. In such cases, the customer needs to be able to easily block the card using the mobile app in their smartphone.
Check Account Balance and Recent Transactions
Having easy access to the current account balance and the customer's recent transactions will enhance the transparency of your banking services. This will improve customer satisfaction.
Swift Transactions
Modern customers want their mobile banking app to be capable of making payments fast. The methods of payment include QR code-based payments, NFC payments, UPI payments, and many others.
To enable mobile payments in a banking app, the developers will have to integrate the app with your bank's server. To be cleared that the mobile app won't process the payment information, it will just reflect the transaction details.
Also, to make the transactions more straightforward, you can allow customers to pay via a payee's phone number along with other methods of payment. Do remember to make it clear if you charge any transaction fee to the customers.
24/7 Customer Service
For most of the users, mobile banking has a steep learning curve, and due to that, the customer will require immediate assistance many times. However, for some cases, it may not be economically possible for a bank to hire or outsource the customer service at a considerable level. Hence, creating a chatbot for customer service is the best way for many institutions to improve their service availability.
The chatbot would require a separate development process, and you will have to get ahead of time to know where your customers might need assistance. Based on your findings, the developers will create you a banking chatbot using AI & ML technologies. The chatbots will save you a lot of time and money, while providing customer support for 24/7.
There are many other ways in which the banking app can help you improve your customer service. For example, the customer can easily tap the 'help icon', where they can be connected to the customer service representatives either via a phone call or chatbox.
Additional features for your banking app
We've discussed all the three features that are crucial for every mobile banking app. However, banking institutions also like to load their app with several other useful features. The reason behind adding such features can be to improve customer retention and loyalty, to reduce operational costs, or to attract new customers.
Seamless Customer Onboarding
New customers often find it hard to get started with their association with a new bank. Starting from the application form submission, to the KYC, creating a bank account isn't so easy. If your banking app can provide the users with a capability to create their bank account and KYC simply, you will see an increase in your total number of customers due to increased customer conversion.
Also Read: Improvising Customer Onboarding KYC With Blockchain Technology
Secure Authentication
User authentication is crucial for digital banking, primarily due to KYC and AML regulations. Fintech apps mainly use a password, PIN, fingerprint sensor or retina scanner to authenticate the user access. Keeping the app secure whilst not hampering the user experience can be challenging many times. Therefore, it is always recommended to assign/outsource your mobile banking app development project to a specialised development team, which has expertise in fintech app development. We, at Nimble AppGenie, have been working with financial institutions for the last five years and have developed dozens of mobile apps for the global finance industry.
Push Notifications
Push notifications are a must for every mobile app, and banking apps aren't an exception. Commonly, push notifications are of three types:
Transactional notifications notify users about their account updates.
Application-based notification chimes when the mobile banking app wants the user's attention related to the password change requests or document submissions.
Promotional notifications are to grab the attention of customers to offer discounts and deals.
For mobile banking apps, transactional notifications are the most crucial ones. These notifications will alert the user about outgoing/incoming fund transfers, interest earnings, automatic debits, credential validation and verifications.
ATM or Branch Locator
Locating the bank branch and ATM is a straightforward but useful feature for a mobile banking app. The developers can integrate Google maps or Apple maps into your app to realise this feature.
The Banking App Development cost breakdown
As discussed before, the mobile banking application development cost consists of several factors, but the development time is the critical variable that makes most of the cost. The following table explains the cost breakdown of a banking app.

Are you looking for the right developer for your Banking App Development?
Okay, so now you understand the mobile banking application development cost and the factors that influence the cost. It isn't always necessary to build a fully-featured app. Depending on the market and customer behaviour, you can either add or remove features from your banking app development plan.
But, the question which remains stagnant for every IT development project, is whether to build in-house or outsource? I've explained when and why outsourcing is the perfect pick for corporates in the following article – Outsourcing Software Development.
Now when you've chosen to proceed further with outsourcing your banking app development project, you should know how to look for a perfect IT development partner? Read the following article for that – Find the right IT development partner.
We, at Nimble AppGenie, are experts in fintech app development. Since our inception, we've been working with financial institutions to strengthen their IT infrastructure. Banking mobile app development is our core competency, and you should reach out to us to get a quote for your banking app development. Here is a link to our recently developed fintech mobile app – Cut
Also Read – How to Write a perfect RFP that brings you the right Development Partner
Related – How to Write The Product Requirement Document For Your Mobile App?