There are a lot of technologies available for web and app development. Since each business owner wants to have a product that looks stunning, is simple to use and that can offer amazing user experience, it is important that the most appropriate technology is chosen for the business's specific criteria. Here we will discuss the two most powerful technologies, PHP and NodeJs. Choosing between them is not an easy task.
Both of the platforms have great features, functionalities, and advantages. We will discuss below the pros and cons of both of the development languages so that you can easily determine which platform suits your needs best.

PHP
PHP is one of the most popular and widely used programming languages. It is an open-source server-side scripting language. Introduced in 1994, it powers eighty percent websites on the Internet today.
Powerful Codebase
PHP is an easy to use language; novice users can also use this language without much effort. It has an amazing codebase consisting of some popular CMS platforms such as WordPress, Joomla, and Drupal. These platforms help develop websites and blogs very quickly. Likewise, powerful frameworks of PHP for web development help developers of PHP developers who specialize in travel and CodeIgniter.
Moreover, some hosting platforms powered by PHPhelp build custom applications for businesses of various sizes within different industries.
Simple Integration
There are different platforms such as Windows and Linux, as well as servers like Nginx and Apache, on which you can run a PHP code. It offers a choice of sharing hosting for PHP applications. This flexibility makes it one of the most preferred choices.
Precise Solution
PHP always provides exact solutions, regardless if you are running it on a server or on a platform. This is why small businesses can develop, manage, share and integrate apps without much effort.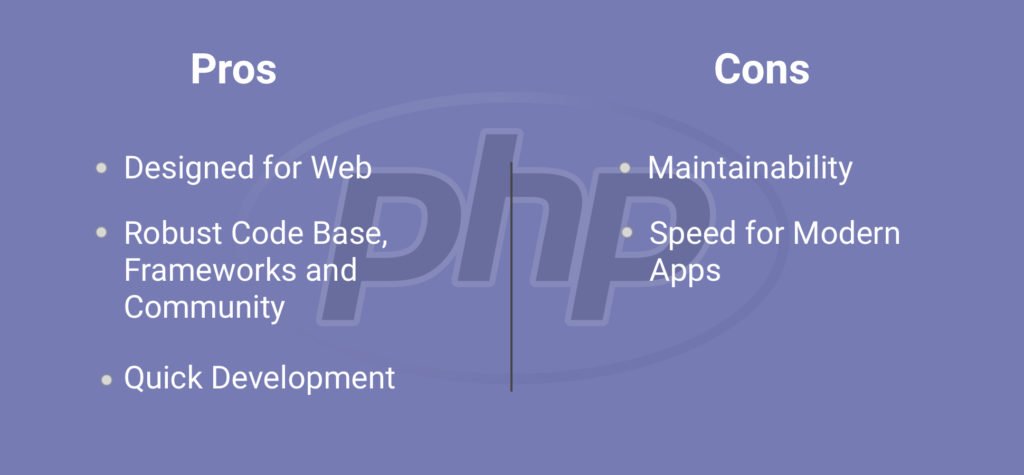 Downsides
Poor Code Management
PHP combines HTML with the language syntax, which brings many inefficiencies. Managing the code becomes tough, and PHP apps face issues when extending the written code with new functionality.
Client-Server Model Slow
PHP is a very old language, and therefore it has a client-server model. Sometimes it becomes typical to add new functions to the existing codebase.
Amazing Functionalities for Web Development
PHP is a great programming language for web development and provides the needs for almost all kinds of web development. It includes comprehensive features and functionalities for a variety of web development requirements.
NodeJS
NodeJS includes great features for front-end development and back-end development. It was introduced in 2009, and it was this technology that enhanced the true power of Javascript.
Fast Backend Solution
The best thing about NodeJS is that it facilitates a series of concurrent events. With Node.js, it becomes easy to develop scalable solutions for developers, and also has increased CPU efficiency and computer memory as they service various requests.
Single Technology
Since it is a JavaScript framework, it includes comprehensive features that a developer can expect from a scripting language across the app development stack. The great thing is that it can be used for both front end and back end development, therefore reducing the potential issues that could arise and enhancing the performance of the app.
More Flexibility
NodeJs is a very flexible framework. Developers do not need to follow strict guidelines and rules. To select a set architecture or pattern, developers do not need to follow any rules when selecting which of the different modules to access.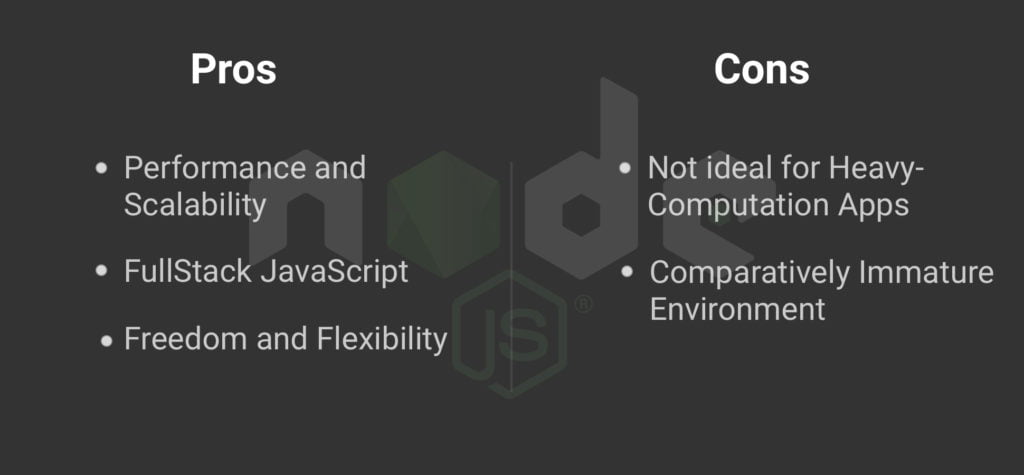 Community Support
There is a very active community of Nodejs developers that help each other to build applications easily. The real-time support helps developers create scalable applications.
This possibility of Javascript helps NodeJS run real-time events quickly, and also the utilization of CPU is comparatively less.
Our Node.JS Development Services Offerings
Lifestyle app development

News app development

Music app development

Travel app development

Healthcare app development

Enterprise app development

Finance app development

Social app development

Multimedia app development

Sports & game app development

Education app development

Food app development
Downsides
Not ideal for Intensive Apps
NodeJS cannot deal with intensive CPU activities such as modifications in graphics, and graphics centric app development. NodeJs powered apps are very responsive, so it cannot handle intensive apps.
Immature Environment
Sometimes, developers have to deal with complicated code structures. This is an issue we can see in most JavaScript frameworks, and NodeJS also has to deal with this.
Now, when you know both sides of the Node.js and PHP, it is essential to understand that it all depends on the type and size of business that you have, and the specific criteria of the project. Each business is unique and different in its size. It will need to be figured out on a case-by-case basis in which the environment and set of features suit you best.
You must note that the Node.js environment is the right fit for building real-time applications such as collaborative apps and instant messaging apps. So, you can hire Node.js development services, if you want to get a real-time app developed.
Node supports WebSocket and server-side events, so using it for developing apps that process data from IoT is recommended, and also for one-page apps with dynamic functionality.

PHP is the best technology for building standardized solutions such as websites, blogs, news websites, web portals, or landing pages.
So, you need to choose technology as per your project. Find out the needs of the project and then make your choice. If you want a standardized solution along with hosting support, PHP is for you. On the other hand, if you are looking for a one-page application or real-time apps choose, NodeJS.