The task of web development can appear to be as easy as generating an easy text page for your users to read, to create the most intricately designed applications and pages, the element that differs is solely your creative potential. Potentially, there are five major aspects of web development, there is web engineering, which is concerned with building the framework for supporting web applications and specifically the techniques and methods applied in the same. Then comes scripting and coding for both client and server-side which basically includes generation and implementation of algorithms responsible for running the system automatically. Another crucial aspect is content development for the web which is basically researching for the appropriate and crucial information that you are going to be creating the website for in the first place. Before you move on to a final aspect of security and privacy, the part that we will be touching today is that of web design, which has been widely mentioned in the previous blogs, however, in this one, we aim to look at it from a wider perspective and understand it's full scope.
What really is Web Design?
This aspect of web development is quite crucial and at the same time interesting to focus on, this is going to be the element of your website that going to play the leading role in ensuring acquiring of visitors and increasing page duration which is the number of time users spends on your web page.
There are three types of designs that a designer has to focus on to make the website an aesthetic success namely, graphical, interface and user experience design. Now make no mistake, these designs are not exactly approached individually, they are highly interlinked and one might find when working on one of these, the others automatically come into play. For example, an average web page includes different typographical styles, background pictures, sounds, animations, transitions, color schemes, logos, page layout, content and a plethora of other elements, these elements when looked at from the interface point of view are to be designed keeping in mind the user's need for ease in navigation and similarly when looked at from the user experience point of view, they are to provide a sense of satisfaction, both overall graphics(colours, animations, transitions) and content. Thus we can say that these factors work as a team in determining the final design of your website.
Scope of Designing in Web
Today due to the extensive capabilities of browsers and devices supporting them, the designer's job has become much more than what it was, there are tons of features to be fed into the page to make it more snappy and exciting to browse through. Designers work with vector graphics which are used mainly for logos and typography, integrated with raster graphics which are used for JPEG, PNG, GIF, and others to create web pages that are a treat to look at. Of course, this is done keeping in mind the target audience, which again is a factor playing a major role in determining what you'd want to include on the page. Thus you work with different types of graphics and coding technologies like HTML and CSS to lure your target audience, depending on whether the website is for shopping, social networking, business, tech forum, entertainment and what have you.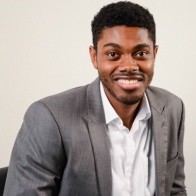 Jermaine Trotman
Jermaine Trotman is the co-founder of Nimble AppGenie, a company renowned for its bespoke mobile app development and web development in e-wallet app development and fintech development.