Looking back, finding a sports betting app was not an easy task. Bookies used to visit betting websites to place bets. Although these betting websites didn't have many features except the most common feature "place a bet."But now the coin has flipped to the better side. The launch of a sports betting app has completely changed the way of betting. By enabling gamblers to place bets with more advanced features, the mobile betting app is inviting more users to place bets on their preferred sports, players, and teams.
Gone were the days when gamblers used to look for shops or used laptops to place bets on their favorite sport. Now, in the modern era of applications, it doesn't matter whether you are traveling during the tournament hours, or you are away from your hometown, you can easily place bets on-the-go. The mobile betting app allows you to place bets, earn rewards, and cash out easily anytime. The game of betting has now become a few taps concept.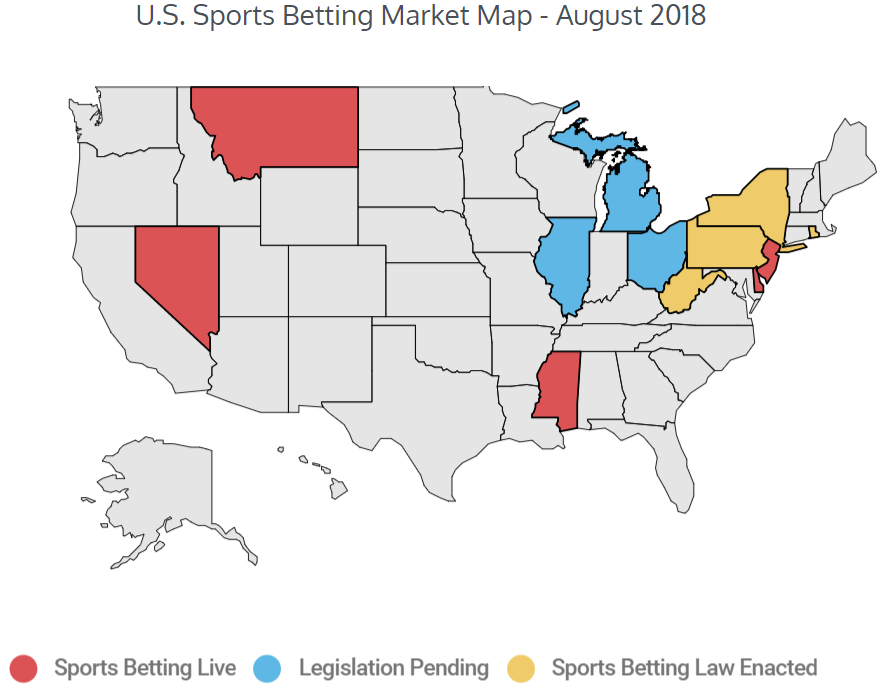 Top 5 Sports Betting Apps
There are some betting apps that are ruling the industry of sports betting and the owners of these apps are generating huge profits from these applications. Here are some top betting apps which you must know if you are also planning to develop a sports betting app.

Betfred is United Kingdom-based bookmaker which was established as a single shop in 1967 by  Fred and Peter Done. In 2004, its turnover was £500 million more than it was in 2003, i.e. £3.5 billion. The head office of Betfred is located in Birchwood, Warrington with other branches located in Media City, Salford Quays, Salford. Betfred sports betting app allows you to place bets on various sports like Rugby, Snooker, Football, Horse Racing, and many more.

Ladbrokes Coral is another famous British betting and gambling company which was founded by Messrs. Before it's acquisition, the company was a member of the FTSE 250 Index, and was listed on London Stock Exchange. This company was launched in 1886 by Messrs. The Ladbrokes betting app contains various integrated payment gateways to place bets on various sports like Football, Soccer, Cricket, and many more.

The company was founded in 1934 by William Hill when betting was illegal in Britain. William Hill betting app is available for both iOS and Android platforms. The company is owned by WHG (International) Limited, a company registered in Gibraltar. You can place bets on various 33 sports like American Football, Basketball, Cricket, Cycling, Horse Racing and many more.

One of the best sports betting app available for Android and iOS users.It offers best betting odds on almost every sport, reality TV, and everything you want to place a bet on. Betfair provides special offers and discounts to new users when they place bets. Users can download the app for free from the app store.

Another famous sports betting company brings you a fantastic betting app to make your betting experience better. The app offers various In-Play betting options, with the feature of live streaming on your device.Bet365 is one of the best-known betting companies in the world. Users can place bets on a wide array of the market, which makes the app highly functional and user-friendly.
Key Features of Sports Betting Application
When the first betting app was launched, the app was integrated with basic features like placing a bet, cash out and check the score. But as technology emerged, more advanced features were introduced in the app, making it more flexible for users.
There are some other features also like providing a live status of the match, choosing the category of betting, viewing information about each player individually and many more. And all this is done in a smartphone by a single app only.
The User Panel
Easy Registration
The first section which pops up when the user opens the betting app. Users can create a new account with email id or they can use social media credentials for flexible login.
Live Feed Management
The feature of live feed is one of the best ideas. The gambler can see the ongoing status of the match directly from the app and this will help in creating a better betting strategy before placing a bet.
Safe Payment Options
Money is the most important factor in betting sector. The app must be integrated with a secure payment gateway. The users can use those payment gateways to easily place bets and cash out the winning amount.
Betting Guide
The most important feature for new users. The betting guide will help them to know the concepts, benefits, and odds of betting. The guide will make the betting concept easier.
Player Information
It is important for user to know every detail about each player who is playing the game. This makes the betting easier for the user.
Updates About Upcoming Matches
This feature keeps the users updated with all the upcoming matches and schedules, with exact date and time.
Multiple Betting Modes
There are various betting patterns and modes available. Users can choose from all the available options according to their convenience and preference. Some of the examples are Check-Raising, Check or Call, Check Min-Raise, Call, Call Raise, Folding the Flop, Always Checking the River, and many more.
FAQ's
There are some questions which are common for most of the users. So Including FAQ's in user panel is a must. The user can find the solution for the problems he is facing with the help of FAQ.
Multilingual
Since the users of betting apps are from every corner of the globe. The app must support multiple languages so that the users can easily navigate the app in their preferred language.
The Admin Panel
Admin Login
The admin also has to create an account in order to access the details and information of the users. Admin is responsible for updating winners /losers as soon as the match ends.
Managing Users
Managing the total number of registered users, storing information of all users. Admin access the user's information in order to manage the type of bet placed, amount, etc.
Managing Payment & Prize
The total money received from all the users is managed by the admin. Providing the winning amount to the user who won according to the type of bet through which the user had played.
Receiving Odds from Bookies
Bookies are the major part of betting. They tell the admin that odds are in favor of which team, also providing the status of the price placed on each team and player.
Admin also notifies the start and end of the match to the gambler. Also, if any user is violating the terms, then he can remove the user at any time. Admin can add new matches, delete matches & also admin decides the betting price of each match.
Declaration of Winner
After the end of each match, the user analyses all the users and declares the winner. Then the user gives the prize money to the user who wins the betting.
Game Management
All the news related to upcoming and past matches are managed by admin. The admin manages the feed on a daily basis so that users never miss any update related to betting.
Our Sports Betting Software and Website Solutions
With the launch of mobile betting apps, the market for online gambling took a huge step forward. Although betting is still considered in some countries like India, Japan but in Europe and America it is popular. Apart from cricket and football, there are some other sports also which are popular in the sports betting app.

American Football
Being a popular sport in North America, it is gaining popularity in many other countries also. With our app, you can have a seamless betting experience.
Horse Riding
Although horse riding betting is an eminent concept but still physical betting is a major lookout in this concept. Just with a few taps, you can easily place bets on horse riding.
Ice Hockey
Being the national winter sport of Canada, Ice Hockey is also famous in Europe, Russia, and the US. Our app will provide you classy experience in betting.
Formula One Racing
The feature of live streaming is the major lookout in F1 Racing. This feature will help users to create a strategy while placing a bet and earning more profit.
Bull Riding
Being an ancient sport, Bull Riding is also a famous sport in USA and Mexico. The competition is also increasing in Brazil, Canada, Argentina, Australia, and many other countries. With our robust sports betting software, you can check the live feed of bull racing competition.
Sports Betting Software Technology Stack
Choosing the right technology is the most important factor in app development. There are various technologies available in the market which you can use for app development. But the selection of the right technology is always a difficult task. You must choose the technology which keeps your app secure, flexible, and robust. Here is a technology stack that you can follow for sports betting software development.
| | |
| --- | --- |
| Technology | Feature |
| AWS And Google | Cloud Environment  |
| Mongodb, Hbase, Cassandra, Postgress | Database |
| Debian, Macintosh, Ubuntu, Centos | Universal Operating System |
| Mail Chimp Integration , Mandrill | Everything Related To Emails |
| Datastax | For Data Management |
| GWT | For Powerful Programming |
| Twilio, Sinch, Nexmo | For SMS, and Phone Verification |
| APNS | For Push Notifications |
| Hadoop, Spark, Bigdata, Apache Flink | Real-Time Analytics |
Sports Betting Software Development Cost
Calculating the exact cost of betting software is not easy, but it is possible to calculate the average or approximate cost. Basically, the cost depends on features, platforms, and the country in which you are planning to build an app. As the salary of developers differs according to the country.
U.S. based developers: – $60 to $240 per hour
Eastern Europe based developers: – $50 to $130 per hour
Japan based developers: – $50 to $200 per hour
According to the details of India developers, based on following activities, it is easy to calculate estimated cost of sports betting software development.
Technical documentation (40 hours – $800 to $4000)
UI/UX design (60 Hours – $1200 to $6000)
Front-end and Back-end development (400 Hours – $8,000 to $ 40,000)
MVP testing (80 Hours – $1600 to $8000)
Polishing and bug fixing (40 hours – $800 to $4000)
By analyzing the above mentioned information, it can be estimated that the cost of developing a sports betting software will cost you around $20,000 to $40,000. But the cost of developing a sports betting app with most advanced feature will cost around $60,000 to $70,000.
Sports Betting Website Development Cost
Developing a sports betting website is an easy task as compared to sports betting software development. But the cost of sports betting website development also differs according to features you are including. The average cost of developing a sports betting website is around $30,000 to $35,000. If you are looking for a company with immense knowledge in sports betting software and website development, then get in touch with us now.