Suppose you think that the financial technology adoption rate is high only with younger generations. In that case, you'll be surprised to know that 46% of the FinTech borrowers in Canada are over the age of 40. The market scenario of FinTech in Canada is quite different from global trends. Unlike some other markets around the world, Canadian customers trust reputed banks due to their decades of relationships.
Canadian FinTechs understand this dynamic. Hence, they seek opportunities to collaborate with existing banking and financial institutions to gain access to established customer relationships. However, it seems like the Canadian FinTechs will soon be competing against Canada's conventional banking and financial infrastructure.
Current Market Scenario
The Bank of Canada recently announced that they would be issuing CBDC (Central Bank Digital Currency) as part of its contingency planning. However, the bank is concerned about underinvestment in safety by FinTechs. The bank is planning to introduce separate taxes and subsidies to encourage safety in the FinTech ecosystem.
Quick facts:
The primary focus for FinTech lenders is not short-term loans. 88% of the FinTech loans are between 13-60 months.
The 'underbanked' population isn't the only one benefiting from FinTechs. 51% of FinTech customers have more than two credit products.
Although the FinTech industry is in its infancy in Canada, with 61% of FinTech startups founded during 2012-2017, FinTechs holds 25% of the Canadian PayTech market.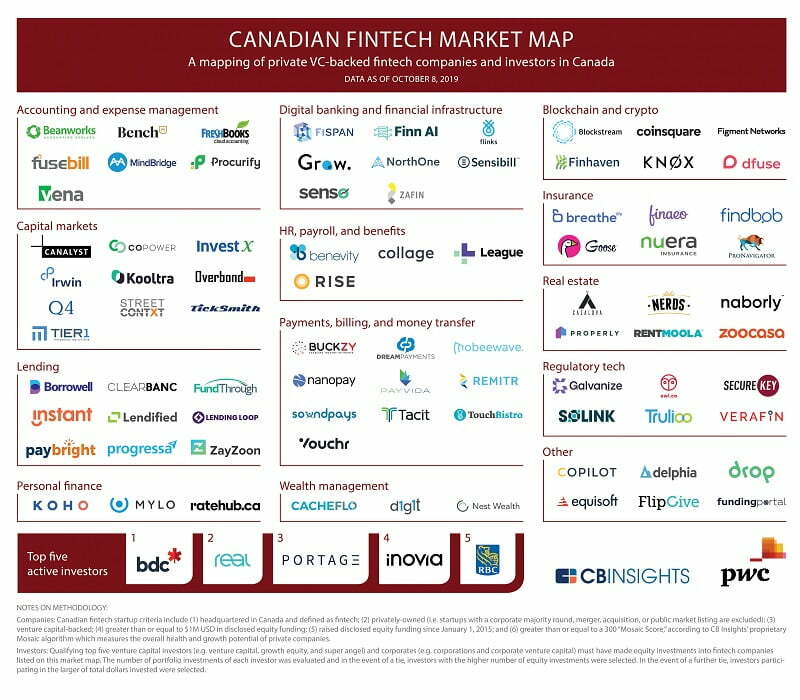 Image Source: PWC
Reasons Why Fintech is Flourishing in Canada?
As Mukul Ahuja, the leader of financial services, insurance strategy, and AI with Deloitte, pointed out that FinTech is a broad industry. Considering the current financial technology adoption, there are ten areas in FinTech that range from personal finance management to insurtech.
The Canadian market is exciting as it has followed the global market trends, with the recent pace of adoption picking up steam. The market holds around a thousand FinTech companies, and every day there is a new one popping up.
The following are some of the reasons why there are considerable scope for Fintech in Canada: 
PAYTECH IS NO. 1
With around 25% market share, PayTech is the leader of the FinTech industry in Canada. The term PayTech involves FinTechs, mainly focused on savings and payments, deposits, which are often tied to banking and financial giants in Canada. Needless to mention that PayTechs are not involved in insurance, mortgages, wealth advisory services, and lending. 
PayTech players in the Canadian market include Koho, Paytm Canada, etc. Koho offers a no-hidden-fees bank account with full digital banking services, whereas Paytm Canada is a dynamic mobile payments app.
Moreover, the traditional banks have also started creating their own version of FinTech. For instance, Meridian Credit Union launched Motus Bank as its own challenger to cater for digital-savvy customers. Also, the CIBC rebranded themselves as a virtual bank – Simplii.
TORONTO IS THE HUB
Canadian FinTech growth is considered to be fueled by the Toronto-Kitchener-Waterloo corridor. A report in 2019 by TFI (Toronto Finance International) states that this region holds 20-plus incubators/accelerators and 194 startups, boasting a CAGR of 118%, which is among the world's highest.
Many Canadian financial institutions are headquartered in Toronto. This makes Toronto the best place for FinTechs to do business, whether the intention is  to either compete with the financial institutions or complement them directly.
Wealthsimple and League are among the homegrown exceptional FinTechs companies dealing in online brokerage and health-insurance respectively. Both of these FinTechs made themselves to the FinTech 100 list for three consecutive years – 2016, 2017, and 2018.
AI DRIVES FINTECH — AND CANADA IS THE HOTBED
Emerging technologies such as Artificial Intelligence (AI) and advanced data analytics are among the most used advanced technologies that drive FinTech innovation. At the same time, Canada is the powerhouse for AI and, therefore, an excellent fit to reap the benefits of AI in FinTech. On the one hand, Montreal is the host to the most extensive concentration of deep learning students and researchers globally. On the other, Toronto is home to the highest AI startups globally.
Hence, the advent and growth of AI-powered FinTech startups is natural in Canada. Companies can build breakthrough solutions by utilizing emerging technologies.
BLOCKCHAIN IS A MUST FOR FINTECHS
Many industries across the world are exploring new opportunities to implement blockchain. But the banking and finance industry are expected to lead the blockchain investments. For instance, Toronto is the home to the Blockchain Research Institute, and also half of the Canadian blockchain startups are headquartered in the city.
Many other associations and hubs related to the blockchain (including ColliderX and Chamber of Digital Commerce Canada) are emerging across Canada. In fact, ColliderX calls itself the world's first crowdsourced and crowdfunded open-source blockchain research and development hub. 
CANADA IS A TESTING GROUND FOR INNOVATIONS
Often, Canada serves as a market that helps companies prove propositions. There were startups in the past (i.e., Coinsquare) that started in Canada and then went global. The USA is often the first international market that these companies choose to enter after establishing themselves within Canada. 
It is expected that 10 to 15 percent of the thousand fintechs in Canada either have or will set up another facility/operation in the USA. Some even have moved their headquarters to the USA. It is not one way; the influence is on both sides. In fact, 100 to 150 US companies have set up their operations in Canada.
Also Read: How AI Powered Fintech Chatbots Enables Efficient Conversation? 
Type of Fintechs in Canada
Accounting and Expense Management
These types of FinTechs provide businesses with an online bookkeeping and accounting management system. Accounting and expense management FinTech solutions use cloud storage and cloud computing capabilities to provide enhanced accounts visibility. Beanworks and Bench are among the leading accounting and expense management FinTechs in Canada.
Digital Banking and Financial Infrastructure
This category of FinTech in Canada includes companies and startups that offer digital banking and finance service to the consumers and those FinTechs that provide AI, banking, and data analytics services to the bank and financial institutions. For example, Fispan provides banks with a full-fledged banking platform, whereas North one is a digital bank offering service.
Blockchain and Crypto
Companies like Coinsquare and Blockstream are helping businesses implement blockchain technology and cryptocurrency. These FinTech solutions are ready to be integrated into enterprise softwares or consumer applications. 
Capital Markets
Some capital market FinTech solutions in Canada cater to the analysts, portfolio managers, and even chief investment officers. At the same time, others act as trading platforms that allow users to invest even in pre-IPO private equity. The companies that fall in this segment of FinTech in Canada are Canalyst, Kooltra, InvestX, etc.
Insurance
This segment of FinTech in Canada involves insurance companies that provide online insurance services and companies that offer insurtech solutions. Some insurtech solutions provide a marketplace where consumers can compare and buy insurance policies. Some examples of insurtechs in Canada are Goose, FindBob, and Breathe LIfe.
Lending
Online lending platforms have been in trend for a few years. The online credit rating methods have made it possible for money lenders to sail in the same stream as other FinTechs in Canada. However, companies like FundThrough help small-scale businesses meet their cash-flow needs based on their account payables (invoices).
Payment, Billing, and Money Transfer
Payment apps are the global FinTech trend. Apps like Paypal, Ali pay, and Paytm are leading the global market. Payment and money transfer apps include eWallets, saving apps, payment solutions for businesses, bill payment apps, and money transfer apps. Buckzy, DreamPayments, Mobeewave are among the most popular payment, billing, and money transfer apps in Canada.
RegTech
Regulatory technology solution providers are a very crucial part of the FinTech industry in Canada. As the Canadian authorities are currently making amendments to the current FinTech regulations, while also introducing some new ones, it will become complicated for FinTechs in Canada to comply with all of them. This is where RegTech solutions like Galvanize, SecureKey, and Solink help the entire FinTech ecosystem in Canada.
Personal Finance
These apps are focused on consumer financial needs. Be it savings, investment, or payments, apps like Koho and Moka help customers with their personal finance needs. However, there is no defined line between payment apps, banking apps and personal finance apps, as each category offers services that overlap with another one.
Wealth Management
Wealth management FinTech solutions help individuals and financial experts by giving them wealth management advice personalized to their unique goals and objectives. There are apps like Digit, Nest Wealth, and Cacheflo, that help Canadians manage their money and find money with easy behavior changes.
Also Read: How To Overcome Security Issues In Digital Banking For 2021? 
Top FinTech Companies in Canada
The most recent study I could find on the "top FinTech companies in Canada" is from Digital Finance Institute. The study was published in 2019 in which the institute conducted informational interviews and market research with companies' stakeholders to identify the top FinTech companies in Canada. Though the list included the top 50 FinTechs, here I'm only mentioning the top 10 FinTechs in Canada:
Bench

Bench is an accounting and bookkeeping solution for small businesses. It usages financial reporting software and a team of bookkeepers and Professional Chartered Accountants that oversee a firm's accounts. Bench is a very popular and reliable accounting solution for many small-scale Canadian companies.
Borrowell

Borrowell is a lending solution that utilizes AI-powered credit coaching tools to provide credit score monitoring and personalized financial product recommendations. The platform also provides services such as personal loans, credit cards, and mortgages.
Canalyst

Canalyst holds cloud-based databases based on up-to-date equity models across capital markets and other sectors. The company delivers the structured form of data to institutional investors across North America.
Carta Worldwide

Carta Worldwide is a digital transaction processing platform specializing in providing prepaid access programs, token processing applications, issuer processing solutions, and mobile enablement solutions. 
Charitable Impact

Charitable Impact or CHIMP provides users with an online account that can be used to give charity to registered charitable trusts or NGOs in Canada. The users would immediately receive tax receipts that they can use for tax relief.
Coinsquare

Coinsquare is for those Canadians who want to purchase digital currencies. It is a digital currency trading platform, where users can trade and maintain their digital currency portfolio. The currencies supported are Litecoin, Ethereum, and Ripple online.
Drop

Drop is a reward app that allows users to earn and redeem points for gift cards, whenever they make a purchase using debit or credit cards that are linked to the Drop app.
Easyfinancial

Easyfinancial is a lending division of goeasy Ltd. It offers lending products through an omnichannel model that makes use of the latest technologies to help its customers better.
eSentire

eSentire is a RegTech service that protects organizations from cyber attacks, by providing Managed Detection and Response (MDR) services that are powered by preventative technology.
Ethoca

Ethoca is a RegTech company that provides fraud detection services for credit cards to the e-commerce domain. Ethoca also chargeback prevention services to e-commerce merchants, issuers, and online businesses.
There is still a room to grow
While the future for FinTech in Canada seems bright, some factors could potentially hamper the growth, some of them are difficult to change. For instance, many of the FinTechs in Canada still are small in terms of valuation. It is due to the small and dispersed nature of the Canadian market compared to the USA and the UK. Hence, despite being the FinTech hub of Canada, Toronto lags behind other major cyber hubs like Silicon Valley, London, and New York.
To overcome these challenges, Canadian authorities are launching various initiatives to support the growth of FinTech in Canada. The initiatives include collaborating with countries to create updated FinTech policies, modernizing regulatory frameworks, and by preparing Toronto to gain access to seed funding. The authorities are working hard on making sure that Canada follows the same trajectory as the global FinTech growth.
Looking for a Technology partner for your next FinTech Development project?
So yes, your hunt is over for your perfect development partner. At Nimble AppGenie, we are experts in FinTech App Development. We have helped several financial institutions achieve their goals. We have done this by providing them with robust and reliable technology solutions, which  strengthen their existing infrastructure and help them tap into new market opportunities.
To partner with us, so we can collaborate to achieve your objectives: Contact us.