With the new year and a new decade underway, we'll continue to see several technology trends in higher education.
Education sector digital transformation talks have shifted from "what is it?" to "how do we implement edTech in 2021?" EdTech industry leaders are rethinking technology applications in the educational processes in response to market trends, financial pressure, and growing demand for edTech development companies to optimize educational processes.
As part of this quest, emerging technologies such as AI and ML are finding their way into higher education. AI-powered chatbots address questions about courses, admissions and help desk support. Some other AI-driven apps enhance student learning by enabling faculties to develop comprehensive educational content. 
Privacy remains the spotlight for implementing technology in higher education. University campuses are starting to see new roles. One example is Chief Privacy Officer, as 'Privacy' jumped to number 2 in the recent EDUCAUSE Top 10 IT issues list released by Edtechmagazine.
But the digital transformation in the education sector is a wooly concept. As the education sector is still in the phase of 'where to start' with the latest technologies in 2021, we can look at some implementations in the public and university systems. The following are the five technology trends in higher education:
Top 6 Technology trends in higher Education for 2021
The need for digital transformation in the higher education domain is a reasonable argument. It must be noted that we have entered a digital world, where almost all stakeholders (students, professionals, and tutors) are at least familiar with the digital ecosystem. Millennials, Gen Z, and even Baby boomers shop, communicate and learn frequently online.
Hence, many expect their education, day to day tasks, and even educational research to leverage digital benefits. Needless to say that technology has the potential to reduce the cost and time required for academic operations.
Currently, in 2020, we've seen several technologies being implemented in the education sector. But you might wonder how it will differ in 2021. Here I've listed the top six educational technologies that will be the trend for 2021:
Robotic Process Automation (RPA)
RPA can reduce errors and increase efficiency for tasks that are repetitive and time consuming. For example, higher education institutions operate on a yearly cycle. At the beginning and end of every process, there are times when the administrative staff indulge in activities such as clearing databases, onboarding new students and staff, processing student visas, and conducting examinations. All of these processes are painful for administrators. Implementing RPA can help these institutions automate such repetitive tasks.
Needless to state, RPA can also help more back-office tasks such as universities' finance processing. Indeed, RPA cannot wholly replace humans; but people will be only needed to identify gaps, solve problems, and provide human support. It will reduce errors and improve efficiency in terms of time and money. Recently, the University of Staffordshire implemented its first set of RPA in its finance department.
Chatbots
Chatbots are mainstream in the private sector in the UK. If you don't believe it, just visit any bank's website. The chatbots are making their way to the public sector, too, and the education industry is no different. 
Universities across the world use chatbots in many different ways. However, the technology is still in its infancy, but there are many notable examples of chatbot implementation in the higher education domain. The adoption of chatbots in the education sector is not new. In 2017, Leeds Beckett University implemented chatbots to assist prospective students in finding the right courses.
Moreover, many other customer-facing organizations adopt chatbot technology to reduce the requirement of human efforts. With chatbots in place, the customer is talking to a real person; they are just automated. AI development companies use a combination of Natural Language Processing (NLP) and machine learning technologies to develop chatbots.
Data Analytics
We all have probably heard the tales of how online retailers can predict your pregnancy even before you tell your family, and banks expect divorces based on a person's credit card spending. In reality, governments are leveraging the power of big data to anticipate homelessness to target early indicators.
Such analysis can also be used in higher education to predict students dropping out, identify students that may need additional support in learning or counseling, recognize areas in the course that many students are struggling with, plan for new classes based on demand, and even identify the campus services requirements.
At the University of Central Florida, administrators have collaborated with Microsoft to implement predictive data analytics, to identify success factors and trends for students, faculties, alumni donations, and research.
Artificial intelligence (AI)
Artificial intelligence (AI) is a technology trend across several industries. There are already a considerable number of programs such as Grammarly that scan text to identify possible plagiarism cases. AI also has many other possibilities in the education field. It can help universities learn about student preferences, and tailors the curriculum as per the masses' needs.

How Georgia Institute of Technology Used AI to Unburden Teaching Assistants?
At GIT (Georgia Institute of Technology), many master's students of AI might be unaware that one of their teaching assistants, Jill Watson, isn't human. (Despite the clue in her name, 'Watson', which hints to IBM's Watson.)
According to the Wall Street Journal, the class of approximately 300 students posts around 10,000 questions per semester to an online message board, which is impossible for a human teaching assistant to handle. Ashok Goel, professor of AI, says that while the volume of questions increases with more students, the number of different questions doesn't increase at the same pace. Therefore, with his team, he developed an automated system that could address those questions and respond accordingly. They named the AI system, Jill. To train Jill's AI engine, they fed her with thousands of past questions and answers.
Not only did most of the students fail to realize that Jill was a virtual teaching assistant, but  she also proved to provide the most effective assistant, with a correct answer rate of 97 percent.
In an interview with DOGO News, Goel stated," Where humans can't go, Jill will go."
AI has also been utilized in university campuses in several other different ways. For example, colleges can encourage students by providing them with more engaging and personalized study materials. This will help colleges reduce student dropout rates.
Online collaboration
E-learning has already been well established. Learning apps have proved that online collaboration is hugely beneficial for students. As colleges and universities have started reaping technology's benefits, online collaboration will be the most heated topic during education technology development. Collaboration technology will help students, tutors, and researchers collaborate and work together.
Privacy and security
Getting the education institution's infrastructure online will come with security risks. The following are some of the crucial risks of integrating new technologies on campus.
Security
The idea of having access to all the institutional information is fascinating, but it also creates the 'rainy day' situation. But if institutional information is not effectively protected, there is a risk to students and the institution's infrastructure. In some technological implementation areas within higher education, the less information there is to protect, the better. Both the government and students expect educational institutions' IT infrastructure to be secure. Education technology regulations such as FERPA ensure that the data in the system is protected.
Privacy
There is no line between providing personalized education materials and unnerving a student on behalf of their private information that the university holds. Data mining using AI raises concerns about data theft and unintended results due to biased, invisible, and faulty logic or data.
However, it isn't impossible to overcome the security challenges with technology implementation in technology trends higher education. You can either hire top-class edTech developers in-house, or you can consult an edTech development company that specializes in higher education.
How Baylor University ensured data privacy and security?
Baylor University started with ensuring that their technology infrastructure is GDPR compliant. Doug Welch, chief privacy officer at the university, explained in an interview that they created a campus-wide privacy strategy by partnering with campus leaders who were already indulged into managing privacy mandates such as the Privacy Act, HIPAA, and Family Educational Rights.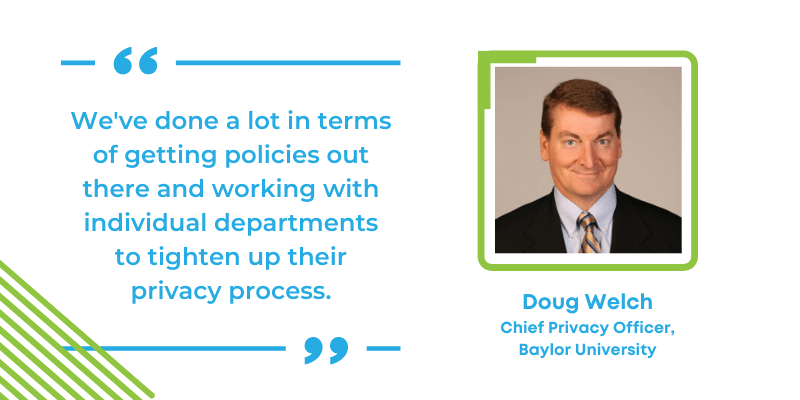 The university now has a privacy committee that brainstorms quarterly. Welch also said that they chose 20 units across the campus and conducted a baseline privacy assessment to measure the risk over a three month period. During the evaluation, they noted down what data the university is collecting, where and how they use this data, whom the information is shared with, who accessed the data, and how the IT infrastructure determines access.
This helped them to figure out which area they should put their focus on most. They tackled HIPAA compliance for starters to ensure that the university has the right healthcare systems, policies, and procedures in place. Then they shifted their focus to data records management to decide what to keep and what to delete.
Welch cited that their idea is to ensure that they only keep the data for as long as they need it and as long as the regulations require. Afterwards, they delete it to prevent hacks and or an inadvertent release.
How will Higher Education IT teams need to evolve?
First, the CIO role in universities will change. They will have to keep a firm eye on future technological requirements. Some questions that they could ask themselves are:
Which emerging technology trends in higher education are worth investing in?

How will we enable institutional staff to adapt to continuous change?

Is it possible to integrate new technologies with existing infrastructure?

Would we be required to hire new talent? If so, how will we compete with technology companies for talent acquisition?
In addition to this, CIOs will also need to involve and think strategically about their workforce planning – right from procurement to retention of a diverse, adaptable, and innovative workforce. They will have to decide on the required skills, while keeping future expansions/updates in mind. This will enable them to provide their institution with a welcoming workplace with steady career growth.
Kirk Kelly, associate vice president, and CIO at Portland State University, stated in an interview that she has worked in higher education IT for nearly 32 years. She began as a 'technical only worker', but has now shifted to engaging in a lot of HR activities.
IT teams for education institutions were once considered as 'backroom staff.' But now, IT functions require a place at the higher-level management table. IT development teams are strategic assets that play a crucial role in institutional strategy development. Without a doubt, this is an opportunity for IT teams. These teams are required to work more closely in collaboration with other departments to focus on the same goal. These collaborative relationships will be dependent on a shared vision and trust throughout organisations and project teams.
Kathy McCabe, director of information services at Heriot-Watt University, says that she has been in higher education IT for more than 28 years, and has seen a considerable change in this duration. She added that specialist areas have become more generic and broad. She believes that IT can now influence the direction of educational institutions positively. Many educational institutions are already collaborating with IT service providers to meet their changing technology needs. 
Conclusion
Technologies for future universities already exist, and institutions have started to adopt these to improve education offerings. We expect universities to go completely digital this decade. However, digital transformation takes years, and now is the right time to kickstart your digital journey by adopting one of the technologies mentioned above as technology trends higher education. These innovations will allow you to gain a competitive advantage, deliver a better student experience, optimize costs, and provide better learning outcomes.