The Economist states that with casinos shut and sports disrupted, Covid-19 has brought American gamblers a fix. The global online gambling market was valued at $53.7 billion in 2019 and is expected to increase with a CAGR of 11.5% from 2020 to 2027. With 70% of the global gaming revenue coming from sports betting, it is lucrative for you to get your online sports betting website up and running in 2021.
Before we dive into the technical side of online sports betting software development, let's first understand which countries allow gambling on sports. The following graphics will help you understand your target market.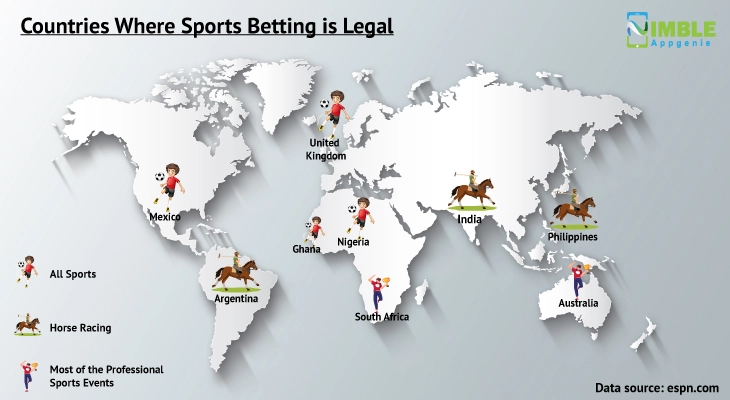 Despite many countries around the world don't supporting sports betting, many other countries like the United Kingdom are a hub for online betting websites. As you've seen from the data from espn.com states that there is a huge market for online sports betting, you should be seriously considering developing a sports betting website, if you want to tap into the opportunity.
How to Create an Online Sports Betting Software Solution?
Online sports betting website/software development isn't that straightforward. There are several dispute resolution and legal aspects that you need to incorporate into your platform to make it the best choice for your target user base.
1. Draft a Business Plan
Drafting a business plan is the first step to your online sports betting software development. The following are few of the aspects of a business plan that you need to take care of:
Before you start your online betting business, you will need to understand the market and the trends. For example, you should know the existing market players and their strategy. A detailed study is definitely necessary, as it will help you decide the scope of your online betting business.
Build Your Business Model
The business model is made of the cost that will be incurred to operate your business and the revenue stream. The customer value proposition will also be a part of the blueprint.
As there are a few market players already existing in the market, you'll need to build a solid marketing plan for your online sports betting website. You should formulate a strategy that defines how you'll procure new customers and will serve them.
2. Understand Licenses and Certifications
The gambling industry is highly regulated. You have to know the licenses and certifications that you will require to do business in your target market. Every country that allows sports betting has their own betting laws, and you should therefore be aware of all of them. For example, the required popular licenses and certifications for online sports betting businesses in the UK, is the UK Gambling Commission license for betting on virtual events – Combined remote Operating No. 000-044662-R324273
3. Develop Your Online Sports Betting Website
For every software solution, the development process remains the same. It is just the elements in every development phase that changes. The following is the development process for a online sports betting website:
Wireframes are the first step to designing a website. Wireframes include the user-journey and the crucial elements of your website strategy. In simple terms, wireframes help in the creation of the blueprint for a website.
When the wireframes are ready, the user interface designers will work on realizing those wireframes into a real website. However, you need to make sure that your website's user interface is intuitive and easy to navigate for the users.
Development and API Integration
This is where the heart of your website lies in. The development phase has two different processes including, front-end development and back-end development. During the back-end development process, the developers will build the logic behind your sports betting platform. They'll also build APIs (Application Programming Interfaces) that will make your app integrable to several third-party services.

The front-end developers will work hand in hand with the backend developers. The front-end development team will bring your website design into the code format – HTML or any other language you prefer.
One of the crucial steps in the process of website/software development, testing is primarily focused on finding the errors/bugs that occurred during the development phase. The testing team matches the actual developed product with the initial requirements. If they find any deviation between them, they send their analysis to the development team, who work on fixing them.
4. Make Sure to Incorporate Essential Security Protocols
Betting is all about money, and when it comes to money handling in the online environment, it is essential for a business to incorporate robust security into their systems. The following are some of the protocols that you need to know about online sports betting website security.
HTTPS: It is a security level between the server and the user that makes sure that the data isn't being hacked by any hacker.
Make use of tools such as CloudFlare to prevent attacks on your website
2 Factor Authentication: For both the admin and user application access, make use of two-factor authentication techniques to restrict any malicious attack on the admin platform.
DDOS Attacks: You can use plugins like 'fail2ban' to eliminate the possibility of DDOS attacks. These plugins arrest malicious IP addresses to prevent cyberattacks such as DDOS.
4 Crucial Features That You Should Incorporate in Your Online Sports Betting Software
Although, there are several features that you can incorporate into your online sports betting website, I would recommend that you use the following ones:
Seamless User Onboarding
Betting will require the user to feed in their payment information, so that they can instantly pay every time they want. Also, you will need the user information to perform user identity authentication via KYC. All these steps can make the onboarding process cumbersome. Hence, you should ask your online sports betting website development company to optimize the onboarding process for a seamless user experience.
Financial Details Management
As the core purpose of your online sports betting website will be to provide the users with an easy and astonishing experience to bet on their favorite sports, it is essential for you to allow them to manage their debit/credit card or any other payment methods. Also, make sure that all this information is encrypted.
E-Wallet
For many users, it can get hectic to pay via their cards or internet banking. To get them out of this trouble, you can launch an e-wallet within your online sports betting software, where users can store funds and pay or receive money instantly. The users also should be able to withdraw funds from their wallets.
Gameplay
This feature allows users to participate in several sports. The feature should facilitate the functionality of betting, so that the user can bet on multiple games or sports within the app. Also, in order to personalize the user experience, you should allow users to set their preferences in terms of favorite sports, league, or team.
Conclusion
The world of online sports betting is flourishing. Even several states in the USA have/are legalizing sports betting. It means that the coming years will witness a tremendous growth of online sports betting.
If you are looking for a technology service provider to help you with the development of your online sports betting website, feel free to reach out to us at contact@nimbleappgenie.com. We, at Nimble AppGenie are amongst the top betting software developers in the USA and UK.

Also, if you have any comments or suggestions for the improvement of our blogs, feel free to jot down your thoughts below in the comments section.