The new list of London's Top Mobile App Design Company by DesignRush is here, and we are extremely honored and proud of this list. Nimble AppGenie feels appreciative to announce that we are featured by Design Rush as one of the Top Mobile App Design Companies in London. The dedication and loyalty of our experienced mobile app developers are surely paying us off. These lists are motivations for us, which inspires our developers to build extensible and robust solutions for our clients. At Nimble AppGenie, our team believes that the two important factors for a successful business strategy are "time and quality", and our developers are committed to providing the best quality products in dedicated time. The level of understanding between our employees is a sign of true teamwork and unity.
DesignRush is a B2B marketplace, which helps brands to connect with the best professional agencies in different areas. As a business, you need professional partner agencies with proficient developers, trustworthy background, and proven track records of success. But sometimes it is quite exhausting to find the perfect professional agency, so DesignRush created a platform that ranks the best professional agencies from every corner of the globe.
From hundreds of top web design companies, full-service agencies, digital marketing firms, DesignRush clearly analyze the companies and then rank them according to their focus and ability to deliver work. Within the Agency Listing Section of DesignRush, users can search for required firms according to the preferred location, area of expertise, years of experience, hourly development charges, client reviews, testimonials, work portfolio, and many more.
The dedicated and specialized team of DesignRush with pervasive knowledge about agency sectors helps brands to find a top professional partner for their next dream project. Clients need an agency on which they can trust and that can help in generating positive ROI in the form of long-term investment. DesignRush supports brands to find the perfect professional agency that can understand their business needs, able to adapt to their brand and work as a team with them.
If your business is looking for a trustworthy company with expert and dedicated mobile app developers for your next dream project, then contact us now.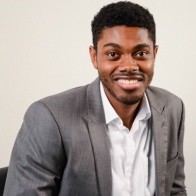 Jermaine Trotman
Jermaine Trotman is the co-founder of Nimble AppGenie, a company renowned for its bespoke mobile app development and web development in e-wallet app development and fintech development.