If you want to have a smart website or custom mobile app for your business, but you do not have enough technical knowledge to bring your app idea to life, then get in touch with Nimble AppGenie. The Nimble AppGenie team has extensive experience in building high-quality custom mobile apps and websites. We specialize in developing iPhone, iPad and Android mobile apps, including the design, development, and deployment of your app. We have a strong understanding of developing apps for businesses in various industries. So whatever your business or app idea, we are ready to bring your business into reality.
We help businesses keep a strong customer base in a competitive consumer marketplace by providing businesses with software, which increases their business visibility to the growing set of mobile users. Customer needs to know about your services and products, and this will be most effective when it is presented to them using a digital medium of their preference. Having an app or smart website is the easiest and most effective way to increase your online visibility. To discuss your App or website development requirements, please get in touch with us today.
More Info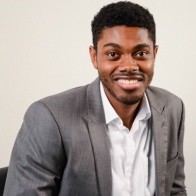 Jermaine Trotman
Jermaine Trotman is the co-founder of Nimble AppGenie, a company renowned for its bespoke mobile app development and web development in e-wallet app development and fintech development.