A few years back when pin and password logins were popular, there would be only one way to authenticate the user and login into phones. Around this time was when technical experts were starting to create more secure and simpler methods to authenticate the login process for mobile phones. Then on 10 Sep 2013, Apple introduced the iPhone 5s with Finger Print reading functionality. And again after 4 years again Apple came up with Face ID recognition technology, when they released the iPhone X on 3 November 2017. Bio metric logins are safe and easy to access. This method makes it easier for the user, as you don't need to memorize a list of passwords and pass codes. We will further explain popular bio metric authentication methods that are available in today's market:
Iris scan:
Iris scan is the most secure and reliable source to authenticate the user login. Iris scan the iris within the eye and stored key points of iris. Every Human Eyes is unique and has different flecks. Even both eyes of a person have different flecks. The iris scan records key points of the flecks, which are always unique for an eye.This makes their is recognition scan highly secure.
Voice recognition:
Voice recognition uses natural language processing to authenticate the user. This is an advance technology, which stores a digital form of the user's voice, and compares it to the login attempt made with a voice command. It converts human voice in to a digital form, and the system then compares that voice with the saved voice. Example of voice recognition process is Siri and Alexa, which both use the same technology to detect the human voice. Voice recognition is not very secure or reliable as human voice can be changed because of various reasons. One of the first major orginizations to implement Voice recognition was HSBC.
Facial recognition:
Facial recognition is a popular authentication process used by the governments for security to detect criminals. The main advantage of facial recognition is you don't need separate equipment or a sensor to authenticate the user. All that is needed to face in front of your mobile device is a camera that can gather the information. In the facial recognition process, the system makes a digit map of the user's face, which helps the system in understanding the structure of the human face. It measures the distance between the eyes, mouth and other elements of the human face, which makes the authentication accurate.
Finger Prints:
This is the most popular and commonly used authentication process for mobile devices. It was firstly introduced on 10 September 2013 by Apple with the iPhone 5S. It is considered among the most secure authentication processes that exist, because every person has a unique fingerprint. This process records the structure of fingerprints and compares it with the inputted fingerprints. Finger prints logins are a cool and very secure feature which you can add in to your Mobile Apps.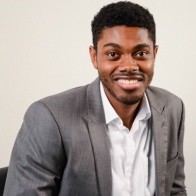 Jermaine Trotman
Jermaine Trotman is the co-founder of Nimble AppGenie, a company renowned for its bespoke mobile app development and web development in e-wallet app development and fintech development.