Earlier "secured chain of blocks" was introduced by Merkle tree which was nothing but a series of data records, each connected to the one before it. Satoshi Nakamoto introduced the new concept of it, which has a safe history of data exchanges, makes use of a peer-to-peer network to time stamp and authenticate each exchange, and allowed to be managed autonomously, no central authority needed. This is how blockchain has emerged.
How does it Work?
We will have a look on Blockchain Technology to understand how it works:
It retains a record of all data exchanges. The record is named as a ledger and data exchange is termed as transaction and each verified transaction is stored in the ledger as a block. To verify each transaction, it uses a distributed system which is a peer-to-peer network of nodes. After the verification the new transaction gets included to the blockchain which is not amendable.
An app development company can help you provide an expert in blockchain technology to create blockchains. The popularity of blockchain brought the developers in demand. Therefore, it is not easy to get a blockchain developer for your needs. Also experience one demands huge payment for their skills which they developed over time.
Understanding Blockchain Developers
Blockchain technology is an emerging technology and not many developers are available in this file. Some who had passion for this technology now have become good developers; others who are seeing that it has many opportunities are choosing it as their career.
The blockchain community is huge and there are many expert developers who completely understand how useful this technology is and enhancing their abilities to assist in advancing the country and earn money. For greater results, it is always recommended to hire the right talent that suits your needs and culture best.
How to Hire a Good Blockchain Developer
Before you start hiring blockchain developer you must know what you want, and what kind of projects you have and how that expert is a perfect suit for your project requirements.
You need to consider a variety of things before you go hiring, like what type of talent you want, length of your project, how many developers you will be needed, what expertise level you require, how experienced developer, you are looking for,you want an experienced one or someone who possess the basic knowledge and want to train yourself.
You also need to take care of what ways you are choosing and what places you are hunting in. The get a good developer you need to search in good places as well. The blockchain community is something where you get connects to a variety of skills who are continuously engaged with the latest trends and changes in the technology.
You are not done yet, after that you have searched them you need to keep in mind they are highly knowledgeable and skilled and there are other companies also who want to hire them, so accordingly, you crack the deal. However, you do not need to request to work with you, it is not the right way as well, by just knowing their skills and values you can win the game.
You need to figure it out that what motivates them to work with you. Is it money, lifestyle or opportunities? Some developers can be motivated by money but not all, as others may look for opportunities. Also, to hire the expert, you need to offer him as much as your competitor does.
You will see some blockchain developers are not comfortable with the full-time work environment, they want flexible working hours. And when you consider their needs, you can get the right talent for your organization which can turn your investments into profits. And another important thing is your project, if they like your project, they will be ready to work with you. So it all depends on the type of work you have for top e-wallet app developer USA.
Once you have hired the right talent, you can just chill, you must take care of what they need and how they are feeling when working with you as they are in huge demand. You must offer them a good work environment and great opportunities.
Blockchain Developer Salary in the US
The demand for blockchain software and app development has been increased from the last few years and due to this the salaries of the blockchain developers are also on hype. In the US, the salary of an average blockchain developer is around $127,000 whereas the salary of an experienced blockchain developer is around $172,000.
Blockchain Developer Salary in the US
Blockchain technology is quite popular in the Europe IT industry. Europe has the largest number of cryptocurrency countries like Malta, Gibraltar, United Kingdom, Switzerland, etc. Multiple blockchain development countries are registered in Europe. In Europe, the salary of a blockchain developer ranges from around $50,000 – $150,000.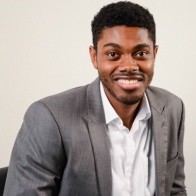 Jermaine Trotman
Jermaine Trotman is the co-founder of Nimble AppGenie, a company renowned for its bespoke mobile app development and web development in e-wallet app development and fintech development.