Since society is progressing towards digital economies, every industry vertical is witnessing digital transformation. The food and restaurant industry is no exception. From dining out to food trucks and takeaways, users have moved to order meals via food aggregator apps. With a variety of food options available in a single app, it is convenient for customers to order food with only a couple of taps.
This article will go through the food aggregator app development cost, features, and monetization strategies. But first, let's have an overview of the market:
Statista projects that the Online Food Delivery Market will reach USD 28,486 million in terms of revenue in 2021. The market will continue to grow with an annual growth rate (CAGR 2021-24) of 4.3%, which will result in revenue growth of 3,839 million in four years. With revenue volume at USD 16,564 in 2021, the restaurant to consumer segment will hold the largest market share. Also, China will be the largest market with USD 56,936 revenue in 2021.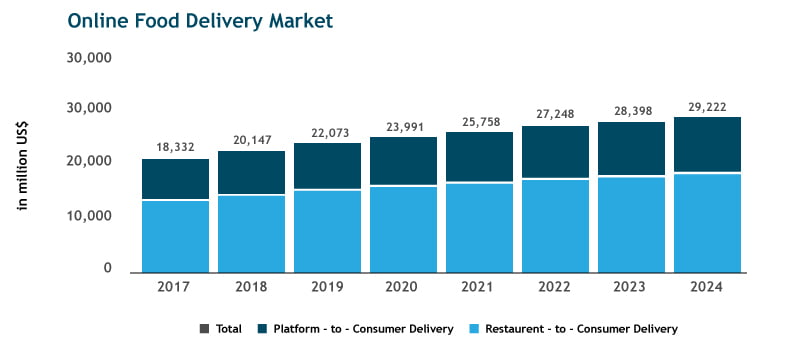 Not only the younger generations but also generations like baby boomers and later have also shown interest in ordering food via food delivery aggregator apps. A study of the US customers by eMarketers revealed that 17% of people aged above 65 had used food delivery services. Whereas the number is higher with people between 45-54 years of age – 33%.
Types of Online Food Delivery Businesses
There are two types of services that deliver ready-to-eat food to customers:
Restaurant-to-Consumer Delivery (Restaurant's own food ordering service)
The restaurant-to-consumer food delivery segment holds the largest market share, and most of these food orders are placed through a website, restaurant's mobile app, or phone. This segment includes the food deliveries that are carried out directly by the restaurants. 
Platform-to-Consumer Delivery (Food delivery aggregator apps)
This segment of the food delivery market focuses on providing customers with meals from partner restaurants. The partner restaurants don't necessarily have to offer online delivery themselves.
Cost of Food Aggregator App Development
The cost to develop food aggregator apps heavily depends on the type of food aggregator app and the features that you want to incorporate into your app. The more complex your desired features, the higher the cost will be.
Of course, you won't need all the high-end features at the early stages (Minimal Viable Product) of your food aggregator app. Hence, a food aggregator app MVP will cost you around $15,000 whilst a feature-rich app could cost up to $80,000.
The food aggregator app development cost comprises technology procurement and development cost. The development team that you require will typically consist of an Android developer, iOS developer, UI/UX designer, Quality Analyst, and a Project Manager.
Also Read: Native vs Hybrid App Development – How Hybrid Wins the Game? 
It can be difficult for your company to hire and manage the development team throughout the app development lifecycle in a food aggregator app project. In this scenario, you can hire a food aggregator app developer that can assist you in building your app with maximum efficiency and quality. 
Features you should incorporate into your Food Delivery Aggregator App
You'll have to offer three different apps for customers, restaurants, and delivery agents and also an admin panel for administrators. However, the customer app is the most prominent and should have adequate features to attract new customers. Here I'm listing the features you should incorporate into your customer-facing food aggregator app:
Seamless user interface and experience
Your food aggregator app should provide users with astonishing user interfaces. The design can be inspired by food, but it should be minimalistic. You can click the following link to read my recently created guide on graphic design trends. The most important thing to keep in mind is that the user shouldn't require much effort to order food.

Display Offers
Offers are what make food aggregator apps a preferred choice for the customers. I recommend using the deals and offers section on the front screen of your food delivery app. You can use eye-catching banners to attract users' attention.
Recent or popular dishes
You can show the best selling dishes on the front page to provide the users with easy access. Also, the feature can showcase the recent dishes bought by the customers. This way, the users can quickly order their favourite dishes within a couple of minutes.
Multi-platform availability
Not only just Android or iOS for mobile devices, but your food aggregator platform should also be accessible via web interfaces. However, the users should get a similar buying experience irrespective of the platform. To keep your food aggregator app development cost low, you can consider building it with hybrid mobile app development technologies. 
Cart
Having a cart is essential to facilitate a seamless buying experience for the customers. However, you can make it better with additional functionalities, such as buttons (+ and -) to increase or decrease the order quantity, and information regarding relevant offers that customers can apply to the order, etc.
Elastic search
Your app should have a powerful search functionality that allows users to search for items they want to order. The elastic search feature will make the search results more intelligent by including similar food items that the customer might like.
Food categorization
Categorizing dishes based on the types is essential for a food aggregator app. It makes product search easy for the customers. The category can be based on ingredients, time of consumption (breakfast, brunch, dinner, etc.), nature of the food (veg or non-veg) or nutrition (protein-rich or low-calorie).
Discount coupons and gift cards
You need to offer customers discount coupons if you want them to use your food aggregator app frequently. It would help if you also allowed your app users to gift cards to their known ones. The customer can use these discount coupons and gift cards at the time of checkout.
Digital wallet
You can implement wallet functionality into your food aggregator app. This will allow users to receive cash back, which they can use in future purchases. You don't need to build feature-loaded digital wallet functionality for your app; a simple one would be sufficient for your purpose.
Ease of payment
You should implement multiple payment methods into your app. Other than credit/debit cards and net banking, you should also offer users the option to pay via third-party digital wallets and cash on delivery. 
Order Tracking
The users should be able to track the real-time status of their food orders. The app also should have a separate screen that shows the real-time location of the delivery agent.
Notification
The notification feature can be utilized for multiple purposes, such as order arrival, deals alert, etc. You can utilize both the SMS and Push notifications option to reach the users effectively. For example, you can notify the users that their order is about to arrive so that they can be prepared to receive it.
Address management
The users should be able to add or remove their delivery addresses. Your app should also be intelligent enough to fetch the user's current location and automatically use the address to make the ordering process more straightforward. Also, the checkout screen should showcase the delivery address, so that the customer can crosscheck. To get the user's location, you can use Google Maps API.
Flexible delivery
The customers should be able to choose the delivery time as per their convenience. This will make sure that the food is delivered at the time of the customer's availability. Also, it gives users a sense of control over their order.
Reorder
The users could reorder the order from the past with a couple of clicks, making it a hassle-free buying experience for them.
Feedback
Feedback is necessary to improve the service of your food delivery business. The customers can give feedback in terms of food quality or delivery. This will help you work on their grievances and improve their food ordering experience.
Refer and Earn program
Referral programs are one of the best ways to attract new customers. You can encourage your customers to refer the app to their friends and family by offering cashback on referral. 
FREEBIE
Customers love freebies. You can offer discount coupons or cash back when the customer buys food for an amount or beyond. 
Talking about the features for restaurant and delivery agent's apps, the apps should allow restaurants to view order summary and details, and also allow restaurants to accept or reject any order. The delivery agent should see the customer's location on the map. To keep your customer information secure, you can enable the delivery agents and the restaurant to contact the customer via the app itself.
Features for food delivery price comparison apps
The market is seeing a new line of food delivery apps that enable users to compare prices and delivery time for several other food delivery apps. These apps require unique features to attract customers and be useful to them. Here are some of the essential features for food delivery price comparison apps: 
Food delivery search and comparison
It becomes difficult for the customers to compare food prices on different food delivery apps like UberEats, Postmates, delivery.com, etc. Hence, the food delivery price comparison apps should have a feature to provide users with food prices and comparison for different food delivery apps.
Price and time comparison
The app should allow users to select a restaurant and compare prices and delivery time estimates from multiple food delivery companies. It will allow users to choose the most suitable option for them. 
Saved money
The primary reason why customers choose food delivery price comparison apps is that they want to save money on their food orders. Hence, the food delivery price comparison app should show the users the amount they've saved so far. It will motivate users to use the app more frequently.
Tech Stack for Food Aggregator App Development
You need to choose the best technologies for your food aggregator app development. However, based on the feature list we've discussed, you should use among the following technologies:

What are the existing food aggregator apps?
UberEats
Revenue in 2019: $2.51 billion
UberEats app is a standalone food aggregator app available in many cities across the world, including Los Angeles and Chicago. Although UberEats is different from the Uber app, it utilizes many features from the taxi booking app (utilizing existing features significantly reduces the company's development cost and time). The app scores are high for user-friendliness and ease of use. 
The premium membership for UberEats costs $10 a month, through which UberEats provides free delivery and 5% off on orders above $15.
Doordash
Revenue in 2019: $1.9 billion
Doodash is another food aggregator app with the second-highest revenue in 2019 and the USA's highest market share in the USA. It allows users to order food from different restaurants, and the doordash delivery agents will deliver the meals. Doordash delivery services are available in 800+ cities and the USA and Canada. Doordash's premium membership offers free delivery for orders for and above $12. The charges for premium membership are $10 a month
Grubhub
Revenue in 2019: $1.31 billion
Available for both Android and iOS, Grubhub leverages all the necessary features a food aggregator app requires. The users can search for cuisine type (organic food) or any specific menu item (hamburger), allowing them to find their next meal easily. 
Though Grubhub is free to use, some restaurants charge a delivery fee and have a minimum order amount. Grubhub also offers premium services for a $10 per month subscription. 
Zomato
Revenue in 2019: $206 million
Zomato is a food and restaurant aggregator app provider that operates in around 25 countries, including Australia, India, and the United States. The company was founded under the name 'Foodiebay' In 2008. In addition to providing a list of best restaurants, Zomato also offers social networks, something like Facebook or Twitter for foodies. 
Swiggy
Revenue in 2019: $160 million
Based in Bangalore, India, Swiggy is one of the top-rated mobile apps on the appstore, with close to 1.5 million downloads in the play store. The Swiggy app allows users to order their favorite meals from nearby restaurants, which Swiggy automatically detects through the user's location.
Recently, Swiggy integrated the mobile wallet feature into the app. This will allow users to store money and pay for their Swiggy orders.
Foodboss
Not just the restaurant aggregators, but services like Foodboss are getting together with the food delivery industry by providing customers with deals from several food delivery service providers on a single platform. As per the Foodboss, the fragmentation of the food delivery industry is creating confusion among customers and complicating the delivery process due to several loopholes. The fragmented food delivery industry creates confusion for consumers and complicates the delivery process.
Foodboss app enables users to view all the food delivery options and compare the prices in real-time. Currently, the app operates in the USA's major 80 cities and covers 330,000 restaurants to compare food delivery services. 
Conclusion
Now you know the best practices for food delivery aggregator app development. If you're still not sure where to start and how to develop the app in the shortest possible time, you should reach out to software development companies that are specialized in developing on-demand solutions.
We, at Nimble AppGenie, are specialized in developing on-demand solutions. From on-demand taxi booking services to food delivery services, we've been developing market leading solutions for our clients. You can check a detailed list of our on-demand development services here: On-Demand App Development Company Nimble AppGenie.
Madhukar is marketing communication specialist at Nimble AppGenie. A writer by day and reader by night, he specializes in technical blogging. Throughout the time, he has been helping businesses by writing valuable business guides and articles. Nimble AppGenie is a renounced fintech and healthtech development service provider that is helping small-large scale enterprises.