In order to stay competitive and relevant in today's marketplace, boost operational efficiency, and introduce innovative services, banking and financial companies around the world are heavily investing in FinTech software development services.
In the world of FinTech startups and technology-agnostic banking and financial service providers, the argument of developing FinTech solutions in-house isn't valid anymore. The current FinTech ecosystem requires agile development, hence outsourcing FinTech software development is the best option.
But how do you decide whether to hire a group of freelancer developers, hire a local software development consultancy, or find FinTech software development companies online? Of course, not every software development project can afford the sky-high rates of enterprise-level premium software consultancy like Accenture or Cognizant.
As there are other options like offshoring and team augmentation, it isn't affordable to pay US rates when you can get the quality deliverables for a quarter of the cost. But in a sea of FinTech development companies and varying hourly rates, it gets challenging to find the right development partner.
Offshore Development Rates As Per Regions
The hourly rates of software development ranges as per the location of the company. Here are the average hourly rates for different regions in 2021: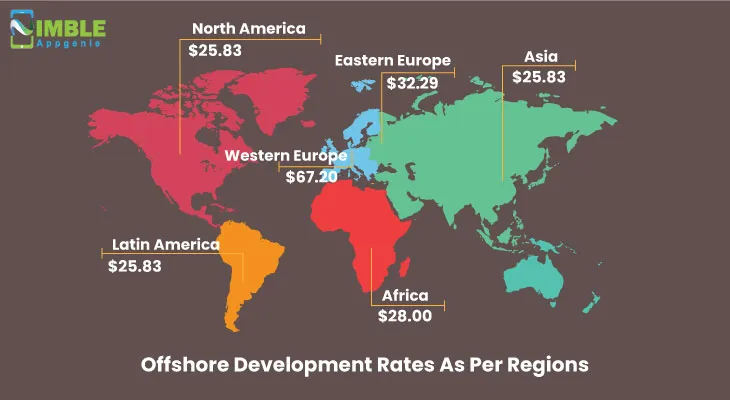 Asia: $25.83
Africa: $28.00
Latin America: $45.71
North America: $46.35
Eastern Europe: $32.29
Western Europe: $67.20
Three Types of FinTech Software Development Companies
Different software consultancies cater to different levels of organizations. Their approaches and pricing varies according to their type. In terms of FinTech software development services, typically the consultancies fall into these three categories.
Enterprise Class FinTech Software Services
Enterprise class FinTech software service providers are the biggest players in the FinTech software development market. They accommodate hundreds, if not thousands, of software developers, and work with governments and Fortune 500 companies that can afford hiring them.
These FinTech development companies typically work on projects budgeting $500,000 and more. Their hourly rates usually range between $250 to $850.
However, the biggest downside of these FinTech development companies is that they tend to use the waterfall development approach to build the entire software solution all at once. It is normally much more effective to use the agile development approach to roll out an MVP first, and then load the solution/app with additional features.
I won't discuss the Agile vs Waterfall war here. If you're interested in having a sense in how Agile wins the game. Here is an article I've written on this topic: Project Management Methodologies – Agile, Scrum, Waterfall, and Kanban
Small-Mid Scale Class FinTech Software Development Companies
These IT consultants work with businesses that can't afford the cost of enterprise-class FinTech software development companies. These software development companies usually have 50-100 in-house software developers and offices around the globe. The hourly rate for FinTech development services that these companies charge falls between $25 to $175.
Nimble AppGenie falls in this category of these top FinTech software development companies. We cater to both startups and small-mid scale FinTech companies, along with established banking and finance companies. The project's budget we work upon starts from $15,000.
Development companies falling in this category often make use of Agile development methodologies to ensure timely project delivery, while minimizing the chance of project failure. As the FinTech ecosystem is changing at a rapid pace, most of the requirements aren't clear at the initiation stage. Hence, it is sensible to go with Agile development, which can incorporate changes at any stage of development.
Freelance Developers
A disclaimer first. If you don't have the expertise in handling and managing the FinTech development challenges that come along with the strict industry compliances and designing complexity, I don't recommend that you hire freelancers for your project. However, if you have project managers in-house that have managed FinTech projects previously, it is worth considering freelance developers, as they don't charge as much as a company.
Should You Hire Offshore FinTech Development Companies?
When it comes to the hourly rate of FinTech software development, offshore developers are the most inexpensive and reliable source of development. The hourly rates range from $25 to $75 per hour for most project sizes. However, it isn't very straightforward to find an offshore FinTech app development company that proves to be the right fit for your project.
The following are the challenges that companies face with their offshore development partners:
Communication
Many people mistakenly believe programming language to be the most important aspect of software development; however, it is the communication between you and your development partner that plays a crucial role in the success of your project.
Even with the companies being from the same time zone and region, It often still isn't easy to communicate the project vision to the development company. You can imagine how challenging it can be for you to communicate with the offshore team.
Hene, it is recommended to hire companies that have experience working with clients from different regions and languages. For example, our recent EdTech project was with an Japanese company. The whole product was built in the Japanese language, which was quite a challenge for our team. But, we overcome that with effective communication with our client. You can read the case study by clicking the image below.

Team Composition
Many offshore companies would trap you by quoting very low hourly rates upfront, while over-staffing the project with unnecessary or redundant resources.
Most of the FinTech projects require a project-manager and a quality analyst on a part-time basis. But many FinTech software development companies will allocate full-time resources like business consultants and project managers that unnecessarily increases the FinTech app development cost.
This issue isn't only with offshore development services. Every outsourced project has this risk. To avoid being tricked, you should seek proposals from a few FinTech app development companies and compare their team composition. You'll easily find the unethical ones.
The Right Way to Hire Offshore FinTech Development Partner
Despite the challenges with offshore FinTech outsourcing, there are many benefits which make it worth considering offshore development companies for your project implementation. You should follow the following tips to ensure the offshore project development is a success.
Should have technical and domain competency
Technical competence is the prime reason why banking and financial institutions seek a FinTech development company. You should make sure that your FinTech software development partner has extensive knowledge in developing FinTech applications. It is because managing the FinTech regulations isn't what anybody can do. By managing, I mean building a compliant app that offers astonishing user experience.

Moreover, you should also make sure that the software development company is skilled in the latest financial technologies. Natural Language Processing (NLP), Artificial Intelligence (AI), Machine Learning (ML), Augmented Reality (AR) and Crypto, are among the trending financial technologies, in which your FinTech development partner should have expertise in.
Know their development approach
You should find synergies between you and your software development partner's value proposition. As stated earlier in the article, FinTech development tends to be more successful if performed with the Agile development process. Hence, make sure your development partner has proficiency in working with agile.
Sign an NDA before going forward
You cannot risk your idea in your quest to find the right FinTech development company. Hence, be mindful to sign an NDA with the FinTech development companies that you reach out to. However you can share an overall idea of your app to allow them to revert to you with their willingness to go forward.
You don't have to worry about forming an NDA. Most development companies have an NDA ready.Just ask them for their standard NDA and they'll send it over to you.
Ask them about the payment structure
Indeed, FinTech development isn't a small investment. Hence, your FinTech development partner should provide you with payment milestones that put you at ease. The typical software development payment structure is as follows:
Project Initiation – 20%
Wireframing and Designing – 20%
Development Phase – 20%
Testing Phase – 20%
Deployment – 20%
Ask the development company for a SoW document
Based on the requirements that you provide, the FinTech app development company will provide you with a statement of work (SoW) document, which will consist of the app outline, features, technical specifications, and the cost. Most FinTech developers also sign an SLA (Service Level Agreement) along with the SoW. The SLA is an agreement that is enforced over the SoW, and consists of the level of services that software development companies will provide to you.