Modern Ewallet apps are equipped with advanced technologies such as (AI) artificial intelligence, (ML) machine learning, natural language processing, and blockchain. Most of the advanced Features For Ewallets In 2022 are powered by these technologies. are powered by these technologies. However, many FinTech app developers will overwhelm you with unnecessary features. Hence, you should have a clear understanding of which features you need to incorporate into your Ewallet app.
Mainly, there are three stages of an Ewallet lifecycle – MVP, Initial Launch, Services Expansion. At every stage, the Ewallet requires a specific set of features. For example, an Ewallet MVP won't require advanced features, whereas at the expansion stage of the ewallet service, the Ewallet will have to incorporate the most advanced features to win over the competition.
In this article, we'll talk about the features that your Ewallet will require at every stage. But, first, I'll give you an overview of the current Ewallet trends in 2021. You can skip to the next section if you want to quickly have a look at the necessary features for your Ewallet.
Ewallet Market Trends in 2021
As a recent report by The Courier stated, the Ewallet market is expected to witness an unprecedented surge over 2021-2031. The dream for a cashless society is near to reality.
The mobile payment trend was already on boom even before the pandemic. The social distancing norms across several countries has influenced the growth of mobile payment even further.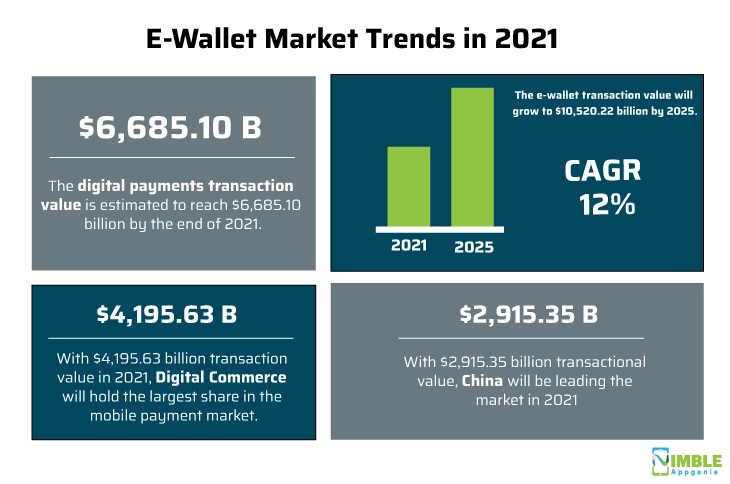 The following are some relevant statistics of Ewallets in 2021:
The digital payments transaction value is estimated to reach $6,685.10 billion by the end of 2021.
Furthermore, the transaction value will grow at a CAGR (Compound Annual Growth Rate) of 12% during the forecast period of 2021-2025 and will reach a total of $10,520.22 billion in 2025.
With $4,195.63 billion transaction value in 2021, Digital Commerce will hold the largest share in the mobile payment market.
With $2,915.35 billion transactional value, China will be leading the market in 2021
Features For Ewallet MVP
Minimal viable products are aimed to test the software concept. The purpose is the same in terms of Ewallet app development. To ensure faster ROI from every phase of Ewallet development, you need to make sure that you incorporate just the right set of features into your app. The following are the required features for and Ewallet MVP: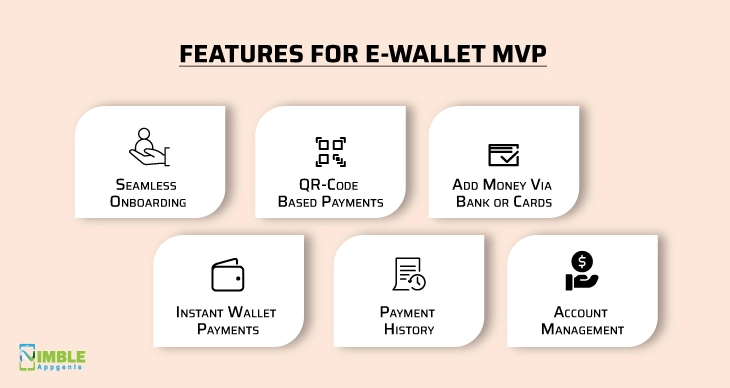 As there are several compliances that you, as an Ewallet service provider, will need to follow, it will be hectic for you to formulate a hassle-free onboarding process. You don't want your users to abandon the app because they don't have immediate access to their identity proof or financial details. Hence, it is necessary for you to create a user onboarding journey that is super-easy. The following is the typical Ewallet onboarding process:
User install the app and launch it for the first time;
He feeds his personal details in the app Id Est Full Name, E-Mail ID, Mobile Number, Display Picture, etc;
System send OTP to the user's mobile number/email for authentication;
User sets up his password;
Before the user add money to the wallet or receive any payment, he has upload his scanned copy of his national ID which is to be reviewed by the admin;
After successful ID verification, the users can add money to their Ewallet and make payments.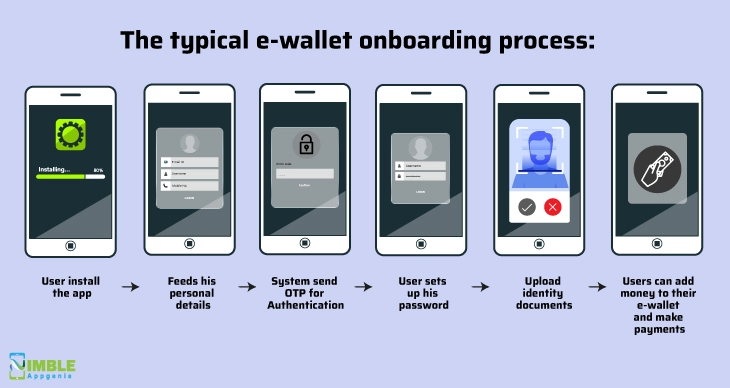 To facilitate ease of payment, your Ewallet should allow users to scan QR-codes to make payments. With the social distancing in place and personal hygiene becoming more and more necessary, allowing people to pay contactless will be a smart move.
Add Money Via Bank or Cards
The users will either receive money from some other user or will have to add money to their wallet. There can be two ways of adding money to the wallet – via bank or debit/credit cards. Your Ewallet MVP app should give the users an option to save the methods used to add money to their wallets.
It is the core of every Ewallet. The reason why people prefer paying via Ewallets is the capability to transfer money instantly. There is no point of having an Ewallet if the money transfer takes hours or days.
Giving your Ewallet users a place where they can see their recent payment history will add to the transparency between you and your users. Many times users lose track of their spending. The spending history is very useful in such scenarios too.

This is a basic feature that users would require in order to update their bank account details, personal details and preferences. However, every change in the account information should have to pass through authentication or admin approval.
Additional Ewallet App Features For Initial Launch
When your Ewallet has passed the MVP stages, you've gathered ample user feedback and you are ready to launch a fully-functional app with the needed features. You should then consider the following set of features for your next stage.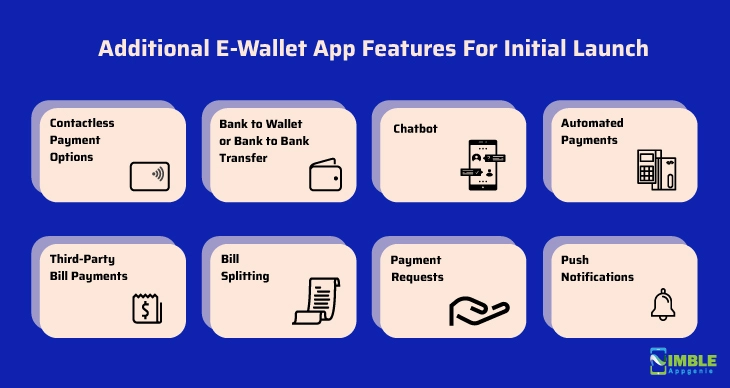 Contactless Payment Options
Although you can incorporate this feature during the MVP stage, it isn't feasible to incorporate NFC payments. If you want your users to be able to pay directly via their debit cards without having to load money to their Ewallets, you can do what Samsung Pay did. Samsung Pay allows users to pay at POS terminals via their NFC enabled mobile phones.
Bank to Wallet or Bank to Bank Transfer
Not every user wants to load money to their Ewallets to make payment. To provide them with an easy mode of payment, you should allow them to link their bank accounts to the Ewallet app to make instant bank to bank or bank to wallet payments.
In 2021, when natural language processing and machine learning technologies are mature enough to provide support to the users, why would you want to invest in human resources for customer support. You can utilize AI-powered FinTech chatbots to make your customer support process efficient in terms of money and availability.
The users should be able to enable the app to make automatic payments for several services that the users frequently avail. However, you can put a limit on the transaction value per payment to restrict fraudulent activities.
Third-Party Bill Payments
An Ewallet isn't supposed to be just a payment solution. As app fatigue has become a challenge among mobile app developers, it is mindful to provide more than the core characteristics of an app. Hence, allowing users to pay for third-party services/bills is a very good option.
Although many mobile payment apps don't have this feature in place, it is an opportunity for new Ewallets to acquire the desired market share. With this feature in place, the users would be able to add their peer to the bills. With the peers' approval, the bill payment is split among all the participants. In addition to providing customers with payment ease, this feature will also generate you brand opportunities and new customers via word of mouth marketing.
Although it doesn't seem like a revolutionary feature to you, it is very essential when we talk about B2B payments. The users should be able to request payments from other users via their email or phone number. You can make this feature more effective by implementing a PayPal like functionality to add/create bills along with the payment request.
Push Notifications have become very common. The reason I'm mentioning it here is to inform you that you should limit the number of notifications that you send to the users. Overwhelming users with unnecessary notifications will trigger them to block notifications from your app.
Advanced Ewallet Features For Service Expansion
Over time, when your Ewallet becomes mature, and you have a decent amount of users and market share, your Ewallet app should act more than just a payment app. There are a lot of financial services that you can offer with your Ewallet app. Here are some of these: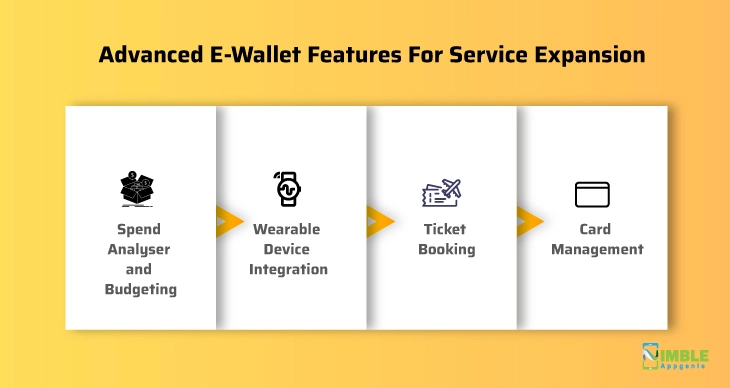 Spend Analyser and Budgeting
Everyone is looking for an easy way to manage their finances, and there is no place better than a payment or Ewallet app to offer these services. Your app will tend to have the customer payment data, and if you provide users the insights into their spends, they're more likely to prefer your app over other payment methods.
Wearable Device Integration
Although it isn't a type of service expansion, wearable device integration feature is a must at this stage of the Ewallet app lifecycle. The reason why I haven't recommended it before is because it is a costly affair. You'll have to develop separate applications for smart wearable devices, which isn't feasible at the initial stages.
Not just ticket booking, you can incorporate any service that your user can avail via the wallet money. Be it railway/airline tickets or movie tickets, providing the users with the option to use the wallet money will add to their faith in your digital currency.
As the users will be having a lot of payment options, they will need to manage their cards/ bank accounts within the Ewallet app. However, what I'm pointing out here is not just the card management. You should also issue debit/credit cards and allow users to manage them via your Ewallet app.

Final Words
The breakdown of Ewallet app features in terms of its life cycle is what you should consider while developing your Ewallet app idea. With years of experience in Ewallet development, we at Nimble AppGenie, have acquired proficiency in building ROI-centric Ewallet applications that are ready to excel in the market. If you want to know how much will it cost to develop an ewallet read the following article – Ewallet App Development Cost Estimation With Advanced Features