Prerna Jhunjhunwala, the founder of a rising EdTech startup Creative Galileo (who develops education apps for students), believes in utilizing all the amazing characters that children love watching on the screen. She encourages learning through these characters, instead of entertaining children via random videos.
She is absolutely right. Gen Alpha loves accessing content through mobile devices. However most of the time it's for entertainment purposes, but if EdTech companies can make use of this interest of children to deliver quality education, the purpose behind education technologies is fulfilled.
While the play store and app store has hundreds of education apps for students, kids, and self-learning, it gets difficult for one to pick the right e-learning app. To help you through this, I've compiled a list of child education apps that you can pick from.
Top Free Education Apps for Students in 2021
E-learning apps for students have to be capable of performing several tasks in addition to providing educational content. Students require help in several areas including homework, assignments, and self-learning. There are several education apps for students in the market that serve different purposes, so I've compiled the top 10 apps that students require to help them smoothly sail with their curriculum.
1. Google Classroom
The process of assigning homework or assignments and reviewing them to grade students may sound simple to you, but it is very complex and time consuming. Google Classroom is a great way to streamline this process. It is like a virtual classroom of sorts.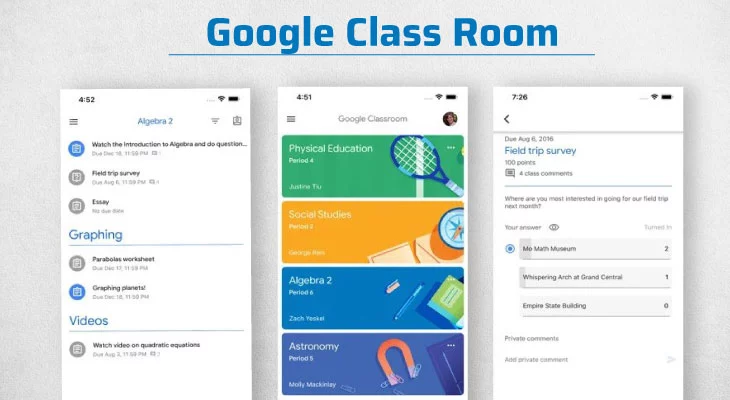 Google Classroom allows teachers and students to send/access announcements, create classes, start discussions, grade/submit assignments, and share resources. There are many other things this mobile learning app from the house of Google can perform to help teachers and students streamline the learning process.
Key Features of the App
Create and Share Classes

Assignment Management

Faster Grading Process
Download from the Google Play Store
2. edX
Many students dream of getting into the top universities like MIT, Harvard, Columbia, etc. But not all of them can get into these universities due to various reasons. But worry not, edX has you covered on this. The app won't actually get you into these universities, but it will give you access to the courses from these universities.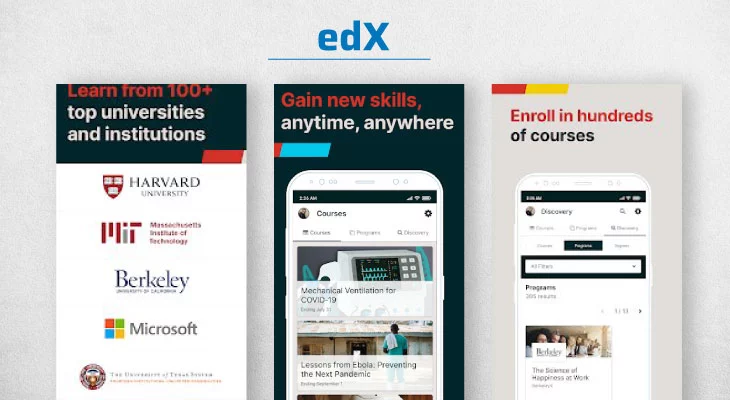 edX allows students to learn from more than 2000 courses, varying among computer science, linguistics, business studies, engineering, and many other fields. The students can also get professional certifications and university credits that are very helpful in building professional careers.
Features of edX
Interactive Quizzes

Video Lectures

Study Material Handouts
Download from the Google Play Store
3. Khan Academy
With a mission to provide students across the globe access to world-class education for free, Khan Academy secures a spot among the top free education apps for students and self-learners. I have to admit that they're fulfilling their mission very impressively.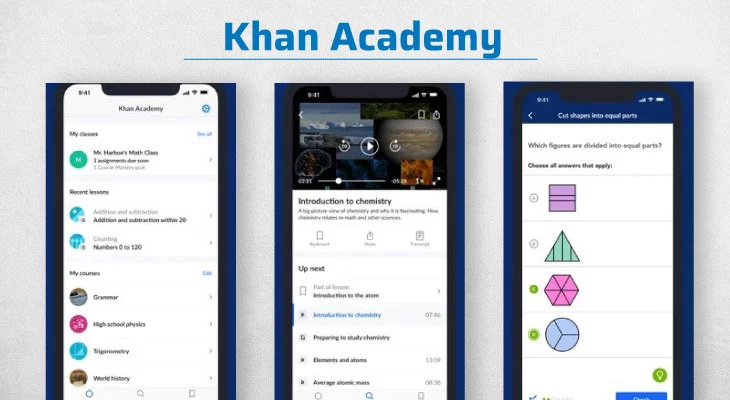 Khan Academy app has its own way to deliver quality education to curious minds. The app provides all courses in the form of video lessons. While using the app, I found that the video lectures display recording of drawings on a virtual blackboard. You'll feel like a teacher is giving a lecture in front of you. The blackboard material is described by a narrator at the same time. Isn't it cool?
Khan Academy App Features
Content Provided in Multiple Languages

Practice Sets

Progress Tracking
Download from the Google Play Store
4. Duolingo
Studies have shown that learning languages improve IQ. Although learning languages is beneficial, it requires patience and practice because it is not everybody's cup of tea. Gone are the days when people had to hire a language tutor or take language classes in classrooms. Duolingo has already demonstrated effective language learning by offering dozens of free language learning programs that millions of people are learning from.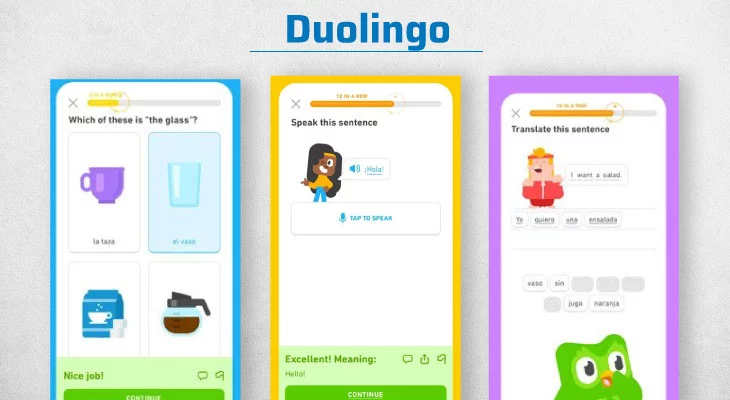 With its adaptive learning technique, Duolingo helps students learn several languages including English, Spanish, French, Latin, Mandarin, etc. It's the only language app I personally use and I'm pretty sure its the only language learning app you'll ever need.
Features of Duolingo
Learn 30+ Languages

Gamified Learning

Forum Discussion

Interactive Learning
Download from the Google Play Store
5. Remind
It is true that group learning is one of the most effective practices to learn but it isn't always possible to gather around under a single roof to study together. Remind app is the perfect solution to this problem. It allows students to stay connected with their school community.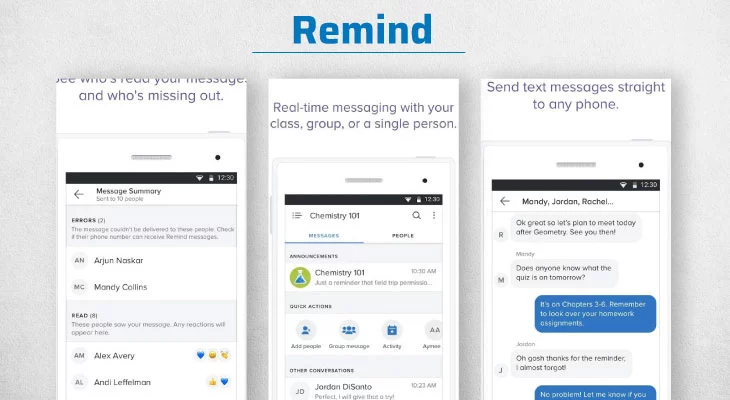 In addition to students, the Remind community includes parents and teachers as well. Once the participants join a community using school or class code, they keep receiving regular updates for all the classroom activities.
The authorized participants can share photos, handouts, clear doubts, submit assignments via the app itself. Basically, the app promotes collaboration.
Features of the App
Community Interaction

Chat Translation in 70+ Languages

Instant Messaging
Download from the Google Play Store
6. Photomath
Irrespective of the age, Mathematics is certainly a puzzling subject for the majority of the students worldwide. Well, with Photomath, math is no longer scary. Students can easily solve complex math problems using the statistics listed in the app.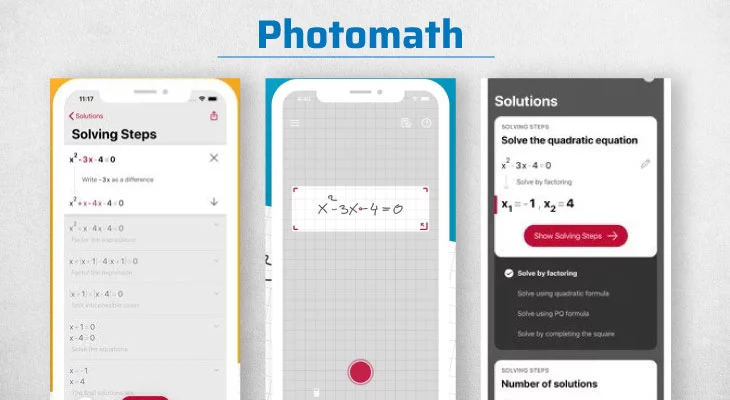 It is exciting to know the learning process of Photomath. The students can simply take a picture of printed or handwritten questions, with the app guiding students through a step by step explanation.
Features of Photomath
Scan Problems in Handwritten or Printed Format

Animated Instructions

Interactive Graphs

Multiple Methods of Problem Solving

Doesn't Require Internet
Download from Google PlayStore
7. SoloLearn
SoloLearn is a paradise for students that want to learn coding. The best part is that the app curriculum undertakes beginner, intermediate, and pros levels, helping students learn programming languages like python, java, c++, PHP, swift, HTML, JavaScript, CSS, and many others.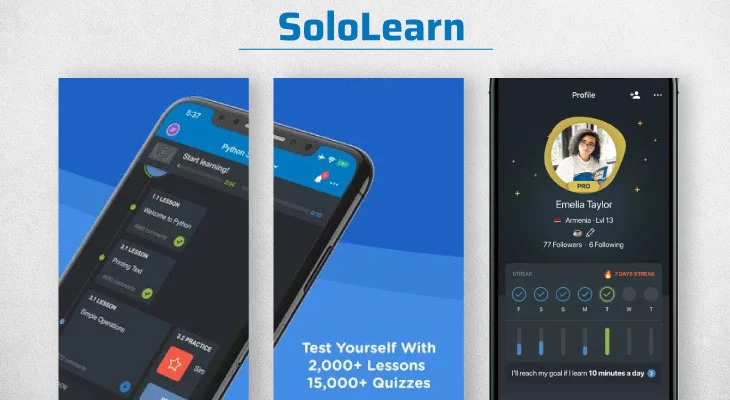 These languages are the foundation of software development frameworks. So if you aim to learn them to get a job or just for knowledge, SoloLearn is your way to go.
Features of SoloLearn
Offers Interactive Community of Coders

Has Free Mobile Code Editor

Provides tutorials on latest coding practices
Download from the Google Play Store
8. Quizlet
Quizlet offers several innovative ways like flashcards to make learning fun, easy, and quick. Although the app has millions of readymade flashcards, students can create their own flashcards as well.
The app also contains several gaming activities to improve learning. Moreover, Quizlet reminds students about their progress to keep them motivated.
Features of Quizlet
Self-Assessment via Practice Sets

Custom Media to Improve Learning Experience

Study Sets for Exam Standardization
Download from the Google Play Store
9. Kahoot
Quizzes are an innovative feature for online learner applications. Kahoot offers joyful learning experiences via quizzes. The app offers readymade quizzes for various topics. The students can choose a topic and join quizzes where other students also participate.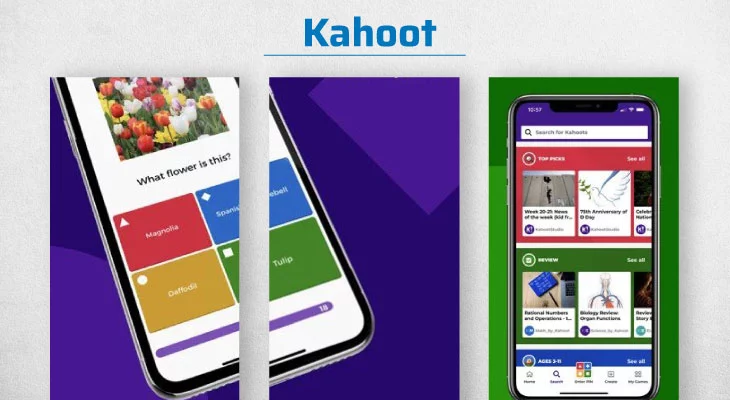 Another great feature is that the students can create their own quizzes and invite their friends to compete. Not only the students, but the teachers can also make use of the quizzes to create quiz competitions and show it on an interactive projector or whiteboard.
Features of the App
Quick Quiz Creation

More than 2000 Contestants

Host Live Quizzes on Big Screens
Download from the Google Play Store
Download from the Apple Store
10. Udemy
With more than 130,000 video tutorials for courses varying from business to personal development to technology, Udemy is worth considering as your m-learning app choice. The app also provides a forum, where the community of students and instructors can discuss problems and ideas.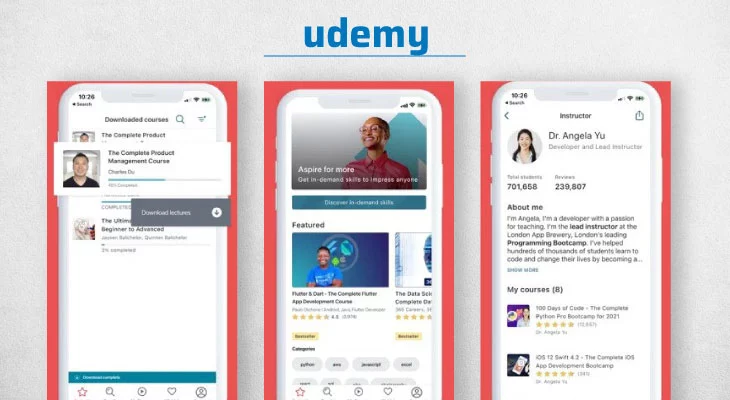 Features of Udemy
Specialist Instructors

Interactive Learning

Forums

Survey Creator
Download from the Google Play Store

Conclusion
Indeed, online learning apps are the future of education. With a pool of e-learning mobile apps available for different learning purposes, it has become easy for many to get access to free education. The ten EdTech apps I've described are among the best mobile applications for education.
Feel free to comment your thoughts on these education apps. Also, in this blog, I will keep updating about education technologies and how they impact learning in 2021. Plus, if you are looking for top education app development company or just want to hire education app developers, dont forget to check out Nimble AppGenie.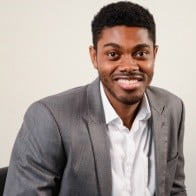 Jermaine Trotman is the co-founder of Nimble AppGenie, a company renowned for its bespoke mobile app development and web development in e-wallet app development and fintech development.