In most circumstances, we recommend that our clients launch a Minimum Viable Product (MVP) of their idea first, before then moving to the app development of a polished product. By opting to first launch an MVP, this will provide you the opportunity to gain feedback and suggestions from users. Once you launch your application, you will realize that user feedback is incredibly valuable to the long-term success of your vision.
If you are a start-up, it is also vital that you use the MVP as a period to grasp what it takes to have a successful business. Whether you have a social, medical, e-commerce or booking services business, this will be where you learn a lot about domains, SEO, customer relationships and social media presence. As well as receiving feedback about your product, having an MVP allows you to receive feedback about your vision, customer service, and your unique proposition.
What is a MVP
The Minimum Viable Product is a process of development, in which a new App or website is built with the key features that can fulfill the most important user and initial business needs. It will be an earlier version of your app or website idea that launches before the final app version. The MVP process allows you to take suggestions from initial users, make your app/website more useful and user-centric. Furthermore, if you go with the MVP version, it will cost you 40% - 60% less than going straight for full-scale project development. It will take less time to develop, and it will also allow you to iron out obstacles that are in the way of the long-term success of your app.
Save time: Deciding to have an MVP version of your website/app idea is likely to lead to you entering the market 60% faster than if you launch a full-scale product. This short-time to market is especially important if you want to take advantage of a first-mover opportunity. It is a well-known business rule to fail fast. By launching fast, and learning your weaknesses fast, you can quickly eliminate the weaknesses, and instead, then focus on amplifying your strengths.
Save money: Developing an MVP for your idea is likely to save 40 to 60% on the development cost, as you will be launching your app concept with a few basic and core features. Once you obtain sufficient users and start seeing earning potential, you can then welcome feature suggestions from your users, and start to add the features that are in line with your business needs and vision.
The decision to go MVP first or full-scale development first is a choice that differs on a case-by-case basis. Common variables that affect this decision are budget size, how quickly you want to enter the market and your market expertise. However, in most cases, going for an MVP first is the most suitable option. Consider your decision carefully.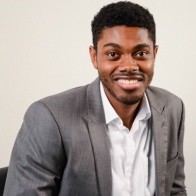 Jermaine Trotman
Jermaine Trotman is the co-founder of Nimble AppGenie, a company renowned for its bespoke mobile app development and web development in e-wallet app development and fintech development.