The retail industry has increasingly gone cashless across the globe. As a result, global demand for contactless payment solutions rapidly accelerated in 2020, but not only in the retail industry. Shifting towards a social distancing mode has been difficult for all businesses that rely majorly on cash transactions and other payment modes that involve physical touch. The COVID-19 pandemic has affected everyone's lives in some major way. However, the retail industry has found the solution in the form of contactless payments.  From EMV to mobile wallets and frictionless checkout, contactless payments offer retailers and customers convenience and safety.
Contactless payments include two major categories:
Contactless credit cards
Mobile wallets
The contactless EMV (Europay, MasterCard, and Visa) transaction is a win-win for both retailers and consumers. Contactless payments via contactless credit cards can cut the payment process time in half, be perceived as safer, and reduce chargebacks.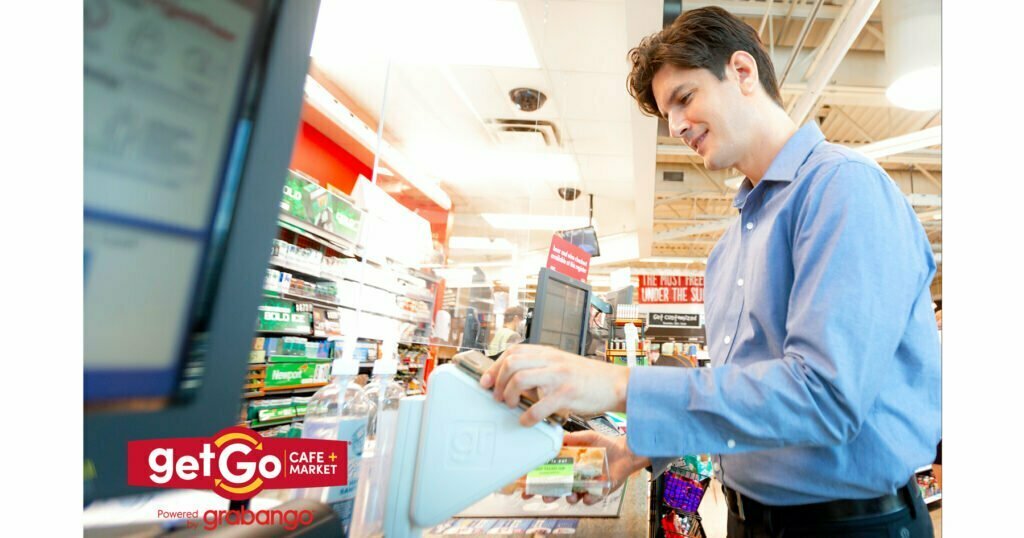 For example, GetGo recently added new iNFX retail microservices, Invenco G6 and G7 Pay-at-Pump terminals, and cloud services management platform at all existing locations to address outdoor EMV and a more robust media experience. EMV compliance was an essential consideration for retailers, but more importantly, it provided consumers with even more security and safety for their transactions.
In this blog, I've explained how contactless payments are becoming the new normal for the retail industry.
Statistics of the Adoption of Contactless Payments
To understand how retailers and customers are heavily adopting contactless payments, let's look at some stats.
In August 2020, National Retail Federation and Forrester conducted a new survey and had the following findings:
67% of the total retailer respondents accepted the use of some form of contactless payment.
Around 58% of people used contactless cards, which increased 40% compared to last year.
Around 94% of retailers expressed that they expect the rise of contactless payments in the next 18 months.
A study conducted by Visa showed an increase of 150% in the use of contactless payments like digital wallets, credit cards, etc., from March 2019 to 2020.
How Contactless Payment Became the Consumer's First Choice?
Retailers and customers have both adopted contactless payments significantly. Nowadays, a huge portion of consumers have started making their first foray into contactless payments. The fear of COVID-19 was the biggest reason behind this shift. People are scared that they would catch the disease if they use cash for payments. For many customers, the non-availability of contactless payments has now become a deal-breaker. They also said that they prefer to visit a retail store, only if it has a contactless payment option. So, this proves that it is very important to find the right FinTech app development company and get your app developed soon to grow in the competitive market.
Technologies That Make Contactless Payments Possible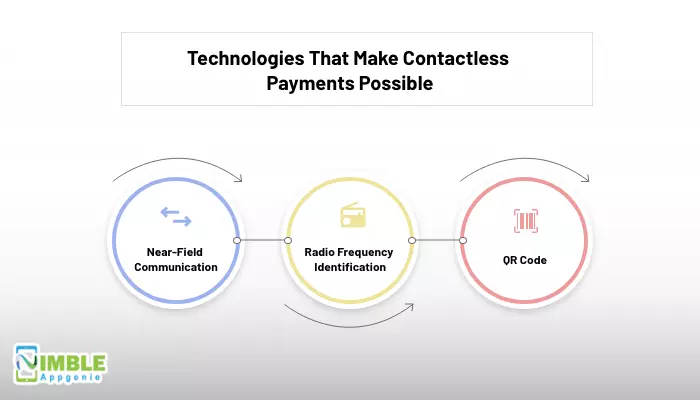 Near-Field Communication

Contactless payments use near-field communication (NFC) technology to exchange data between readers and payment devices like Samsung Pay, Google Pay, and Apple Pay e-wallets in smartwatches, smartphones or credit and debit cards. In NFC, devices must be close together to complete contactless payments. NFC payments are used across the globe because they are highly secure, contactless, and can help speed up the checkout process. To accept these types of payment, you need a specialized card reader. However, due to contactless payment increased adoption rates and popularity due to the COVID-19 pandemic, most merchant accounts offer NFC readers.

Radio Frequency Identification

This technology is embedded in debit/credit cards. RFID enables the cardholder to wave the RFID card in front of a contactless payment terminal to complete a transaction. These RFID cards have a symbol on them that resembles the Wi-Fi logo. Like NFC, RFID technology also enables readers and devices to communicate and offer secure, convenient, and contactless payment transactions. Several solutions can be built easily with the help of RFID and BLE technology. The in-vehicle payment solution is one of the best examples of this kind of solution. The long-range RFID tags can send payment data over the air, whereas BLE modules have a higher range.

QR Code

The device can quickly respond to the QR code's instructions when a person scans the QR code. Opening a URL or initiating a payments transaction becomes very simple and easy to use. QR codes work as an alternative to NFC for contactless payments. For doing payment via QR code, a stable internet connection is required for the user. Sometimes inside the store, connectivity is poor. Weak connectivity will result in errors and glitches. Also, QR-code payments are not necessarily as fast as NFC.
Contactless Payments Are Set To Boost Business Post COVID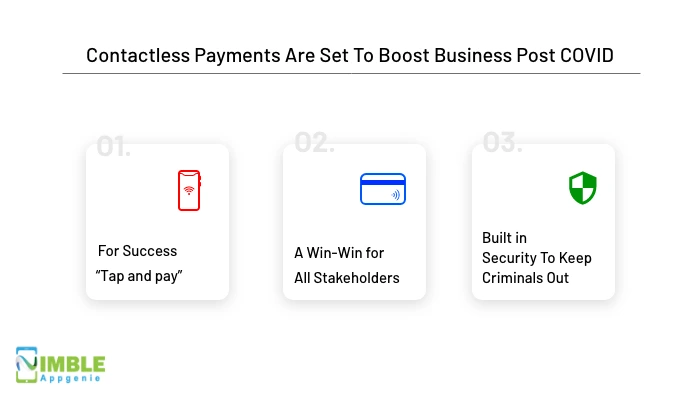 For Success "Tap and pay"

As the virus spread and the public raised concerns for safety, so too did tap and pay at the till. According to Barclaycard, contactless payments increased last year to make up almost 90% of all card transactions. In 2020, with more than 136 million contactless cards in the UK, the number of contactless cards in circulation now exceeds that of contact cards. In upcoming years, contactless payments apps will open the door to new opportunities and innovations using the technology in wearable devices like rings and wristbands. FinTech companies like to invest resources in developing new and innovative contactless payment solutions to deliver speed, security, ease, and convenience for businesses and customers. FinTech software solutions are very beneficial for contactless payment apps.

A Win-Win for All Stakeholders

The resolution to raise the contactless spending limit can benefit consumers, who can now use their contactless cards to make bigger purchases. But it is a very big step forward for all stakeholders. The increase in contactless payment will mean more revenue for issuing banks, as customers try to carry out more low-value transactions by card than cash. While for retailers, greater security due to less cash management, a faster check-out, and improved customer experience because of less queuing will lead to a rise in revenue.

Almost all industries have felt the disastrous and costly effects of Covid-19. In August 2020, across the UK, a total of £8.4 billion was spent on contactless debit/credit cards when there were fewer coronavirus restrictions. Now, as restrictions finally begin to rise, there's an opportunity to make the most of unique demand from consumers desperate to return to stores. As shops, pubs, cafes, and beauty salons begin to reopen, in-store consumer spending will climb as the year progresses. All industries should invest in contactless payment technology to gain profit and leverage the benefits of this unique demand.

Built in Security To Keep Criminals Out

There has been a rapid growth towards contactless payment, but security concerns have held some people back from this change. Because of this, contactless payment technologies can offer a solution with biometric security. For example, a brand new biometric payment card offers the ease and convenience of contactless payments with no spending limit because it instantly authenticates the owner with a fingerprint sensor on the card itself.

Mobile devices, which require a facial identification or fingerprint, have become the fastest-growing payment method at the point of sale and are anticipated by 2024 to account for £125 billion worth of sales on the UK high street. It is also practically impossible to use a long-range reader to extract its data, clone a contactless card or even collect enough to complete an online purchase. Contactless cards are infinitely less vulnerable to spurious fraud than magnetic stripe cards, with smart microprocessor chip technology. After writing this much, I can surely say that this contactless payment technology will only continue to rise. Banks will improve the user experience and enable businesses to flourish in such a crucial time by raising the limit for contactless options.
Are Contactless Payments Secure?
Contactless payments are generally safe and easier to use as they generate a unique code for each transaction. To identify each transaction, the standard encryption technology is used. Usage of this advanced technology makes it difficult for hackers to hack as transaction data is unique and can not be used elsewhere. Furthermore, at the authentication level, the issuer can easily detect the issues and can reject authorization if the same data has been used for different transactions. Transactions and the data are only shared over radio waves instead of the chip or magnetic stripe in contactless payment. So, contactless payments are very secure and safe to use.
Common Benefits of Contactless Payments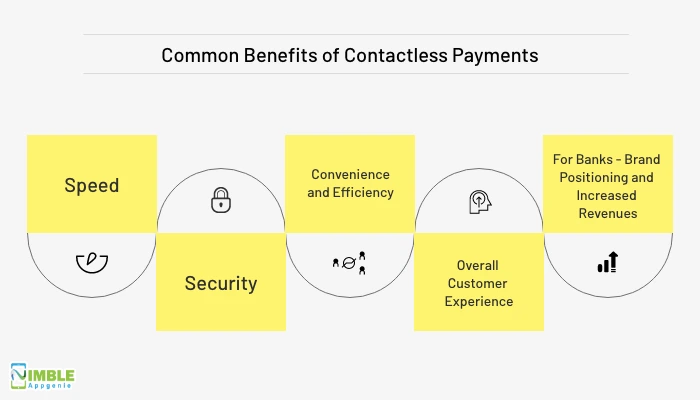 Speed

It is predicted that contactless payments offer speed and efficiency for everyday transactions. You can complete a transaction within 15 seconds and work twice as fast as standard cards and three times faster than cash payments. Instead of swiping a traditional transit card, users simply tap their contactless card, mobile device or wearable to pay. With less handling of cash occurring, transactions are completed faster, and turnover is likely to improve. When it takes less time to pay, retailers and customers both get benefits.

Security

If your card is stolen, or you lost it. You can freeze the account or contact your bank, which will amend fraudulent payments. As I've mentioned above, to make payments users only need to tap the card onto the reader. In this case, the risk of money theft or fraudulent activity seems a lot higher. The FinTech industry uses advanced security technologies like device authentication and bank authentication on the contactless device and the processing network to prevent fraud. They ensure that the same transaction doesn't occur twice by accident. However, if that is intercepted, the number and details linked to the card can not be decrypted as unique numbers are used that don't relate to card numbers.

Convenience and Efficiency

Contactless payments aren't only about cards. The Near-Field Communication technology within contactless readers can interact with smartphones and connected accessories like rings, watches, and many more. Apple pay is the best example of this. Apple Pay launched in 2014, which allowed users to pay by using their mobile phone to carry out the transaction, if they had forgotten their card or if it was out of reach. You can also make the payment from your wallet without removing your card. Thus, it makes the payment process even easier for the customer. Indeed, contactless payment offerings provide a new level of convenience to both retailers and customers.

Overall Customer Experience

As a result of faster, more secure, convenient and effortless transactions, retailers can see an increase in the company's production rate and a reduction in abandoned sales. Also, the ATV (average transaction value) increases when a customer isn't constrained by the amount of cash they carry, and the payment process is efficient. In addition, there is no verification or requirement to print out a receipt on authorization for most contactless transactions unless asked for by the customer or if the transaction is of a higher value.

For Banks – Brand Positioning and Increased Revenues

By offering contactless payment options to their customers, banks promote a much-improved customer experience. Banks can also offer added-value services to differentiate them from their competitors. In addition, with new upmarket contactless smartcards arriving on the market like metal cards, they can also target more VIP and wealthy customers.
Top 5 Mobile Payment Apps in 2021: For Contactless Payments
PayPal

PayPal was founded by Luke Nosek, Ken Howery,  Yu Pan, Peter Thiel, Elon Musk, and Max Levchin. It was established in 1998 as Confinity. After that, in 1999 it was launched to transfer money and received its initial public offering in 2002.

PayPal wants to move beyond just offering seller protection for online purchases when it comes to online transactions and mobile apps. PayPal allows you to pay online safer and faster with your PayPal password and skip entering your financial information. Through the PayPal app, you can shop at millions of retailers across the globe and send a payment for goods or services almost anywhere, with just one account. You can pay even faster with "One Touch," stay logged in and check out without entering any password. In addition, buyer protection is available for your eligible purchases.

Apple Pay

Ahmer Ali Khan founded Apple Pay in October 2014. Apple Pay replaces your physical cards and cash with an easier, safer, secure, and private payment method — whether you're making payments via sending cash or online in a store. Apple Pay's setup is very simple. You just have to add your debit or credit card to the e-wallet app on iPhone, and you're ready to go. There is no need to download any other type of app for making payments. Apple Pay is already on your device. It's built into iPhone, Mac, iPad and Apple Watch.

Paying via Apple Pay is a very easy and hassle-free process. It allows you to skip the lengthy checkout forms and pay with just a touch or a glance. Apple Pay is considered more secure as the user has to verify identity through the Face ID or Touch ID sensor. Users can also easily send cash to each other by asking Siri (the digital assistant) or via an iMessage.

Google Pay

Google Pay is an android mobile payment app launched on January 8, 2018. It comes preloaded on Android smartphones. It claims to be more safe and secure than using a traditional credit card because it is protected through multi-layer security encryption. Google Pay is the easiest way to send money, recharge your mobile, and make payments for anything else. You can recharge your mobile via a single tap and finish with those monthly bills on Google Pay easily.

Google Pay protects your money with the best security system that helps detect fraud and prevents hacking. You're also free to go shopping, whether online or in a store. You can pay and receive money immediately via your existing bank accounts. There is no need to reload any mobile wallet balances or withdrawal fees. It works with all banks that support BHIM UPI.

Samsung Pay

Samsung Pay is a safe and secure mobile payment service that allows users to make payments via their smartphones. In addition, you can add the debit/credit cards of participating issuers/banks on your mobile phones and make payments. It uses NFC technology to make contactless mobile payments.

        Samsung Pay adds security to your payment information system and offers a simple and convenient payment experience that physical cards don't have. Samsung Pay authenticates every transaction. They don't keep your payment information on their servers, and your account details are never stored on your phone or shared with merchants. As a result, it's safe and secure to use. Samsung Pay uses a special security method, tokenization, to secure your financial and personal information.

Venmo

Venmo is a mobile payment service that is owned by PayPal. It is a type of peer-to-peer payment platform. Venmo works via a mobile app on your smartphone and enables sending money easily among family and friends. You just have to link the app to a debit card and spend away; nothing else is required. Venmo is very beneficial for online payments. Venmo users can make payments via email or a phone number as the app can access your device contacts or Facebook.

Conclusion
Indeed, fear of catching the virus has compelled customers and retailers to adopt contactless payments. However, contactless payments are here to stay for long, even after the fear of pandemics gets over. This is because retailers and customers will choose contactless payments over other payment modes for speed, ease of use, convenience, and safety.
There is no surprise if contactless payments become an integral part of our lives in the coming years. This transformation might also be a forerunner that pushes human civilization towards a fully-fledged cashless society.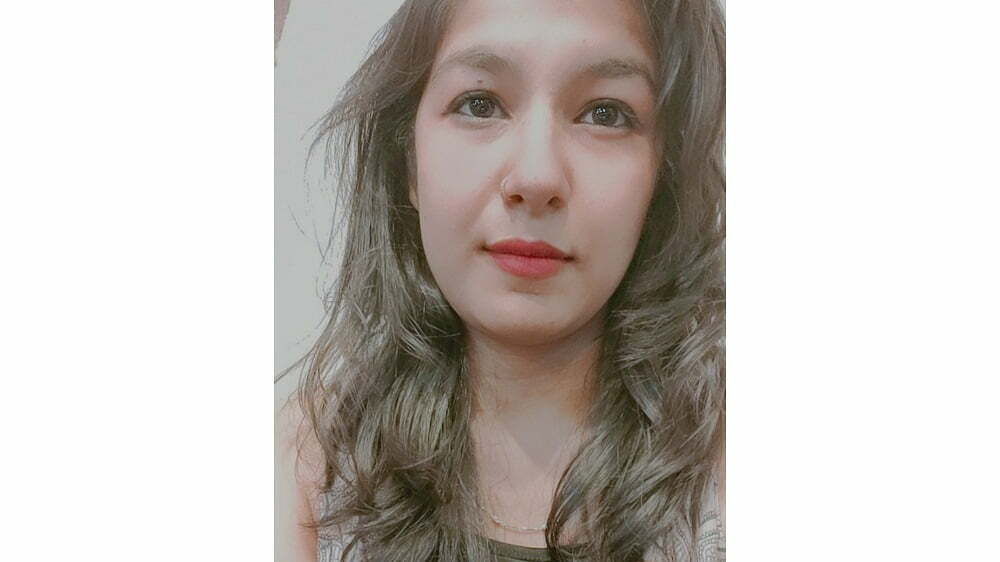 Divya is an outstanding writer at Nimble AppGenie. She is very innovative with her creative ideas. She is very passionate with technology implementation in several industry verticals and always keen to learn new opportunities that brings business efficiency and profitability. Whereas, Nimble AppGenie is an expert in developing solutions for Healthcare, FinTech, and EdTech. Nimble AppGenie is helping small-large scale enterprises by providing innovative solutions that excel in the market.