You must be wondering how the auto business is growing rapidly with every passing day. At some stage in history, the automobile enterprise has generally been one of the most receptive to emerging technologies. The penetration of the mobile app era has completely transformed the automobile industry which we all could have expected. In the last few years, the best app to buy used cars has been growing very fast. Millions of apps downloaded on Google play store and App Store are indicating an entirely new landscape.
In line with the recent survey, every day around 1,500 individuals uses mobile apps to buy a car, whereas round 72% of users have claimed to use their smartphone in their car purchasing lifecycle, and round 52% has claimed to use their smartphone to even seek out new parts or vehicle add-ons. Accordingly, around 29% of customers use their smartphones even as selecting and reviewing a new and used car.
Long past is those days that humans needed to go to a brick and mortar provider to buy a used car. Nowadays, it's just as easy to take your mobile and just select the car, get the entire details of the car and purchase the used car. Lyft, Uber, easy taxi, Gett and several other taxi aggregator apps have set a brand-new fashion within the delivery enterprise. On the alternative and diverse vehicle production businesses, vehicle sellers and used vehicle dealers are increasingly transferring to mobile applications for green, speedy-paced, and patron-centric services.
The Best App To Buy Used Cars Market & Stats
The market for new cars has been significantly slowed down. Comparatively, on the other hand, the market for pre-owned cars has been continuously growing at a rapid pace. According to the 2018-19 reports by Indian Bluebook, around 3.6 million new car units have been sold, and around 4 million used cars have been sold and bought.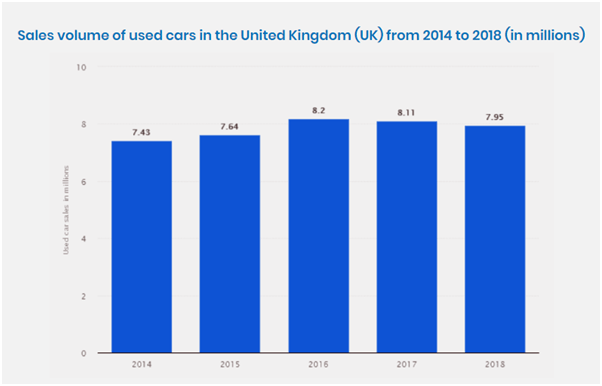 According to the recent reports by Statista on the US automotive market, the total number of cars sold in the US faced a fall from 7.9 million units in 2014 to around 5.3 million units in 2018.

Buy & Sell Used Car App Business Models
There are various business models in the market. Each model targets a specific industry. The most common business models are discussed below.
Dedicated App
The dedicated buy and sell used car app are best suited for business mediums dealing in the buy-sell car market. The cars that are available for sale are enlisted by the business owner(dealer). The customers can search for their desired cars, and then they can proceed further for finalizing the deal. In these types of apps, the car list is only updated and edited by the business owner. The dedicated app models are not counted as standalone business models.
Aggregator App
The aggregator model of buying and selling used car app is basically an online medium between the customer/buyer and the car dealer. The app owners provide a framework for car dealers where they can publish or market their ads. The customers or buyers can browse through the available options according to their requirements.
Advanced Features of the best app to buy used cars
One-Tap Signup/Login
With this feature, users can easily sign-up or create an account on buy and sell used car apps. They can also use social media credentials like Facebook, Twitter, phone number, email id, and many more for easy and hassle-free login.
Push Notifications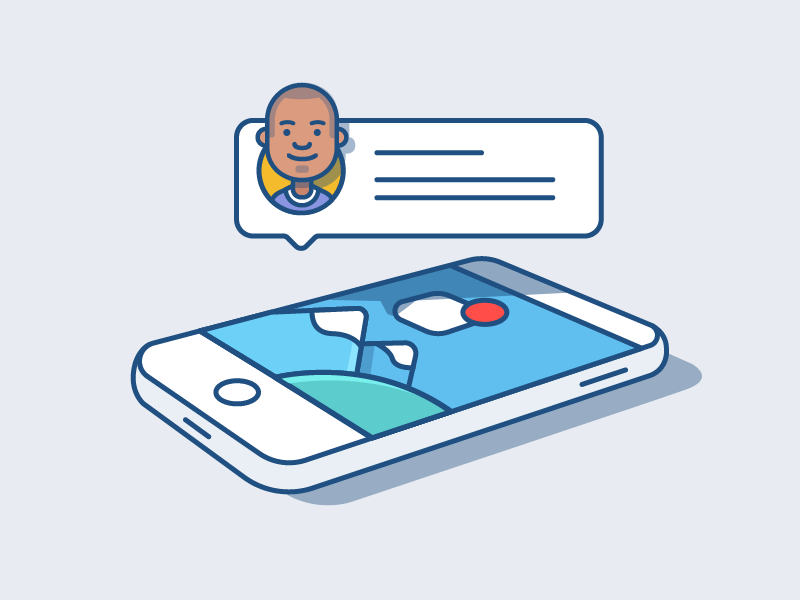 This feature keeps the users connected, and also notifies them about new updates of your buy and sell used car app. The feature can be really useful for increased user engagement. Also, the users are reminded of the latest offers, features, sales, updates, and also if any new car is added according to users' requirements.
Customer Relation Management
Integrating CRM or Customer Relation Management in your application will surely help you in extending the relationship with app users or customers. An adaptable CRM will help you in managing customer data, newsletters, and multichannel marketing and analytics in a more secure and easy way.
In-App Camera
With the help of an in-app camera feature, users can directly click pictures of their car and upload it on the buy and sell used car app. Users can click 10-15 pictures of their car covering all the physical and exterior design of the car. This will also help buyers in getting all the details of your car before buying it.
Chatbot Integration
Sometimes users get stuck whilst having some problems while using the app. The chatbot provides personal assistance to users and customers.
Comparing Cars
One of the most important features of a buying and selling used car app, is how it helps users to compare prices, features, mileage, and other qualities of various cars. Moreover, this feature helps users in making the process fruitful while buying or selling a car.
3D Model View
Integrating this feature in your buy and sell used car app will allow the users to get a 3D view of the interior and exterior of the car. You can move the cursor at different angles, to get a 360 view with exact detailing.
Valuation Tool
The tools help the users to get all the details and estimation valuation of the car-like model, brand, total miles traveled, mileage, registration details, and many more. The tool also calculates the average cost of the car depending on the condition of the car.
Loan Calculator
Before buying a car, users can use this tool to get an average estimation of the monthly EMI. By filling details like car details, loan tenure, down payment amount, users can get complete details of monthly EMI.
Location Tracking
This is one of the most important features of the buy and sells used car app. Geolocation tracking helps in tracking the geographical location of the user. In this way, users can easily search for the cars available nearby to them or in the same region.
Real-Time Analysis
A dedicated feature of the buy and sell used car app for the admin. With this feature, admin can extract all the real-time insights into the application like marketing analytics, financial analytics, and the total number of registered and active users on the app.
Buy & Sell Used Car Mobile App Features
| | | |
| --- | --- | --- |
| Admin Panel | User Panel | Dealer Panel |
| Manage Car Listing | Easy Signup/login | List Dealership Stores |
| Upcoming Cars Management | View Conversation Messages | List Sold Cars |
| Managing Users | Personal Information Management | Manage Store Website |
| Sub-Admin Management | Contact Car Dealer | View Buyers Messages |
| Managing Transactions | View Car Information | Managing New Offers |
| Offer Management | Search Filters | Manage Service Center Details |
| Sales and Marketing Management | Car Exchange | Selling Used Cars |
| User Statistics | Comparing Cars | Managing Reviews |
| Delivery Status | Quotation Form | Add or Delete Car |
| Offers | Test Drive Registration | Price Management |
| City & State Management | Registration For | Registration or Login |
| Review & Rating | Push Notifications | Customer Management |
| Order Management | Loyalty Rewards | |
Buy and Sell Used Car Mobile App Team Structure
Developing an app is straightforward if you have a team of talented and skilled developers who are experts in building dating apps. If you need to transform your thoughts into the real thing, then you have to work with a pool of expert developers, designers, testers, and skilled managers. In case you need to supply your app to a wider audience, then it is best for it to be available for both the iOS and Android platforms.
Project Manager
Backend Developers
Frontend Developers
Testers
QA Professionals
Advantages of Developing the Best App to Buy Used Cars
| | | |
| --- | --- | --- |
| For Customers | For Dealers | To Car Brands |
| Direct Price Quotation | Service Booking Management | Extended Warranty Services |
| Car Comparison | Easy Customer Feedback | Certified Cars |
| Scheduled Test Drive | Immediate Test Drive Request | 24×7 Road Side Assistance Service |
| Explore Available Buying Options | Secure and Safe Payments | Easy Integration of Car inventory |
Process of Buy and Sell Used Car Mobile App Development
For developing a featureful buy and sell used car app, you should follow the agile development process. Below are the steps for buying and selling used car app development.
Tech Stack for Buy and Sell Used Car Mobile App Development
Choosing the right technology for your app is a very important aspect of the app development process. So, for drafting a smooth and interactive app you must choose the technology smartly.
| | |
| --- | --- |
| Technology | Feature |
| Cloud Storage | AWS, Google, Azure |
| Push Notifications | Push.io, Twilio |
| Phone Verification | Twilio, Nexmo |
| Mobile Platform | iOS, Android |
| Payment Gateways | Google Pay, PayPal, Debit/Credit Card |
| Database | Hbase, Postgress, MongoDB |
| Real-time Analytics | Hadoop, IBM, Cisco |
Cost Of Best App to Buy Used Cars
| Feature | Price |
| --- | --- |
| User registration and profile | $4,490 |
| Maps integration | $1,340 |
| Filters and lists | $4,060 |
| Vendors/Products profiles | $3,680 |
| Wishlist / Favorites | $1,260 |
| Cart and Payment System Integration | $2,800 |
| Comments and Ratings | $1,600 |
| Push notifications | $4,170 |
| TOTAL MVP Cost: | $23,400 |
Choose the Right Development Company for Mobile App Development
Due to the continuous growth of technology, buy and sell used car apps are all the hype, and it is, therefore, important to choose the right mobile app development company. Nimble AppGenie has a team of skilled and proficient developers that can help you to develop a robust and secure buy and sell used car mobile app for your business.