In this blog, we shall be discussing all about it, why and what makes Nimble AppGenie as one of the Best App Development Companies in USA. With this being said, let's get right into it:
Nimble AppGenie is renowned as a mobile app development company in USA  offering solutions that have a stunning design, and intuitive functionalities, and that deliver unprecedented value to the end-user.
Whether we are building an e-Wallet, FinTech app or on-demand service, our custom-built software consistently exceeds the expectation of our clients and their customers. This is something that we pay extra attention to since, it is so important.
It is these combinations of factors, which has led to Nimble AppGenie being awarded as one of the 10 best app development companies in USA, Houston by Mobile App Daily.
Why Nimble AppGenie is One Of The best App Development Companies in USA
MobileAppDaily uses a variety of components to create their list of Best App Development Companies in USA Houston. One of the key aspects of their judgment is the opinions of existing and past clients. SJ Global, a merger and acquisitions firm, had this to say about working with us.
"The app led to a 30% increase in business for us. Nimble AppGenie's professional team have established a seamless workflow. This ensured effective collaboration throughout the project. The team provided us with an extremely high level of customer service and support from start to finish."
And Nimble AppGenie was nominated as a market leading mobile app development company. But this isn't where it all end. We are also one of the best firm through which you can avail on demand app development services.
Mobile App Daily being a top tech reviewer have named us the best. However, other platforms like Clutch have also declared us a leading iOS and android app development company.

Work With The best Mobile App Development Company
We are looking forward to continuing to serve the Houston community with great technology, and potentially helping other cities in the United States in a similar fashion throughout 2020 and into 2021.
Moreover, we offer marketing leading android app development services in USA that customer front through out the country can enjoy. While there are a lot of other companies who carry the title of the best app development companies in USA, none of them offer services like us.
For instance, we offer low cost of mobile app maintenance and development services. Moreover, we offer android and iPhone app deve lopment services that are unmatched in the market.
We have helped many businesses reach their full potential in the market. With this being said, if you have an amazing idea that you think can be the next big thing, we are here to help you. With Nimble AppGenie, you can hire mobile app developers with years worth of experience and right know-how needed to bring your idea to realtiy.
If your business is interested in creating an app, contact us. We love to add value to your ideas and bring them to reality.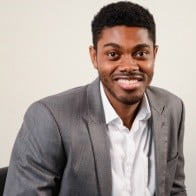 Jermaine Trotman is the co-founder of Nimble AppGenie, a company renowned for its bespoke mobile app development and web development in e-wallet app development and fintech development.